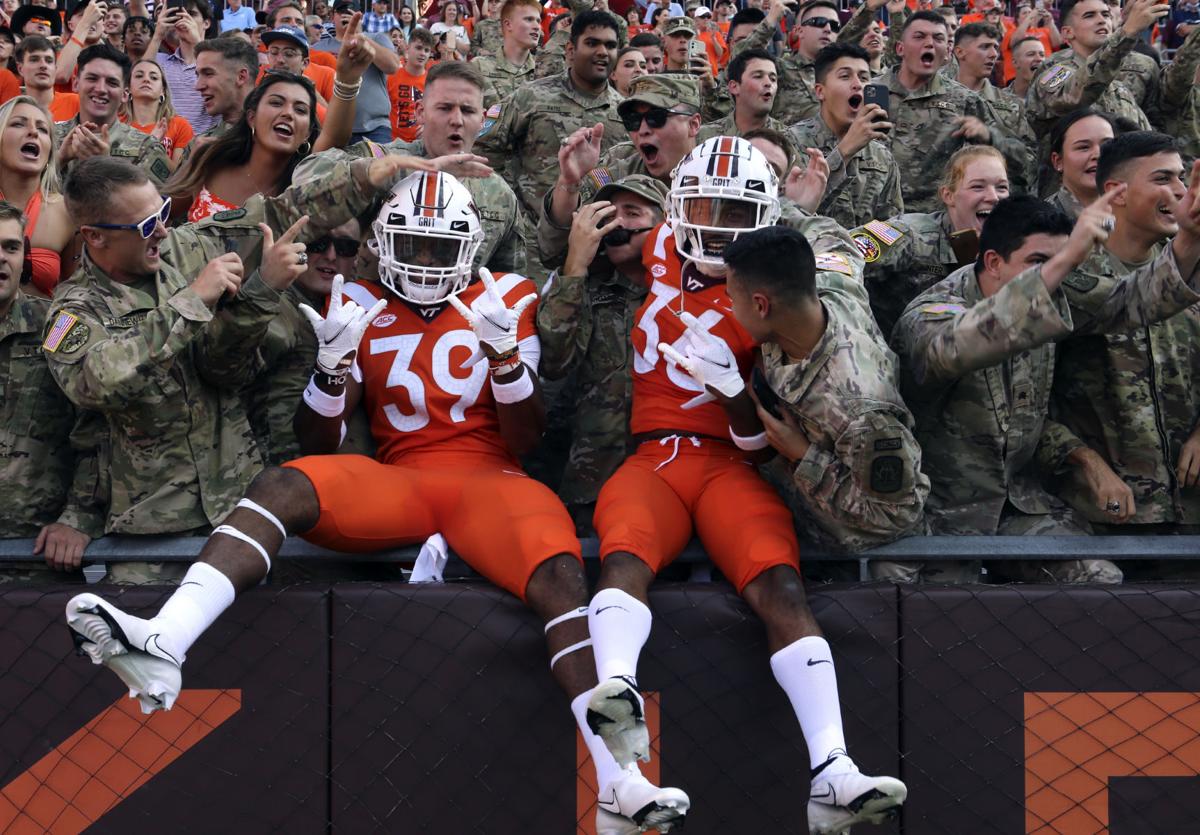 Virginia and Virginia Tech both opened the college football season with victories, while much of the rest of the ACC struggled. Take my 1-3 showing out of the equation, and our panel had a stellar opening week, going 8-4 and 3-0 in upset picks.
What does Week 2 have in store? The Hokies are big favorites at home against Middle Tennessee State, while UVA is a 10-point home favorite as it steps up in competition hosting Illinois. The ACC has a couple of more winnable matchups with the SEC this weekend, as well, when Pittsburgh faces Tennessee and North Carolina State takes on Mississippi State.
This season, I'm joined by the Richmond Times-Dispatch's David Teel, the Roanoke Times' Aaron McFarling and the Charlottesville Daily Progress's Bennett Conlin as we pick winners for Virginia Tech, UVA and other key ACC games. And, in an attempt to create some separation in the standings, each week we'll offer up an upset special from somewhere in the FBS landscape.
Here are Week 2's predictions:
Illinois at Virginia, 11 a.m. Saturday, Scott Stadium, Charlottesville
Bennett Conlin, Charlottesville Daily Progress (3-1): I'm not sure even Illinois knows what to expect from Illinois. The Fighting Illini beat Nebraska in Week 0 but lost to UTSA the following week. They're starting to develop under first-year head coach Bret Bielema, and there will be growing pains. Virginia's growth into a solid team is well under way.
THE PICK: Virginia 41, Illinois 17
Aaron McFarling, Roanoke Times (3-1): The Illini followed up their Week 0 upset of Nebraska with a 37-30 loss to UTSA as a 4-point favorite – a reminder that the Bret Bielema rebuild is going to take some time. The Cavaliers are a safe bet to win games like this whenever they're at home.
THE PICK: Virginia 37, Illinois 24
David Teel, Richmond Times-Dispatch (2-2): The Cavaliers have won 13 of their last 14 home games, the lone setback in that stretch to N.C. State last season. The Illini were projected to finish last in the Big Ten West by conference media, lost at home last week to Texas-San Antonio and are 10-point retrievers Saturday. Don't overthink this one.
THE PICK: Virginia 31, Illinois 10
Mike Barber, Richmond Times-Dispatch (1-3): The big question is which Illinois team shows up. Is it the one that kicked off the Brett Bielema era with such promise or the one that squandered all those good feelings losing to UT-San Antonio the next week? If Illinois plays up to its potential, the 10 points UVA is favored by seem like a lot. I like Virginia in a close, relatively low scoring one.
THE PICK: Virginia 24, Illinois 17
Middle Tennessee State at Virginia Tech, 2 p.m., Lane Stadium, Blacksburg
Conlin: Virginia Tech started the season with an important win over North Carolina. There might be an emotional letdown for the Hokies after the opener against the Tar Heels, but the offense should be motivated to produce more consistently this weekend.
THE PICK: Virginia Tech 38, MTSU 13
McFarling: Don't let that 50-15 victory over FCS member Monmouth in Week 1 fool you; the Blue Raiders shouldn't put up much resistance here. They went 7-14 over the previous two seasons, and the Hokies are properly wary of a letdown.
THE PICK: Virginia Tech 42, Middle Tennessee 10
Teel: Justin Fuente believes his team is mature and grounded, and if he's right, the Hokies will have dismissed the praise surrounding their opening upset of North Carolina and have prepared diligently for the Blue Raiders. If not, all bets are off. MTSU has lost seven straight versus Power Five opponents, by an average margin of 28.4 points.
THE PICK: Virginia Tech 35, Middle Tennessee 13
Barber: The narrative that Virginia Tech suffers let downs after big wins is a bit skewed. The Hokies are actually 3-2 after beating a ranked opponent under Justin Fuente, and only one of those losses – at Syracuse in 2016 – would really be characterized as a letdown. No, big early season wins haven't necessarily translated to great seasons (see Florida State in 2018) but the Hokies haven't really been prone to sleepwalking the week following big wins. And as long as they're awake, they should have little trouble with Middle Tennessee State.
THE PICK: Virginia Tech 42, Middle Tennessee 13
North Carolina State at Mississippi State, 7 p.m., Davis Wade Stadium, Starkville, Miss.
Conlin: The Bulldogs needed a late rally to beat Louisiana Tech. N.C. State demolished South Florida. The ACC could use a couple wins over Power Five teams this week, and the Wolfpack should grab one over an SEC squad.
THE PICK: N.C. State 31, Mississippi State 24
McFarling: A trip deep into SEC country is always a concern for an ACC squad, but the Bulldogs were only a .500 team at home from 2019-20. NC State covered the spread by 26 points in its opener against USF – the most emphatic cover of any team in its conference.
The Pick: N.C. State 30, Mississippi State 25
Teel: To be charitable, the Wolfpack have not been very adventurous with their non-conference schedules, which in part explains why their last road victory over a Power Five peer was at Texas Tech in 2002, Philip Rivers' junior season. N.C. State smothered South Florida last week, while the Bulldogs survived Louisiana Tech.
THE PICK: N.C. State 30, Mississippi State 28
Barber: An ACC-SEC matchup on the road after the week the ACC had to open the season certainly doesn't sound like a great spot to be in for North Carolina State. But I'm really high on the Wolfpack on both sides of the ball this season, especially their running backs and linebackers. They were dominant in their opener, albeit against South Florida. The Bulldogs needed a late rally to pull past Louisiana Tech. Their offense got in gear but the defense has questions.
THE PICK: N.C. State 31, Mississippi State 27
Upset of the week
McFarling: Atmosphere is going to matter early in this season as road teams rediscover the challenge of playing in front of large crowds, and there should be plenty of enthusiasm in Knoxville on Saturday. The Panthers (-3) have failed to cover the spread in their past five games against teams with winning records.
THE PICK: Tennessee 31, Pitt 24
Conlin: East Carolina struggled in Week 1 against Appalachian State. South Carolina rolled over an FCS team. This feels like an easy Week 1 overreaction for the casual fan. I entered the season high on ECU and low on the Gamecocks, and I'll stand by that even after one week of play. Give me Mike Houston's team as a 2.5-point underdog.
THE PICK: ECU 27, South Carolina 23
Teel: Ignited by Riley Moss' two pick-sixes, Iowa's beatdown of Indiana ranked among Week 1's most impressive efforts, while Iowa State struggled to defeat FCS Northern Iowa. The Hawkeyes have won six straight versus the Cyclones, have limited 23 consecutive opponents to fewer than 25 points and are catching 4½ points on the road.
THE PICK: Iowa 27, Iowa State 24
Barber: Slim pickings on the upset board this week, but Pittsburgh hasn't faced an SEC team in the Pat Narduzzi era going into Saturday's game at Tennessee. The Panthers are just 1-8 under Narduzzi in non-conference games against Power 5 teams. And we saw how the ACC looked in its first SEC matchups, albeit against Alabama, Georgia and Ole Miss. Factor in the fact that Tennessee is at home, and I'm going with the Volunteers.
THE PICK: Tennessee 27, Pittsburgh 24