Terry Holland, who coached the University of Virginia basketball program to a pair of Final Fours and nine NCAA tournaments in 16 seasons, died Sunday in Charlottesville.
Mr. Holland, 80, was diagnosed with Alzheimer's disease in 2019 and had recently entered the memory care center of the senior living community where he resided with his wife, Ann.
"He was a visionary, a positive coach," said Bobby Stokes, Mr. Holland's physician and a captain of his 1978-79 UVa team. "He made it his mission to make it like a family. He cared about you off the basketball court and helped you grow along the way."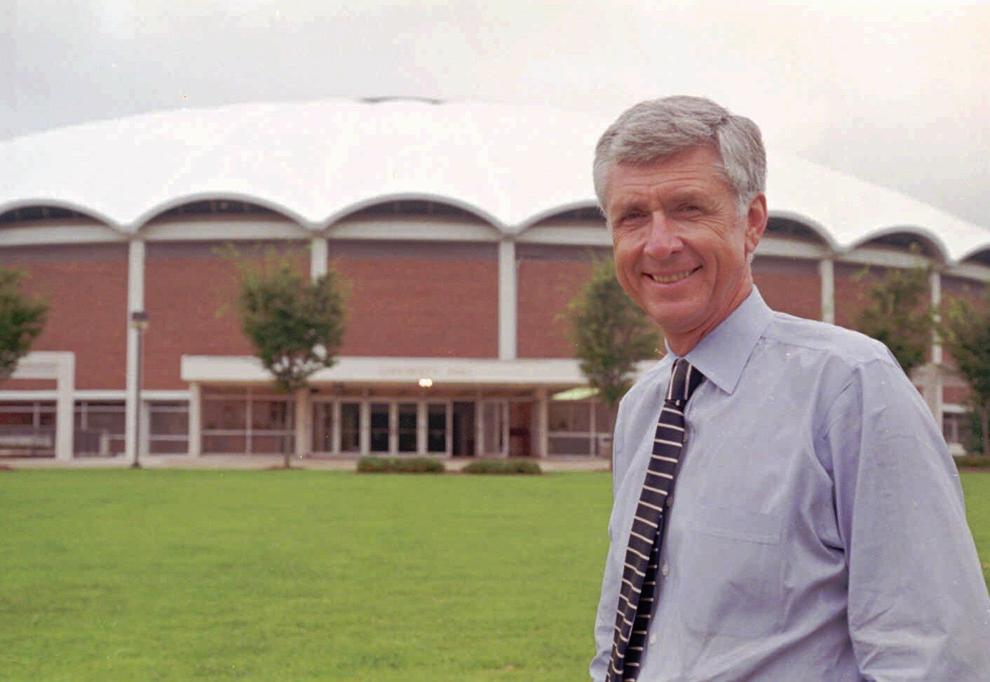 Walking a unique career path, Mr. Holland toggled for decades between his alma mater, Davidson College, and UVa. He served as an assistant coach and then head coach at Davidson before then-Virginia athletic director Gene Corrigan hired him in 1974 to lead the Cavaliers.
Mr. Holland left coaching in 1990, just prior to his 48th birthday, to become Davidson's athletic director. He returned to Virginia as AD in 1994, a position he held for seven years.
Following a stint as a special assistant to then-UVa President John Casteen, Mr. Holland led East Carolina's athletic department from 2004 to 2013.
In 21 seasons as a head coach, five at Davidson and 16 at Virginia, Mr. Holland compiled a 418-216 record. His 1981 and '84 UVa teams reached the Final Four and, in just his second season in Charlottesville, he steered the Cavaliers to the 1976 ACC tournament championship, the program's first.
Mr. Holland coached Virginia icons such as Wally Walker, Jeff Lamp, Bryant Stith and, most famously, 7-foot-4 Ralph Sampson, the national Player of the Year in 1981, '82 and '83.
Many of Mr. Holland's assistant coaches thrived as head coaches after working under him. Among them: Jim Larranaga (Bowling Green, George Mason and Miami), Dave Odom (Wake Forest and South Carolina), Craig Littlepage (Penn and Rutgers), Seth Greenberg (Long Beach State, South Florida and Virginia Tech), Mike Schuler (Rice, Portland Trail Blazers and Los Angeles Clippers) and Jeff Jones (Virginia, American and ODU).
Rick Carlisle, a starting guard on Virginia's 1984 Final Four team, coaches the Indiana Pacers and in 2011 guided the Dallas Mavericks to the NBA title.
"Everything I've been able to do in coaching is really due to the example he set for me," said Larranaga, who led George Mason to the Final Four in 2006 and Miami to the Elite Eight last season. "The way he built his family. My wife became a part of his family. His players at Davidson and Virginia became part of his family. I've tried to emulate that."
"He was more tactician than anything," said Jones, Mr. Holland's successor as UVa's head coach in 1990. "It was very difficult to play for Coach Holland if you couldn't think the game."
Mr. Holland was born April 2, 1942, in Clinton, N.C., where as a teenager he met Ann, his wife of 56 years. He played basketball for Lefty Driesell at Davidson and as a senior in 1963-64 led the nation in field goal percentage at 63.1.
An avid reader, Mr. Holland majored in economics, joined Driesell's staff upon graduation and was promoted to head coach when Maryland hired Driesell in 1969.
As Virginia's AD, Mr. Holland chaired the NCAA Division I men's basketball committee for the 1997-98 season and remained a Final Four staple. Shortly after his Alzheimer's diagnosis, he attended the 2019 Final Four in Minneapolis, where Tony Bennett coached the Cavaliers to their first national championship.
"I think he was just as proud as if he had coached the team himself," Stokes said. "He was just genuinely happy for Virginia basketball. There's something special between them (Terry and Tony)."
Earlier this season, Bennett surpassed Mr. Holland (326 victories at UVa) as the program's winningest coach.
"The guys that coached with him, the guys that played for him, know him better, but the times I was around him, he just made you feel good and peaceful," Bennett said Monday. "You just always wanted to put your arm around him and get a hug from him. He just had that way about him."
Mr. Holland is survived by Ann, daughters Ann-Michael Holland and Kate Baynard, and three grandchildren.
"I just hope they find comfort in the coming days and weeks that he was loved and admired and respected by so, so many people all over the country," said Jimmy Miller, a Virginia forward from 1981 to 1985 and now the team's radio analyst. "Today, we'll mourn, but in the near future we'll celebrate his life and legacy."
David Teel
@ByDavidTeel on Twitter