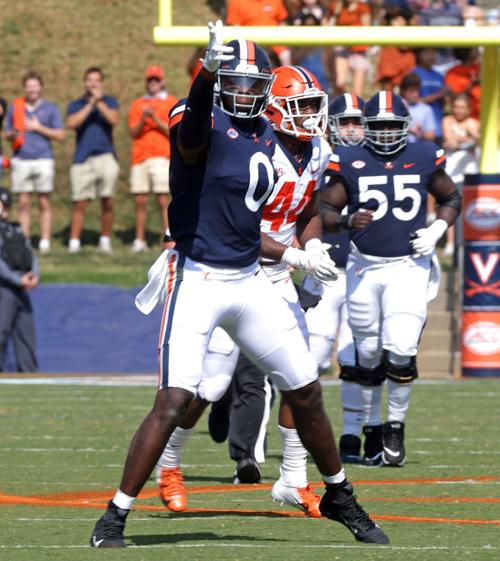 Bronco Mendenhall was bullish about his offense during preseason camp, at one point matter-of-factly saying, "We're gonna score a lot of points."
Saturday, the Cavaliers quickly showed why Mendenhall raves about his team's offensive unit.
Virginia took down Illinois 42-14, racking up 558 total yards in the process.
The first two drives set the tone for the contest, spotting Virginia (2-0) a two-touchdown lead in the first five minutes. Brennan Armstrong hit his receivers on the numbers, and the Illinois secondary struggled to keep UVA's skill players in front of them.
Armstrong finished the game with 405 passing yards and five touchdowns. He tossed one interception. Armstrong's passing total is the fourth-highest single-game passing total in program history, and his five touchdowns through the air ties the second-best single-game mark in team history.
Virginia never relinquished its early lead.
It took just four plays and 76 seconds for UVA to march 75 yards for a touchdown on the team's opening drive. Tight end Jelani Woods accounted for 63 receiving yards, including a 32-yard touchdown catch. He recorded just one catch in Week 1, his first game in a Virginia uniform.
On the next possession, UVA went 80 yards in four plays. Ra'Shaun Henry and Dontayvion Wicks both recorded chunk plays, with Wicks' 28-yard catch ending in the end zone to put the Cavaliers up 14-0 with 10:04 left in the first quarter.
Illinois looked lost defensively.
The offensive showing wasn't much better. Illinois didn't record a first down until its fourth drive.
The fourth drive pulled Illinois back into the game, as it spanned 72 yards and ended in a touchdown early in the second quarter. The touchdown came after UVA's Justin Duenkel missed a 46-yard field goal. Duenkel missed a 31-yard field goal later in the first half, preventing Virginia from opening up a massive lead.
Armstrong led one final touchdown drive before halftime, helping the Cavaliers march 62 yards in seven plays. He found Wicks for a six-yard touchdown to put his team up 21-7 at halftime.
Virginia's quarterback did well to distribute the ball Saturday, as five players caught at least three passes. Armstrong himself even caught an 18-yard pass on a trick play. Woods led the way with five catches for 122 yards.
Illinois opened the second half with an impressive four-play, 75-yard touchdown drive to pull within seven, but the Cavaliers quickly reinforced their dominance.
Virginia answered with a pair of nine-play touchdown drives to take a 35-14 lead late in the third quarter. The passing game was particularly effective, although Armstrong banged up his right leg on the first scoring drive of the quarter. He stayed in the game, playing with a brace on his right knee.
As the offense consistently churned out yardage, the defense stood tall. Illinois put together two touchdowns drives of 70-plus yards, but the Fighting Illini also had five three-and-outs.
Linebacker Noah Taylor created chaos, recording a pair of sacks. Safety Joey Blount performed well again tallying seven tackles. The defense also forced a pair of late turnovers.
Two fourth-quarter turnovers inside Illinois' 30-yard line kept Virginia from closing in on 50 points. The Cavaliers left points on the field with missed field goals and miscues, but the team also executed well for much of the contest and more than made up for errors.
Virginia added an exclamation point to the commanding win when Armstrong found running back Wayne Taulapapa for a three-yard touchdown pass. The score capped a 46-yard scoring drive aided by Illinois penalties.
It was a complete team showing for UVA on Saturday, and the Cavaliers turned a superb start into a blowout victory.