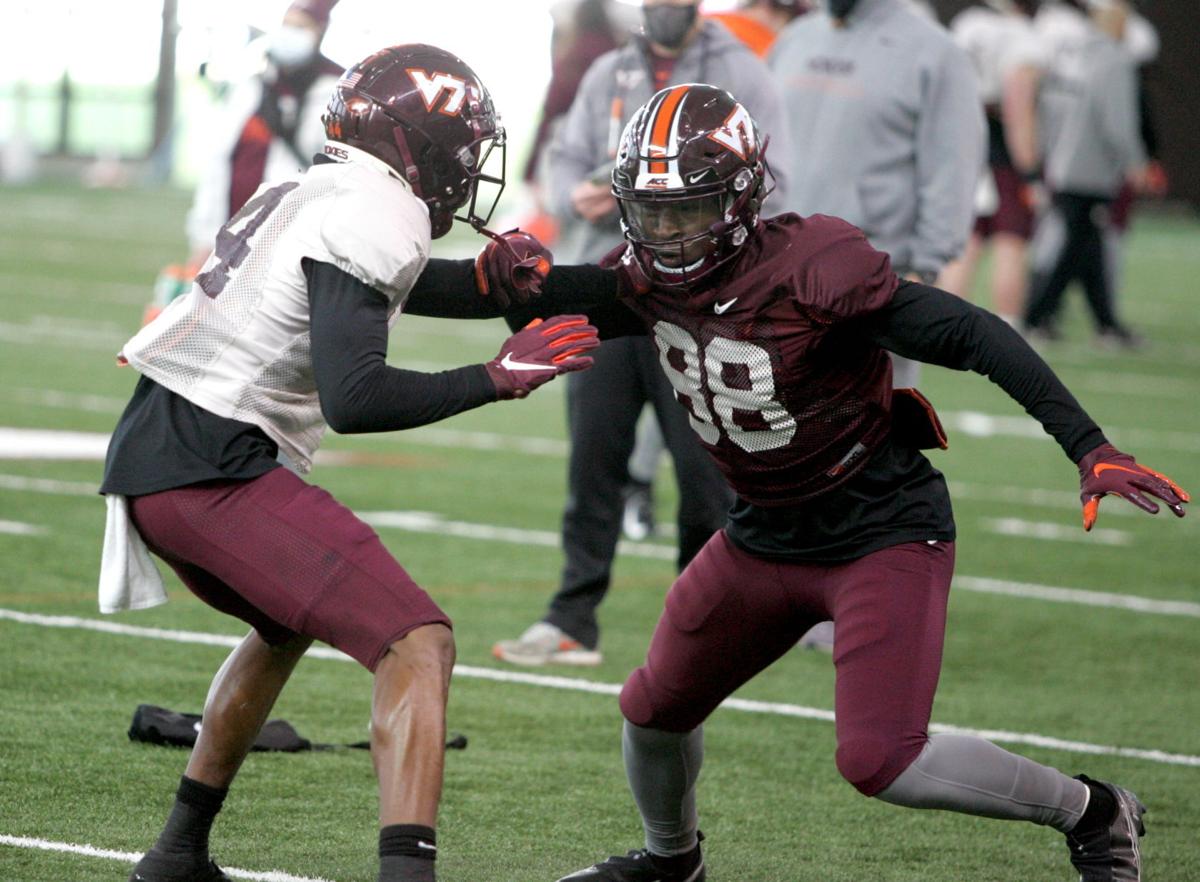 BLACKSBURG — Virginia Tech isn't fretting about its lack of proven receivers behind Tre Turner and Tayvion Robinson.
The only healthy receiver with experience on the roster behind the starting tandem is Kaleb Smith. He missed spring camp recovering from shoulder surgery, but coach Justin Fuente said at the ACC Kickoff on Wednesday he's excited about the position group.
"I feel a little better than I have in some time," Fuente said.
Turner burst onto the scene as a freshman in 2018 with 26 catches for 535 yards. He's put up 34 catches each of the last two seasons and crossed the 500 yard threshold each year as well. He's scored 15 total touchdowns in three years (11 receiving) and 2,009 all-purpose yards.
Robinson led the team in receiving last year with 38 catches for 592 yards as a sophomore. He put himself on the map right out of the gate as a freshman in 2019 with six catches for 72 yards with a touchdown against Boston College in the season opener.
Tech struggled to find any production behind them with the rest of the team's receiving corps combining for 13 catches and 131 yards last fall.
The attrition at receiver has been higher than any other position on the team over the last three years. The Hokies have lost 12 receivers to the transfer portal including two this offseason (Evan Fairs and Tyree Saunders).
Returning receiver Changa Hodge suffered a torn ACL at the end of spring and will miss the season as well.
"Might come with the position, I don't know," Fuente said, of the transfers. "I never had one that said he wasn't open. It might be some of that. There's a couple guys in there that we had honest conversations with and told them they are more than welcome to stay here, but I believe it's going to be very difficult for them to play, but there's not a lot of patience in the world anymore."
But Jaden Payoute's return from injury combined with the emergence of true freshman Da'Wain Lofton and Jaylen Jones during spring camp have given the offense confidence they will have more depth than they did last season.
The ankle injury that's kept Payoute sidelined since the end of fall camp — he practiced once before having a follow up procedure in the spring — has done nothing to quiet the buzz surrounding his potential.
Payoute is a 6-foot-1, 210-pounder who signed with Tech in 2019 out of Lloyd C. Bird High School.
He was cleared for the team's summer workouts, and has been a full participant in the player led skills and drills that happen twice a week as well as other twice weekly throwing sessions with the quarterbacks.
"Jaden has done a good amount of stuff with us," Virginia Tech quarterback Braxton Burmeister said. "He's explosive, and looks it, coming off an injury it's always in the back of your mind, but it doesn't really show with him. I think he's ready to roll."
Burmeister also broke down the role Lofton and Jones have played during the offseason. He said Lofton, a 5-foot-11, 190-pounder out of North Side High School in Texas, has worked in the slot while Jones is a physical position receiver. Jones is a 6-foot-1, 203-pound 2021 signee out Thomas Jefferson High School in Richmond.
He said Lofton made an "impressive" amount of plays during the spring, and he hasn't seen Jones drop a pass yet.
"As long as they learn the offense, that's honestly the biggest part, when you step on the field you got to know what you are doing," Burmeister said. "We do a lot of different tempos where we slow it down and speed it back up. Knowing the different things we want to do and accomplish is the biggest thing to learn, they are both physically talented."