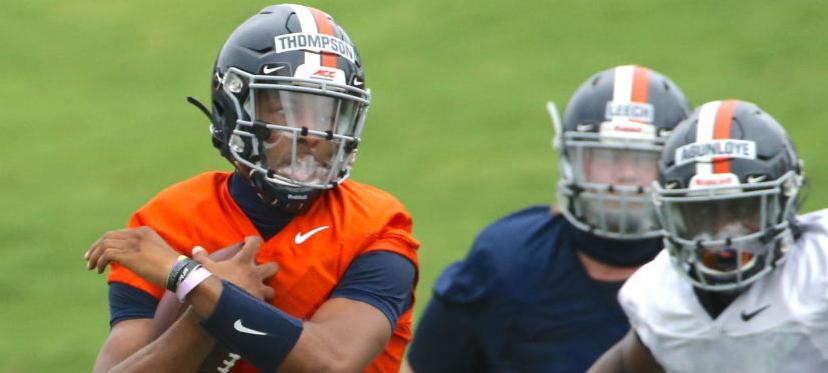 Virginia's Keytaon Thompson sat down with Wes McElroy to discuss preparing to play multiple positions, a passion outside of football and another chance to "run it back" in Charlottesville.
Question: Last year you lined up as a quarterback, running back, wide receiver, Wildcat and played special teams. Were you one of those kids that mastered anything you picked up?
Answer: It's funny you mention that because one of my teammates, Joe White just asked me the same thing the other day when we played basketball. He was like, "Man, what do your parents do?" He was like, "How come you do all this on the football field? You play basketball and you're good at the video games." He was like, "This is crazy, man!"
Question: Wait, you don't play any musical instruments?
Answer: I played the cymbals for a little.
Question: What's one non-football related goal you've always wanted to accomplish?
Answer: I still want to learn how to play the piano. One of my good friends knows how to play the piano and it sounds so good.
Question: With the coaching staff using you in so many ways, how has your preparation changed?
Answer: I wouldn't say a lot has changed. You know, I have to put the time and still have to put the work in and build that confidence within yourself and within your team to go out and perform on Saturday nights. Nothing much has really changed besides what I'm doing as far as running routes and cutting and things like that, that I wouldn't be doing at quarterback, but as far as weight room stuff and training and routines and all that, it's pretty much the same.
Question: Out of all the roles you can play, is there one that you enjoy more than the others?
Answer: They're all equally fun when I'm out there. I'm learning new things so it keeps me interested, it keeps me coming back, and I'm excited to learn each and every day.
Question: There are no such things as a do-over but with the amount of players returning including your super seniors, does this feel like another crack at the season you hoped to have last year?
Answer: It's funny you say that, (because) you don't get do-overs in life, but like you said, last year was a crazy year. We have guys coming back, like super seniors who were granted that extra year of eligibility and we do have a chance to run it back and do it over and just focus from the beginning and get the season that we really want.