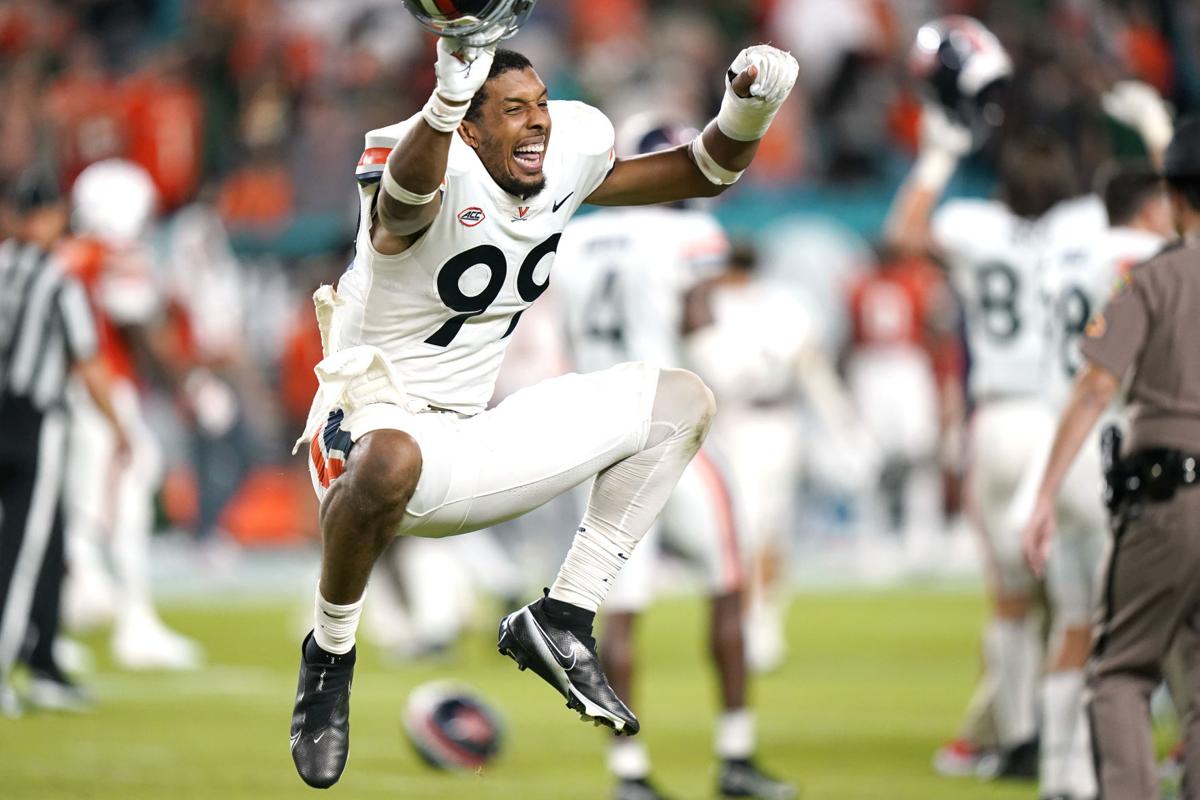 For the first time in five games this season, Virginia's football team encountered check-your-blood-pressure, avert-your-eyes fourth-quarter drama Thursday night.
All the Cavaliers needed to survive was a prone receiver catching a touchdown pass that ricocheted off his foot, back and heaven knows what other body parts, not to mention the defender's hands.
All they needed was a backup placekicker making the first two field goal attempts of his college career.
All they needed was an opposing kicker doinking a 33-yarder off the left upright as time expired.
"It's not describable," UVA coach Bronco Mendenhall said after his team's 30-28 victory at Miami.
"Surreal," Cavaliers defensive lineman and Miami native Mandy Alonso said.
Both apply for a flawed, gallant and wounded squad that was inches away from falling to 0-3 in the ACC but flew home in the early hours of Friday morning with the program's first win at Miami in a decade.
Both defenses entered Thursday night reeling. The Cavaliers had yielded 96 points combined in consecutive ACC losses to North Carolina and Wake Forest. The Hurricanes had allowed 82 points combined in their setbacks to Alabama and Michigan State.
Which offense was more likely to exploit a vulnerable defense? With Virginia's Brennan Armstrong leading the nation in passing yards, and veteran Miami quarterback D'Eriq King shelved by a shoulder injury, the answer seemed clear.
But Armstrong (258 yards) had his least-productive outing and threw a third-quarter interception that set up an 18-yard Hurricanes touchdown drive. Moreover, after limiting Miami to 94 first-half yards, the Cavaliers gave up 278 after intermission, including the chunk plays that contributed to their earlier setbacks.
All this against a freshman quarterback, Tyler Van Dyke, who was skittish early but poised late and finished with 203 passing yards, a 24-yard, broken-play touchdown run and nary a turnover.
Virginia (3-2, 1-2 ACC) was without tight end Jelani Woods, safety De'Vante Cross, defensive lineman Adeeb Atariwa and kicker Justin Duenkel due to injury. Yet the Cavaliers never trailed.
Miami (2-3, 0-1) was without a dynamic quarterback with 37 career starts. Yet the Hurricanes scored three second-half touchdowns and darn near heisted a victory that would have eased fan concerns over the state of third-year coach Manny Diaz's program.
Remember when Miami joined the ACC in 2004? Fresh off four consecutive top-five national finishes, the Hurricanes were positioned to dominate the conference.
Remember when Miami thrashed No. 3 Notre Dame in November 2017 and entered the regular-season finale undefeated? Finally, the vintage Hurricanes truly were back.
Through five head coaches, Miami has displayed an unusual capacity for, by program standards, underachieving in the 20 years since its fifth, and most recent, national championship.
This season has been no different. The Hurricanes debuted at No. 14 in the Associated Press poll, only to be non-competitive in a 44-13 opening loss to top-ranked Alabama.
Since the Crimson Tide has that effect on opponents, many were quick to excuse Miami's performance. But then came a 25-23 victory over Appalachian State and a 38-17 home setback to undefeated Michigan State.
Four times Thursday the Hurricanes trailed by two scores. Four times another lopsided defeat seemed possible, if not probable.
But Miami countered on each occasion, with some help from Virginia.
For the first time since 2004, each of the Cavaliers' first four games this season was decided by at least 20 points. How would they respond in a pinch?
Certainly not great, witness the Hurricanes' 75-yard drive to a game-ending field goal attempt by freshman Andy Borregales. But his kick clanged off the upright, setting off a wild celebration among UVA players and coaches.
Conversely, Virginia's backup kicker, Brendan Farrell, made both of his attempts, from 43 and 30 yards. Also, each of his kickoffs resulted in touchbacks.
"He was the anchor of this game for us," Mendenhall said.
If Farrell was the anchor, Dontayvion Wicks was the savior.
With the Cavaliers nursing a 19-14, third-quarter advantage, Armstrong threw deep for Wicks on second-and-16 from Miami's 36. And why not? Wicks began the night averaging 20.9 yards on 22 receptions.
Armstrong called it the worst touchdown pass of his life. Mendenhall called it a miracle.
"I didn't even know I caught it until my teammates came up to me," Wicks said.
"I don't know how many people on this [Zoom] screen or on the planet could have made that catch," Mendenhall said.
What Mendenhall did know was that he witnessed limited but unmistakable progress over the course of three hours and 43 minutes.