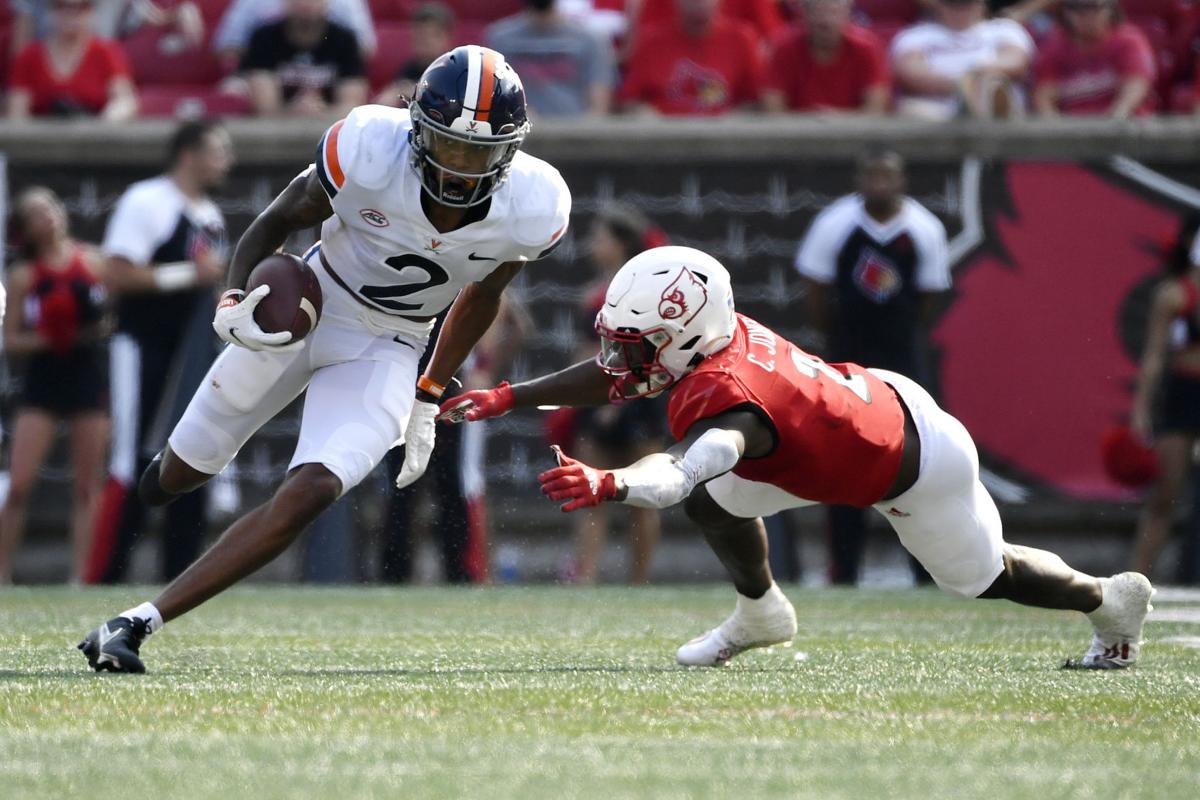 CHARLOTTESVILLE — No Power Five football team has thrown more passes this season than Virginia.
And that's just fine with the players tasked with catching those throws.
"It's lovely," said senior wide receiver Ra'Shaun Henry.
UVA (4-2, 2-2 ACC) is the only FBS team in the nation with four receivers with more than 400 yards this year — Henry, Dontayvion Wicks, Billy Kemp IV and Keytaon Thompson — and has had seven players catch touchdown passes.
"Been really impressed with not only their production, but their consistency," said UVA coach Bronco Mendenhall, whose team hosts Duke (3-3, 0-2) on Saturday after a pair of ACC road wins against Miami and Louisville.
Perhaps most impressively, Virginia's receiving corps has struggled with injuries through the first half of the season. Even before the year started, the unit lost star Lavel Davis Jr. to a knee injury in the spring. Thompson has played the past three games with a cast on his fractured left hand.
Tight end Jelani Woods is at 257 yards and four touchdown catches and might be a 400-yard receiver himself if not for being injured against Wake Forest, missing the Miami game and being limited at Louisville.
Woods is one of four UVA receivers to post 100-yard games this season. Wicks did it twice — against North Carolina and Wake Forest, Woods did it against Illinois, Kemp against UNC and Henry and Thompson both on Saturday at Louisville.
Saturday, after an early injury took Wicks out of the Cavs' game at Louisville, Henry stepped up with a UVA career-best nine catches for 179 yards.
"Ra'Shaun's a quiet, hard-working young man," Virginia offensive coordinator Robert Anae said. "It was really good to see him step up in a big moment."
Mendenhall didn't have an update on Wicks during his weekly press conference on Monday. Social media posts from the program showed Thompson wearing a much smaller brace instead of the cast on his hand.
And there continues to be chatter around the program that Davis Jr. could return later this season.
Add to that mix the emergence of Malachi Fields and the potential of Demick Starling, and it's easy to understand why the Cavaliers throw the ball as much as they do — 293 times in six games, or 48.8 passes per game.
As he prepares his scuffling Blue Devils for Saturday's visit to Scott Stadium — for UVA's homecoming game — Duke coach David Cutcliffe said pressuring quarterback Brennan Armstrong and limiting big plays will be a key.
Armstrong leads the ACC in passing, averaging 410 yards per game, and his 17 touchdown passes rank second behind Pittsburgh's Kenny Picket (19).
Virginia leads all Power Five teams with 40 pass plays going for 20 yards or more.
"They create explosives," Cutcliffe said. "He's good down the field. He's got a big arm from hash to sideline. He's a good vertical thrower. He's a good deep-out thrower. You don't average that many yards without getting chunks of yardage and they've got speed, size and quickness, that whole combination at receiver and tight end."
Duke ranks next to last in the ACC in pass defense, with opponents throwing for 263.5 yards per game against it. It's given up 13 touchdown passes, second most in the league.
Georgia Tech's Jeff Sims threw for 297 yards and three touchdowns in the Yellow Jackets road win over Duke this past weekend. Sims and Armstrong threw go-ahead touchdown passes in the final minutes of their games. And, like Sims, Armstrong also presents the challenge of being a mobile quarterback.
All of that just adds to the challenge for Duke's defense.
"We have to mix coverage," Cutcliffe said. "We have to do what we believe in. We have to have vision on receivers, and we've got to generate some rush."
Cutcliffe joked he's had an extra layer of personal preparation for the Virginia passing attack this week.
"I guess you start every morning with a good prayer, right?" he said.