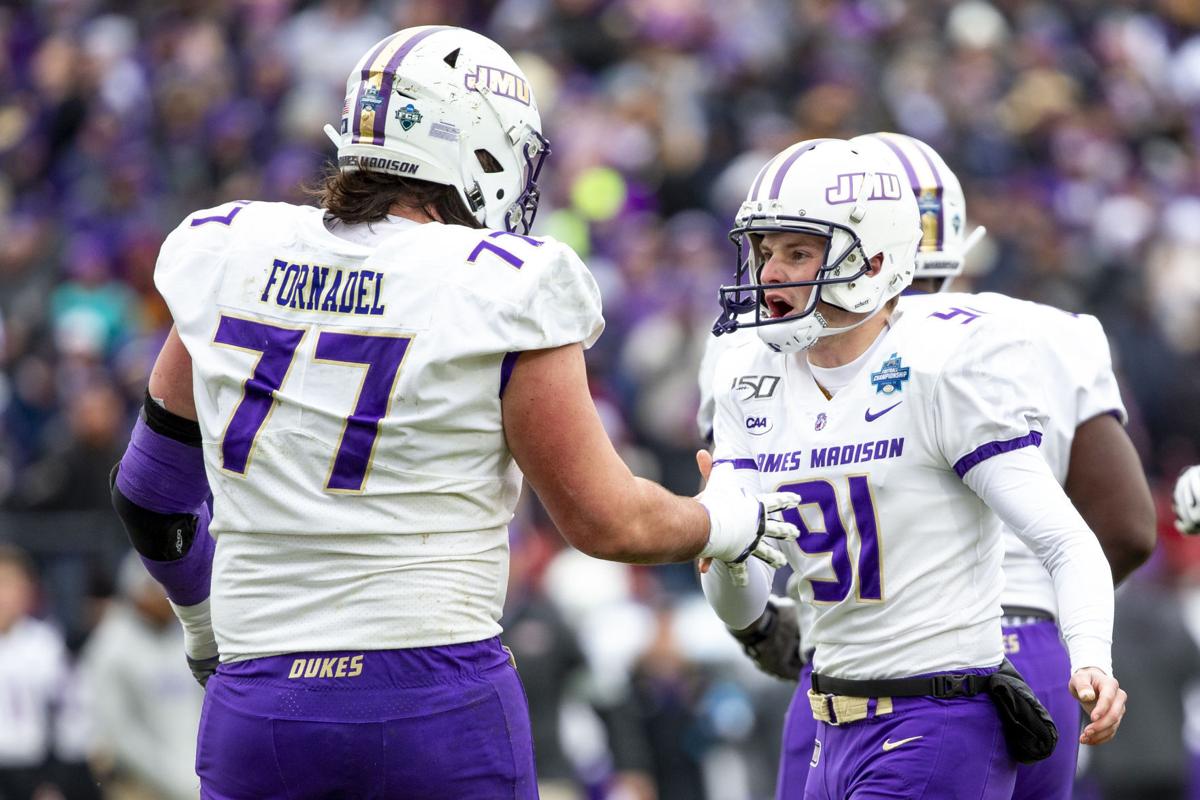 HARRISONBURG — How precisely does James Madison's Ethan Ratke approach his job? Well, it's practically scientific.
"He's like a kicking scientist," James Madison coach Curt Cignetti said. "And he's laser-focused."
Ratke, a former standout at Atlee High School, has been JMU's primary placekicker since midway through his redshirt freshman year in 2017. He's been persistently dependable, 72 of 85 on field goals and 176 of 179 on extra points entering this season.
His consistency put him in position for some major career records entering the fall campaign, namely the FCS record for made field goals and the FCS record for scoring by a kicker.
And Ratke, in the Dukes' Colonial Athletic Association opener against Maine on Saturday, hit both marks.
With a third-quarter field goal, his 75th career conversion, the fifth-season senior tied the field goal record. And, shortly thereafter, Ratke surpassed the career scoring record with an extra point. That was the 414th point of his career. With three more extra points, he finished at 417 points.
Afterward, Ratke said it was hard to put into words what reaching both records meant. But he was quick to thank teammates, who helped him get there.
"When you get to this point, like FCS records, all that stuff, it really couldn't happen without everybody. So, it really belongs to everyone," said Ratke, who on Monday was named the CAA's co-special teams player of the week. "And I'm just happy to be a part of it."
Ratke, a Mechanicsville native, grew up playing soccer. But a trip to a field to kick with a friend one day put him on a football path. He then trained regularly with his father, Raymond, in the summer before his freshman year at Atlee and entered the Raiders' football program.
After playing on the junior varsity teams his freshman and sophomore years, Ratke became a Times-Dispatch first-team All-Metro pick as a junior and senior. He made 15 of 19 field goals and 113 of 116 point-after attempts.
He joined the Dukes as a preferred walk-on — JMU was the lone Division I school to extend such an opportunity.
Ratke redshirted his true freshman season in 2016. He was pushed into action in October 2017, when then starter Tyler Gray went down with a season-ending hip injury.
He etched his name in JMU lore early, with a then-program postseason record 46-yard, game-winning field goal against Weber State in December 2017. He's been a fixture for the Dukes since.
"That guy's been a guy who's come in here and worked since Day 1," said JMU quarterback Cole Johnson, one of the members of the Dukes' 2016 freshman class with Ratke. "And one of the hardest workers I've seen come through here, and it's been great."
As a junior in 2019, Ratke broke JMU's career field goals record with what was then his 40th conversion, against Elon that September. He later broke the Dukes' career scoring record against Rhode Island in November, passing former running back Khalid Abdullah (270, 2013-16).
Ratke hit a new career long, and JMU postseason record, 48-yard field goal against VMI in the spring season earlier this year.
Asked about his consistency Saturday, Ratke said he's standing on a mountain of people who've gotten him to a point in which he could reach his records. He mentioned his longtime long snapper and his holder, Kyle Davis and Alex Miller. Also his long snapper and his holder earlier in his career, Brett Siegel and Hunter Etheridge.
"Everybody's just put so much faith in me, and it's given me all this confidence," Ratke said.
In August, before the season, Ratke said he tried to put the approaching FCS records out of mind. But he knocked one field goal and nine extra points in JMU's Sept. 4 season opener.
Then teammates and fans vocalized where Ratke stood on Saturday, which made it tough not to think about it. Ratke didn't realize he set the scoring record on the extra point that sent him over, but Miller was there to congratulate him.
Dan Carpenter set the records for career field goals and career scoring by a kicker at Montana from 2004-07. His scoring record is listed as 407 in the FCS record book, but he also ran for a touchdown, giving him 413 points.
The Division I field goals record of 96 by Arizona State's Zane Gonzalez (2013-16) and the Division I kicker scoring record of 499 by Oklahoma's Austin Seibert (2015-18) are reachable for Ratke.
He'll have a chance to grab the FCS field goals record outright this Saturday in a major matchup for third-ranked JMU (2-0) at 10th-ranked Weber State (1-1). It'll be a chance for a full-circle moment for Ratke, against the same program he registered a milestone against as a redshirt freshman in 2017.
Ratke can't deny that the symbolism has crept into his thoughts. But the same laser focus, and scientific approach, will be there at game time.
It's been the foundation of his success.
"When we get there I'm just going to be thinking about doing whatever kick I got to make," Ratke said. "And that's all I'm going to try to think about."
(804) 649-6442
Twitter: @wayneeppsjr