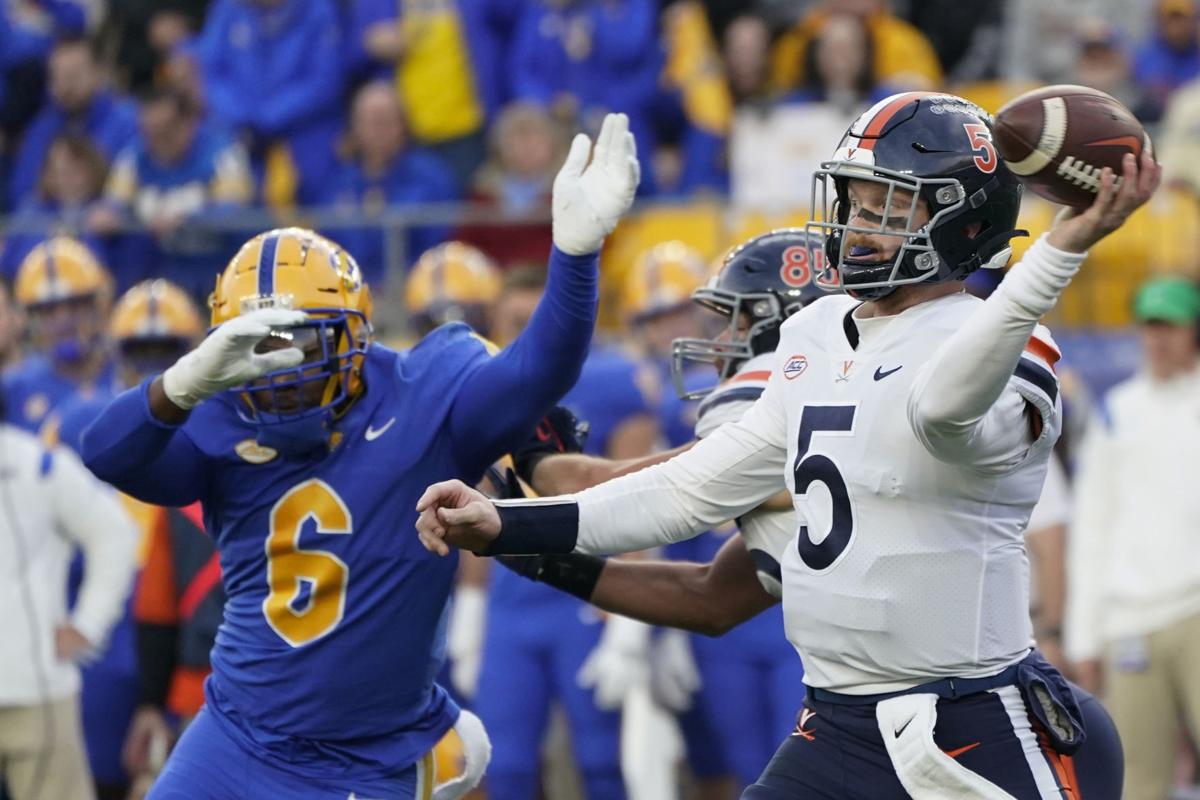 PITTSBURGH — More than an hour before kickoff, Brennan Armstrong stood out on the turf at Heinz Field going through warm-ups.
Unlike a week ago, when the Virginia quarterback gingerly tossed a few footballs before the Notre Dame game, then jogged back into the locker room, on this day, he threw the ball as though he meant business.
At the other end of the field, Kenny Pickett — arguably now the greatest quarterback in Pittsburgh history — had a similar focus.
By the game's end, Armstrong, wearing a flak jacket to protect his fractured ribs, had thrown for 487 yards and three touchdowns in his return from the injury against BYU on Oct. 30. Pickett had turned in another strong case to be the ACC's player of the year, throwing for 340 yards and four scores.
Pickett's No. 18 Pittsburgh team outpaced UVA and Armstrong 48-38, capturing the ACC Coastal Division the Cavaliers spent the year coveting, the much anticipated duel between two of the league's top quarterbacks living up to the hype.
"When you think about other stuff, you don't play well," said Armstrong, who faces rival Virginia Tech next Saturday at 3:45 in Charlottesville in the regular-season finale. "Cleared the mind. Came in with a lot of confidence. Was excited to play, finally again."
Armstrong, even in the loss, cemented his coach's opinion that there's no quarterback in the country for whom he'd trade the 6-foot-2, 215-pound junior left-hander.
For all the concerns Mendenhall had going into Saturday's matchup, Armstrong's performance wasn't one of them. The coach said he knew what he'd get from his quarterback, though it was three weeks since Armstrong cracked ribs on his left side falling on the football while reaching for extra yardage in the road loss to BYU.
"Yeah, I did," Mendenhall said. "I've just been around him long enough now to not expect anything else."
That's why Mendenhall and Virginia (6-5, 4-3 ACC) didn't want to wait to get Armstrong — who had been electric in that last outing — back into action. It won the opening toss and elected to receive. That opening drive was going nowhere, headed for a three-and-out, until Pittsburgh star linebacker SirVocea Dennis was ejected for targeting after a third-down hit on Keytaon Thompson.
That gave Armstrong and the offense new life, and from there, it was vintage Armstrong. UVA turned that break into the game's first points, a 3-yard touchdown pass from Armstrong to Thompson just 4:42 into the contest. Armstrong's second scoring strike went to tight end Jelani Woods, a 7-yard strike that sent UVA to the locker room down just a field goal at 24-21.
It was a first half that would have been a disaster without Armstrong.
Virginia's defense struggled to tackle, yet again, and its special teams gave up two long returns — a 98-yard kick return for a touchdown by Israel Abanikanda and a 39-yard punt return to Jordan Addison that set up a field goal that gave the Panthers (9-2, 6-1) the 24-14 edge late in the half.
But Virginia's defensive and special team issues continued in the second half and kept Armstrong's return from being a victorious one.
In the end, Saturday reminded Virginia fans of what a special season their team might be having with even a marginally more effective defense.
Perhaps no sequence better illustrated what UVA can be with Armstrong behind center than its response after falling behind 41-31 with 9:43 to play. First Armstrong hooked up with sophomore Dontayvion Wicks up the Pittsburgh sideline for a 36-yard completion. Wicks made a jumping catch with two defenders all over him, drawing a pass-interference call that was declined.
The next snap, Armstrong found senior Ra'Shaun Henry up the Virginia sideline for a 39-yard score, as Henry got behind the Pitt defensive back and Armstrong hit him perfectly in stride. The Cavaliers trailed 41-38 with 9:18 to play, and it appeared Armstrong might be positioned to be their savior again.
"There aren't many people, in any field, that are like that," Mendenhall said. "Our team knows that we're never out of a game and we don't ever not have a chance to win when he's our quarterback."
But across the way, the Panthers feel the same about their four-year starter. Pickett's final throw was a jump ball that was caught by Addison, who then broke free from Darrius Bratton for a 62-yard game-clinching touchdown, Addison's fourth score of the game.
Following Pickett's final kneel-down, the two star signal-callers came together on the field as the Heinz Field public address voice announced the Panthers as division champions.
"We chatted," said Armstrong of his on-field meeting with his Pitt counterpart. "He seems like a good dude. Plays ball well. It was fun to play against him."
Pittsburgh 0 24 10 14 — 48
UVA—Thompson 3 pass from Armstrong (Farrell kick), 10:28.
PITT—Addison 11 pass from Pickett (Scarton kick), 14:56.
PITT—Addison 18 pass from Pickett (Scarton kick), 10:01.
UVA—Hollins 2 run (Farrell kick), 6:52.
PITT—Abanikanda 98 kickoff return (Scarton kick), 6:39.
PITT—FG Scarton 36, 2:49.
UVA—J.Woods 7 pass from Armstrong (Farrell kick), :52.
UVA—FG Farrell 30, 12:53.
PITT—Addison 34 pass from Pickett (Scarton kick), 8:32.
UVA—Thompson 8 run (Farrell kick), 5:06.
PITT—FG Scarton 23, 1:46.
PITT—Hammond 1 run (Scarton kick), 9:43.
UVA—R.Henry 39 pass from Armstrong (Farrell kick), 9:18.
PITT—Addison 62 pass from Pickett (Scarton kick), 2:10.
Rushes-yards 24-34 38-169
Interceptions Ret. 2-33 1-0
Comp-Att-Int 36-51-1 26-42-2
Sacked-Yards Lost 5-31 3-26
Penalties-Yards 8-65 8-65
Time of Possession 30:05 29:55
Rushing–Virginia, Hollins 7-30, Thompson 3-17, Taulapapa 2-11, Darrington 3-10, (Team) 1-(minus 7), Armstrong 8-(minus 27). Pittsburgh, Davis 12-100, Hammond 15-66, Abanikanda 3-19, (Team) 2-(minus 2), Pickett 6-(minus 14).
Passing–Virginia, Armstrong 36-49-1-487, (Team) 0-1-0-0, Thompson 0-1-0-0. Pittsburgh, Pickett 26-41-2-340, Patti 0-1-0-0.
Receiving–Virginia, Thompson 11-126, Wicks 10-144, Woods 6-75, R.Henry 3-76, Kemp 3-24, Fields 2-32, Darrington 1-10. Pittsburgh, Addison 14-202, Wayne 4-28, Jacques-Louis 2-33, Bartholomew 2-32, Krull 2-23, Abanikanda 1-15, Tipton 1-7.