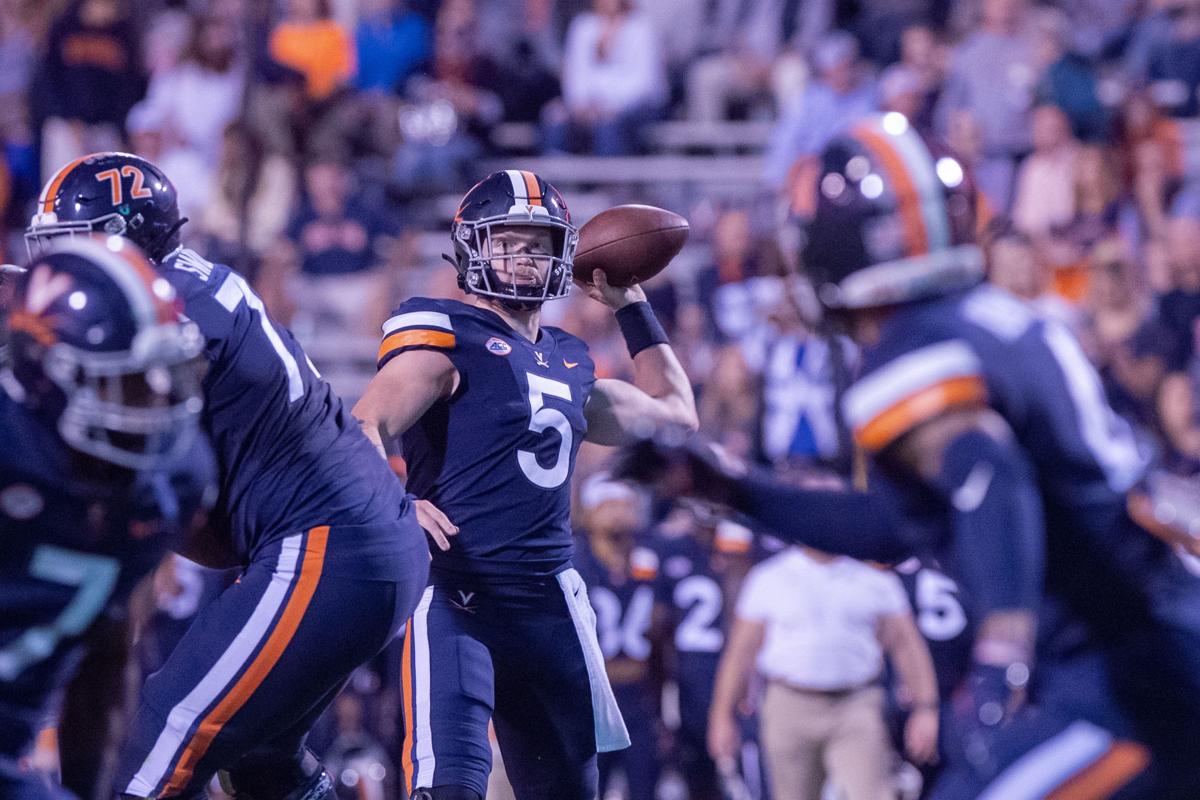 CHARLOTTESVILLE – As the final seconds ticked off the clock in Virginia's second straight blowout ACC loss, star quarterback Brennan Armstrong shuffled around the offensive backfield, eluded a defender and worked his way to the 5-yard line, where he slid down under a pair of Wake Forest defenders.
His night was, finally, over. Armstrong, sacked six times in the game, popped up and jogged off the field on the wrong end of a 37-17 beatdown by the Demon Deacons, one that his coach felt it important he play every last risky second of.
"Brennan is our leader," said coach Bronco Mendenhall when asked why the team's most indispensable player was still taking snaps and hits in the final minutes of the loss. "We're working to improve and he's the catalyst. I love who he is and what he is and I want and need his leadership and our team thrives off of that. There is certainly risk. I get it. But right now he's essential to our team's development."
Of course, the counter argument is obvious. Armstrong is essential to UVA on gamedays and chancing an injury during garbage time seems like an unnecessary risk.
"I don't expect everyone to agree," said Mendenhall, who offered a similar answer in the wake of last weekend's 59-39 loss at North Carolina, a game that saw Armstrong still taking hits with under two minutes to go.
What everyone can agree is that, long before the ending, Friday night was a bad night for the suddenly-scuffling Cavaliers (2-2, 0-2 ACC).
Mendenhall frequently talks to his football team about playing complementary football, the idea that all three phases - offense, defense and special teams - need to work together to produce the final outcome of a game.
Against Wake Forest (4-0, 2-0), all three units struggled for Virginia, and the result was another 20-point loss, one that dropped the Cavaliers to 0-2 in the conference for the first time in Mendenhall's 6-year tenure.
The offense, which appeared supercharged a week ago at North Carolina, stalled out in the first half. The defense, ripped to shreds by the Tar Heels, remained in tatters.
And, for good measure, a promising second-half kick return was wiped off the stat sheet by not one, but two holding penalties.
Wake Forest scored on each of its first seven possessions before finally punting in the fourth quarter, the first punt forced by Virginia since the fourth quarter of its 42-14 win over Illinois on Sept. 11. North Carolina scored on nine of its 11 full possessions, its two empty drives ending with an interception and a missed field goal.
UVA gave up 699 yards and 59 points in that game. Wake only amassed 473 and 37. But beyond the still unimpressive statistics, Mendenhall said he saw improvement in his defense from a week ago, a decidedly low bar to clear.
"I actually thought we played better defense than we did last week," he said. "So I thought we were more consistent. I thought we were more execution sound. And I thought we had more positive plays, when I was looking out there, from beginning to end. But still, mistakes at critical times."
And, as was the case against North Carolina, no one – not coaches or players – questioned the team's effort level.
"Guys on our football team definitely want to try hard," said senior linebacker Noah Taylor. "Obviously we may not be executing the right way right now, but guys want to win the Coastal and guys want to win the ACC championship. You can tell it by the way we play football."
Still, Virginia was down 20-3 at halftime and effectively out of it at 27-10 with 9:02 left in the third quarter.
"Effort alone is not going to do it," said Mendenhall.
Just two minutes into the fourth quarter, many of the 38,699 fans in attendance were heading for the gates, if they hadn't already exited by that point. Armstrong still had another 13 minutes left in his bruising shift.
Including his stat-padding final drives, Armstrong finished with 407 passing yards and two touchdowns. If the Cavaliers are going to turn around there season, he figures to be – as his coach labeled him – the catalyst.
But what Friday night showed, yet again, was that in an 11-on-11 sport, Armstrong can't do it alone.
"It's really clear that we have lots of work to do," said Mendenhall.