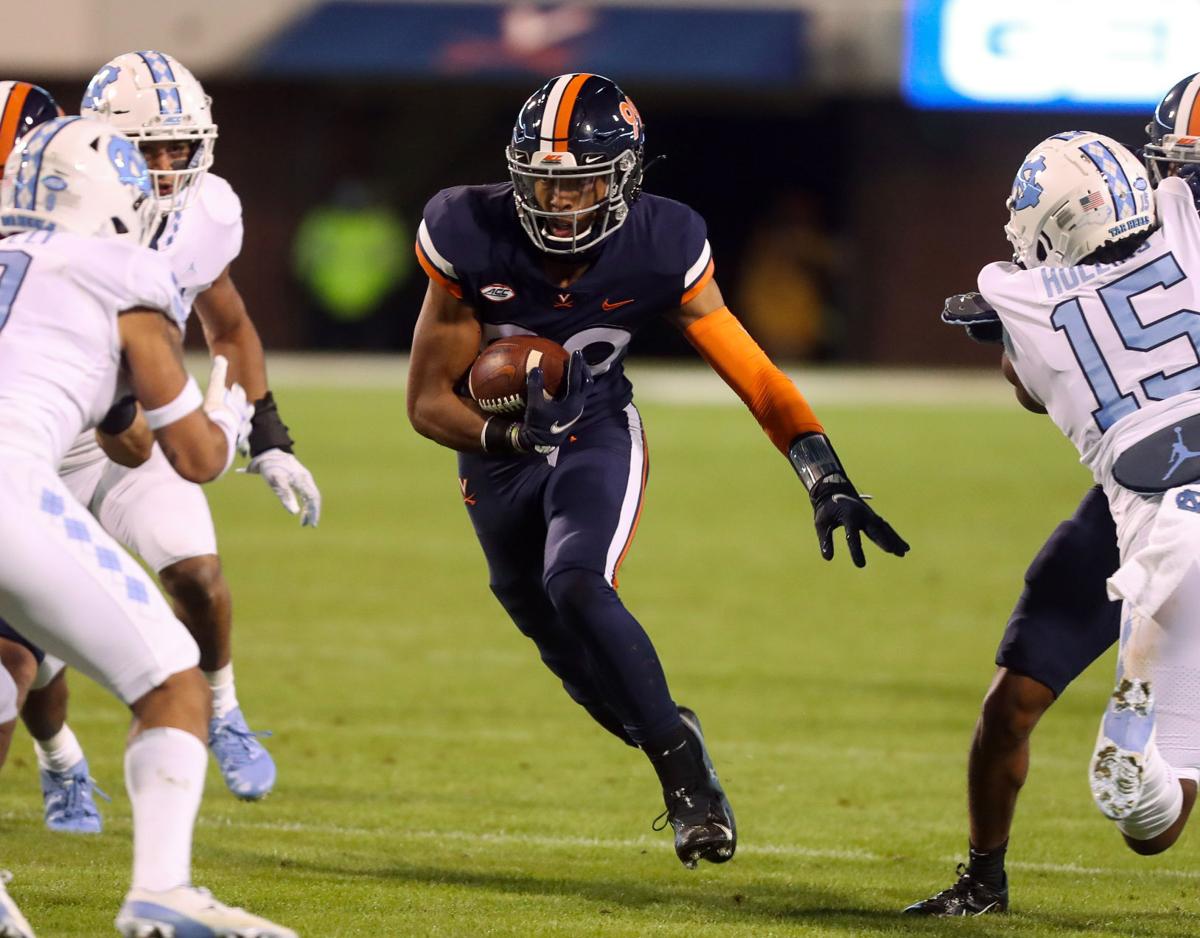 When he began the task of rebuilding the Virginia football program before the 2016 season, Bronco Mendenhall threw out a number of mottos and sayings he hoped would define his Cavaliers. One that was heard often around the team's facility was "will before skill," the idea that effort could win even before talent was accumulated.
Saturday night, against one of the ACC's most skilled offenses, UVA meshed its moxie with more-than-adequate talent, skillfully willing it's way to a 44-41 upset of No. 15 North Carolina, one that snapped the Cavaliers' four-game losing streak.
"Certainly the will was more important," said Mendenhall after improving to 4-1 against UNC. "We have enough skill collectively as a team, with a really strong mindset."
Five years into Mendenhall's surprisingly rapid rebuild of the program, Virginia (2-4, 2-4 ACC) has its share of talented skill players now — more than some, less than others, but enough to compete in the ACC.
Long plays by quarterback Brennan Armstrong and running back Shane Simpson, big catches by tight end Tony Poljan and wide receiver Ra'Shaun Henry, and a monster game from linebacker Charles Snowden made that very clear.
But by the fourth quarter, when the Tar Heels had fired back to within a touchdown, down 41-34, Virginia leaned on that will.
A fourth-and-1 conversion highlighted a drive that ate 9:02 off the clock. It ended with a 35-yard field goal by Brian Delaney that proved to be the winning points, giving UVA a victory over its highest-ranked opponent since upsetting No. 12 Georgia Tech in 2011.
"Very proud of that," said Simpson, a graduate transfer from Towson. "It ruins the defense. We suck the life out of the defense and make sure they don't want to play anymore. That's pretty much what that drive was."
Sure, a more skilled team might have made its way to the end zone and drained any drama out of the finish. Instead, after North Carolina (4-2, 4-2) scored to get within 3, Virginia needed a fourth-down conversion out of a punt formation by backup quarterback Keytaon Thompson to clinch this one.
It was a play call from Mendenhall that could have backfired disastrously, with a rolling North Carolina offense getting the ball back at Virginia's 42-yard line, but the coach said he had confidence in the play and the player, Thompson, to run it.
The call, as most decisions of that magnitude do, rested solely with the head coach.
"It's my call because if you don't get that, they're in great field position and that's a game winner or probably a game loser," he said. "The head coach is the only one who makes those [calls] and that's a lonely feeling."
In the end, Mendenhall put his faith in his team's will to finish the game off.
"After all that battle, I wasn't going to go out passively," he said.
In fact, that Virginia was even in position to hold on for dear life down the stretch is a testament to some serious mental fortitude.
North Carolina didn't waste any time, getting a 54-yard touchdown bomb from Sam Howell to Dyami Brown on the game's first possession, but Virginia — as it did all night — had an answer. It came in the form of a 23-yard scoring run by Armstrong that capped a 10-play, 75-yard drive on the Cavaliers' first turn with the ball. It was the first of four scoring drives of that length on the night.
Virginia didn't stop Carolina's offense cold. Not many can or do. But it stifled the Heels' rushing tandem of Michael Carter and Javonte Williams. That duo came into Saturday night averaging 229.2 yards per game. They left Scott Stadium after combining for 118.
North Carolina's skill in the passing game brought it back within a field goal early in the final quarter, when Brown caught his third touchdown of the evening. Brown finished with 240 receiving yards, Howell with 443 passing yards.
But in the highest-scoring game in this series, one that dates back to 1892, Virginia finished ahead on the scoreboard.
Maybe one day, Mendenhall will have a talent-loaded roster, one that can win off sheer skill.
On this night, at least, will worked just fine.
Twitter: @RTD_Mike Barber