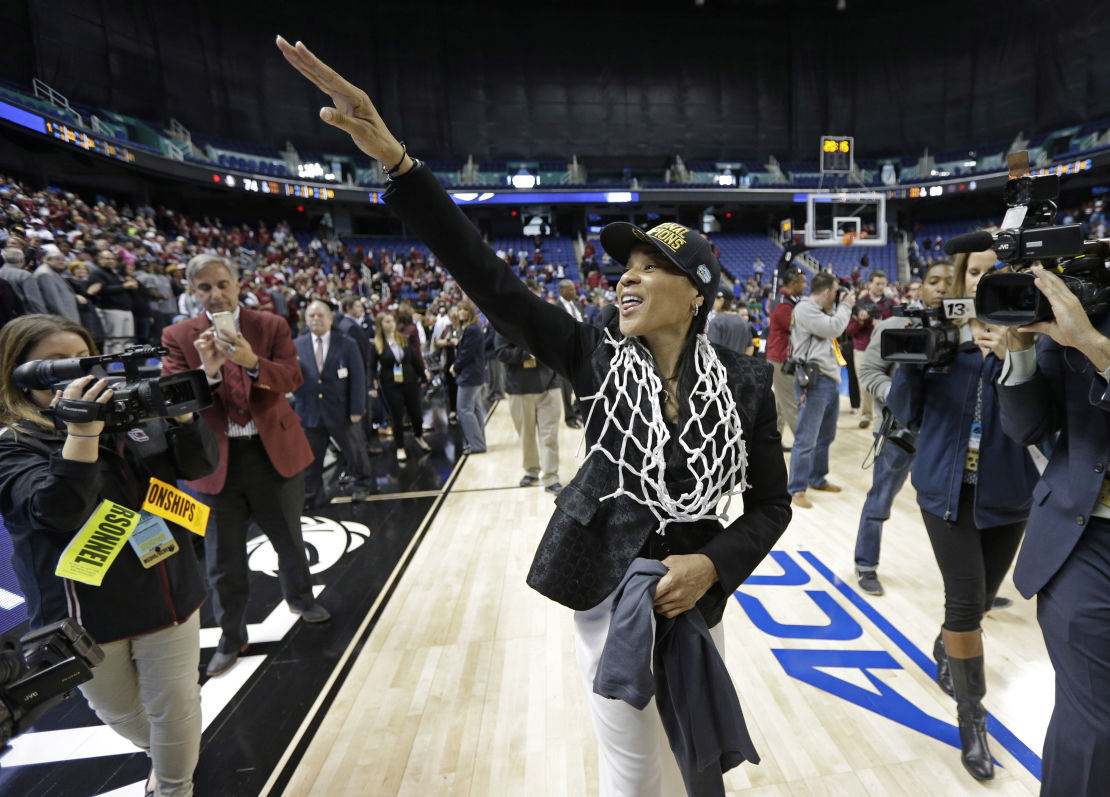 Dawn Staley is no stranger to the Final Four, having been there three times as a player.
The most stunning crossover of Dawn Staley's basketball career occurred not on the court but rather during a job interview at Temple University.
Despite having every intention of saying "no," Staley said "yes" in 2000 to an offer to become the Owls' women's coach. To this day, she seems surprised.
"I absolutely did not want to be a coach a day in my life," Staley said. "Not one ounce of me wanted to be a coach."
Today, it's difficult to imagine her in any other role. Staley, a three-time All-American at the University of Virginia and three-time Olympic gold medalist as a player, was a winner as a coach at Temple and has become a champion as a coach at South Carolina. She and her No. 3-ranked Gamecocks will face No. 2 Notre Dame in Sunday's national semifinals in Tampa, Fla.
Staley said she in no way anticipated the extent to which coaching would touch — indeed, massage — her psyche. She recalled socializing in the late 1990s with friends who had made the transition to coaching.
"We'd get together and their teams were the only things they'd want to talk about," she said. "At the time, I didn't understand. But now I do."
She said the physical and emotional commitment she makes each year to 15 young adults, off the court as well as on, has brought a sense of balance and fulfillment to her existence.
"I don't have children," said Staley, 44. "But (coaching) has given me so many of the emotions" that accompany parenthood.
Each time a freshman enters her program, she said, "it's almost like you're giving birth. She becomes your child. She becomes a part of your life — a big part of your life. And you work on a daily basis to shape her life. You leave a big part of yourself with her. You want to give her the tools she needs to be successful (in basketball and beyond)."
Coaching, she said, is "much harder" than playing.
"You're dealing with young people," she said. "You have to have a feel for what they're feeling. You're constantly trying to figure out what they're thinking. You're constantly trying to figure out the best way to handle different situations."
Routine is elusive if not unattainable.
"No day is ever the same," she said. "We have 15 players on our roster and we have to make sure that everyone is eating properly, going to study hall, going to class, coming to practice with a great mindset. Sometimes, they have bad days. Sometimes, things just happen."
Staley, an extraordinarily intuitive point guard, played the game in a way matched by few before or since. So sure and unerring were her instincts that she seldom needed to speak. She simply delivered the ball to one of two targets: the basket, or the waiting hands of a teammate. Those habits still are strong.
"There isn't a whole lot of fat when I'm speaking," she said. "I get right to the point. But the thing is, sometimes when you get right to the point, players don't always get it. They don't always hear what you're saying. So you almost have to figure out how each player processes information. You've got to figure out what buttons to push, and when."
Sometimes no words are necessary. Junior guard Tiffany Mitchell scored 21 points in the Gamecocks' 80-74 victory over Florida State in the Greensboro Region championship game. Her harvest included seven points and an assist in the final 2:42.
"I think me and Coach Staley have a nonverbal communication," Mitchell said. "I just look at her and she looks at me and I'm like, 'All right. It's time.'"
Lisa Boyer knows Staley better than most. She has served since 2002 as a member of Staley's staff. She coached Staley for two seasons, 1997 and 1998, with the Richmond and Philadelphia Rage of the American Basketball League. Boyer said Staley's approach to coaching is similar in many respects to her approach to playing.
"She absolutely loves the game," Boyer said. "Her passion for basketball runs very deep. She'll never disrespect the game. She'll never permit anyone who plays for her to disrespect the game. She has a very clear vision of how basketball should be played — of the discipline and commitment required to play it well; of how it should look and feel and sound."
Boyer said Staley is unflinchingly honest with her athletes. She said Staley neither asks nor expects her athletes to play the game the way she played it. She asks, in essence, for only two things.
"She wants effort. She wants competitiveness," Boyer said. "She understands that some days, your shot isn't going to be there. She understands that some days, you're not quite going to have it. That's OK. She can live with that. But effort and competitiveness? Those are things that have to be there."
Staley's Hall of Fame playing career is a lustrous tapestry that contains but one blemish. She failed to win an NCAA championship despite reaching the Final Four three times. The Cavaliers lost in overtime to Tennessee in the 1991 national championship game.
She said the memories of those disappointments — and the individuals with whom she shared them — "fuel me to this day. I know I've accomplished a lot: the gold medals, being a part of Olympic teams, just being a part of USA Basketball. But the one thing that's always escaped me is a national championship."
Staley said she will take with her to Tampa "all of those people who helped me along the way and especially those who also experienced that awful feeling, that void, of not winning a national championship."
She mentioned former Cavaliers coach Debbie Ryan and former U.Va. teammates Tammi Reiss, Tonya Cardoza and Audra Smith.
"Hopefully, the cards are in our favor this year," she said. "Hopefully, I'll be able to hoist the trophy for all of those people."
(804) 649-6442
@RTDVicDorr