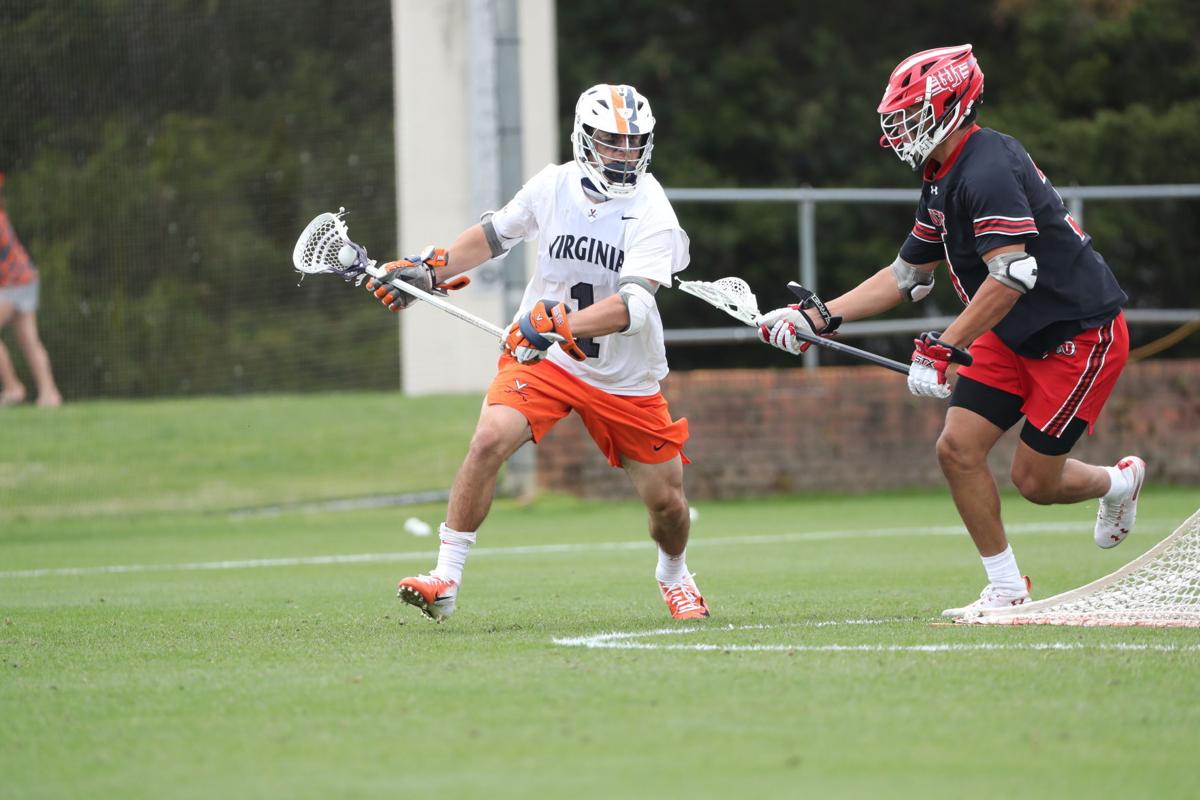 CHARLOTTESVILLE — Less than 48 hours removed from a heartbreaking loss to the third-ranked team in the country, Virginia struggled early on Saturday with a program in its third year in Division I lacrosse.
Junior midfielder Petey LaSalla and freshman attackman Connor Shellenberger helped snap UVA out of it in the second quarter and onto an 18-11 nonconference win over visiting Utah.
LaSalla went 20 for 26 on faceoffs, including 10 for 10 during the pivotal second period, and Shellenberger and sophomore Peter Garno each scored three goals for the No. 4 Cavaliers in their penultimate regular-season game at Klockner Stadium.
"Obviously Utah came out pretty hot," Garno said. "And we came out pretty flat."
Senior goalie Alex Rode made 13 saves on 21 shots, including 11 in the first half, keeping things close.
The Cavaliers (10-3), coming off Thursday night's 13-12 overtime loss to No. 3 Duke, struggled early with the Utes (3-6). The teams were tied 4-4 after one quarter and Utah led 6-5 with 11:57 to play in the first half.
"It's difficult to match Utah's energy period, regardless if you just played an ACC opponent or you had two weeks off," said UVA coach Lars Tiffany.
Virginia got going after that, which ended the half on a 6-0 run, with Ian Laviano bookending that surge, scoring the first and the final goal.
"Utah did a fantastic job in that first quarter of winning extra possessions, playing fast and scoring goals," said Tiffany. "Petey LaSalla's domination at the faceoff X in the second quarter, you can't overstate the importance and the value of that. Once again, Petey LaSalla does heroic work for us."
The Cavaliers led 11-6 at halftime, and scored the first two goals of the third quarter, as senior Dox Aitken and sophomore Xander Dickson each found the back of the cage to give the home a 13-6 lead, effectively ending Utah's upset bid.
With a goal and two assists, senior Matt Moore — who entered the game with 106 scores and 98 assists in his career — became just the fifth Virginia player to hit 100 in both categories, joining Danny Glading, Kevin Pehlke, Steele Stanwick and Michael Kraus on that list.
"It's a tremendous accomplishment," said Tiffany. "He's tremendously talented, and when Matt is distributing and facilitating, he puts such tremendous pressure on the other team's defense. When he's seeing the field, and he can see the field so well, and he moves it, it gets our whole offense flowing."
The Cavaliers end the regular season next weekend when they host No. 9 Syracuse. The Orange beat UVA 20-10 earlier this season in New York.