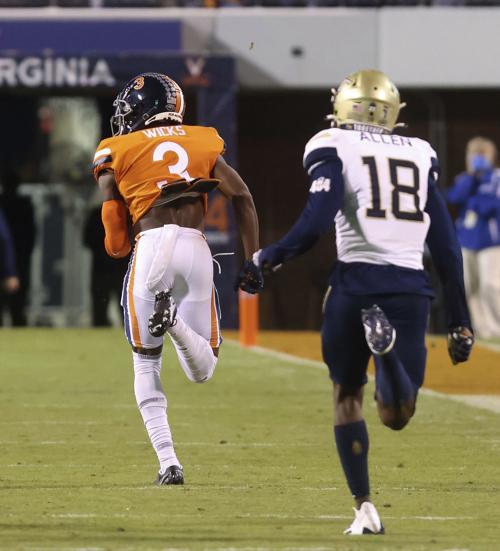 CHARLOTTESVILLE – Brennan Armstrong is back to being a complete quarterback, and Virginia's offense looks completely dominant.
Armstrong, healthy after being limited for the past month by an injured knee, threw for 396 yards and four touchdowns and ran for another 99 yards and two scores as UVA won its fourth straight game, topping Georgia Tech, 48-40, on Saturday night at Scott Stadium.
In all, the Cavaliers (6-2, 4-2 ACC) piled up 636 yards of total offense, erasing an early two-score deficit and becoming bowl eligible for the fifth straight time in coach Bronco Mendenhall's six-year tenure.
Armstrong entered the day as the nation's leader in passing yardage and did nothing to derail his growing candidacy to be the league's player of the year. The team's leading rusher a year ago hadn't been featured on designed running plays much since injuring his knee in the team's Week 2 win over Illinois.
That started to change during last weekend's 48-0 win over Duke and was on full display Saturday night against the Yellow Jackets (3-4, 2-3).
Sophomore wide receiver Dontayvion Wicks caught six passes for 168 yards and two scores and Billy Kemp IV and Ra'Shaun Henry also had touchdown receptions.
The defense, coming off its first ACC shutout since 2008, overcame a shaky start that saw it allow touchdowns on the Yellow Jackets' first two possessions, to rein in quarterback Jeff Sims enough for the offense to put the game away.
Senior safety Joey Blount had eight tackles and a tide-turning interception in the second quarter, plus an earlier pick and 42-yard return that was wiped out by penalty.
Georgia Tech recovered two late onside kicks and scored a pair of touchdowns in the final 1:16 to create a tight finish. 
Virginia, winners of four straight ACC games, now steps out of conference play for a pair of non-league games against BYU and Notre Dame, before ending the regular season with tilts against Pittsburgh and rival Virginia Tech that could determine the Coastal Division champion.
After winning the opening coin toss, Georgia Tech made the fairly uncommon call to receive the opening kickoff instead of deferring to the second half. It quickly became evident why.
The Yellow Jackets' offense was ready.
It marched 75 yards on five plays on its opening possession, going up 7-0 when Sims hit Kyric McGowan for a 36-yard touchdown just 1:40 into the game.
Georgia Tech pushed its lead to 13-0 with 6:28 left in the first quarter when Dontae Smith found the end zone from three yards out. That drive was kept alive after a roughing the passer flag on Noah Taylor wiped out a Joey Blount interception in the end zone, a pick Blount ran back for 42 yards that never counted.
Two plays later, Tech scored, though Taylor did earn a measure of redemption blocking the extra point.
Teetering on the brink of being blown out at home, UVA responded with a 9-play, 75-yard march, getting on the board when Armstrong hit Kemp for a touchdown on a short swing pass out of the backfield.
After Georgia Tech settled for a field goal on its ensuing possession, Virginia struck again. Armstrong, who the team had been reticent to use on designed runs since he injured his knee in the Illinois game the second week of the season, took off for a 45-yard gain. That long run set up a 13-yard touchdown pass to Wicks, who out-jumped a pair of Yellow Jackets defenders in the end zone to cut the Cavaliers' deficit to 16-14 with 9:51 left in the half.
Blount stymied Tech's next drive, intercepting a pass at the 3-yard line. Three players later, Armstrong threw a short pass out wide to Wicks. Georgia Tech's Derrik Allen slipped off his tackle attempt and the speedy Wicks raced 77 yards for a touchdown, giving UVA its first lead of the night at 21-16 with 6:36 to go before the break.
And Armstrong and company weren't finished, adding a 23-yard field goal by Brendan Farrell with 1:23 left in the half to head to the locker room up 24-16.
In all, Virginia scored on its final four possessions of the second half.
Like it did at the onset of the game, Georgia Tech had a strong start to the third quarter. Dialing up the blitz pressure on Armstrong, it held UVA to a field goal on the Cavaliers' first drive, then got within three points after a 71-yard touchdown burst by running back Jahmyr Gibbs and a masterfully designed two-point play.
That left UVA up 27-24 with 9 minutes left in the third. But Armstrong got the Cavaliers back to a comfortable margin, scoring rushing touchdowns of 4 and 14 yards in the third quarter, building a 41-24 lead going into the final stanza.
Virginia's final score came on a 20-yard strike from Armstrong to Henry with 3:50 to play. Georgia Tech added a pair of touchdowns in the final 1:16.
NOTES: Virginia senior linebacker Noah Taylor was injured and spent the second half on the sidelines, not wearing pads but wearing a protective walking boot on his left foot.