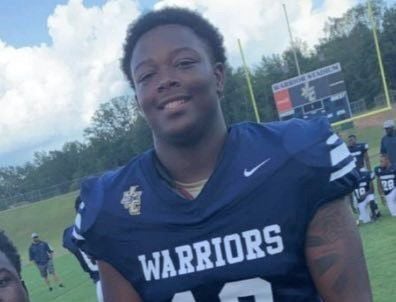 The uncle and grandmother of Quandarius Wilburn, the Virginia Union football player who died during a Panthers conditioning session Sunday, said the 18-year-old appeared to be in very good physical condition when he reported to his first college preseason camp.
According to Sandra Nelson, Wilburn's grandmother, the autopsy is still pending, but as she currently understands the situation, Wilburn experienced a fatal cardiac event.
"He went into cardiac arrest," Nelson said Tuesday in a phone interview. "They did everything they could to save him, and they couldn't save him."
Nelson, the mother of Wilburn's mother, described Wilburn as a strong student who drew the attention of people in the Wadley, Ga., community in which he was raised because of his helpfulness. Wilburn completed a physical examination two months ago, according to Nelson, with no indications of health issues.
"He was a completely healthy guy," she said. "Never did drugs, never smoked. Loved people. Loved life. He made an impact on everybody he met. Everybody loved him. Old people. Young people. He was a positive person, an encourager."
Members of the family began their drive from Georgia to Richmond when informed that Wilburn collapsed at the Sunday workout. Before they reached Richmond, they learned he died.
"We cried our eyeballs out," said Nelson. "He was like our angel on earth."
Family members have since returned to their homes in the area of Augusta, Ga.
The popularity of Wilburn was such that his funeral will be held Saturday at the gym at Jefferson County High School, his alma mater, in Louisville, Ga., to accommodate the number of people who expressed interest in attending, said Damien Wilburn, Quandarius Wilburn's uncle. Virginia Union administrators and coaches plan to attend, according to Nelson.
"He was a well-known kid amongst his class that he graduated with, and everybody has just been sending their condolences, and right now we're looking at a pretty big funeral," said Damien Wilburn. "He was a very popular kid. Everybody loved him. Nobody had any bad words to say about him.
"He was just a humble kid."
Virginia Union resumed practice Tuesday in helmets and no other football equipment, according to Pam Cox, the school's assistant vice president for executive communications.
"We are focusing on Mr. Wilburn's family and our campus community," Cox wrote to the Richmond Times-Dispatch. "Providing counseling service and other assistance as requested."
VUU has prohibited interviews for the time being with football coaches, players and other staff members.
According to Damien Wilburn, 31, he and Quandarius were more like father and son than uncle and nephew. Quandarius was raised by his mother, Kenyada Wilburn, in a single-parent household, said his uncle.
In the weeks before Quandarius, a 6-foot-2, 230-pound defensive end, left for Richmond and Virginia Union on July 12, he and his uncle worked out in a weight room located in Damien's house, said Damien Wilburn. The two trained daily, running and doing other aerobic conditioning as well as the weightlifting, he added.
From the time Quandarius began playing youth football, he experienced no significant physical issues and always had annual exams, according to his uncle.
"He was healthy. I don't understand where this is coming from or how it occurred," said Damien Wilburn. "If it's God's will, it's God's will, but it's just shocking to my family. It's shocking to his mom. His mom is taking it very hard. We just don't understand it. We lost a good one, for sure.
"One day he told me he wanted to play sports and go on and finish his education so he can help his mom out with everything she needed. He was going to do everything in his power to make sure she was going to be OK whenever he finished school."
Damien Wilburn said the cause of Quandarius' death has still not been officially determined. The state project manager of the Office of the Chief Medical Examiner, Keshia Singleton, said Tuesday that she was unable to provide cause or manner of death at this time because testing continues.
"Unfortunately, we don't have a timeframe, and we can't promise a timeframe," said Singleton.
Damien Wilburn said Quandarius had received two vaccine shots for COVID-19 "way before" he left on July 12 for Richmond and Virginia Union. Since then, Quandarius had been taking classes at VUU and continuing to physically prepare for preseason practice.
"All he wanted to do was play football and make his family proud," said Damien Wilburn. "He was the type of guy, he liked to joke and smile, but he was a very well-mannered young man. He would say, 'Yes sir, no sir,' 'Yes ma'am, no ma'am.' He just made it easy to be a parent to him. He made it very easy.
"He'd give you the shirt off his back."
Kenyada Wilburn, Quandarius' mother, initially was not in favor of her son spending his college years so far away from home, according to Nelson, Quandarius' grandmother.
"She said, 'You've got to stay close if I need you,'" said Nelson. "But that's where he felt like he needed to go."
(804) 649-6233
Twitter: @RTDjohnoconnor