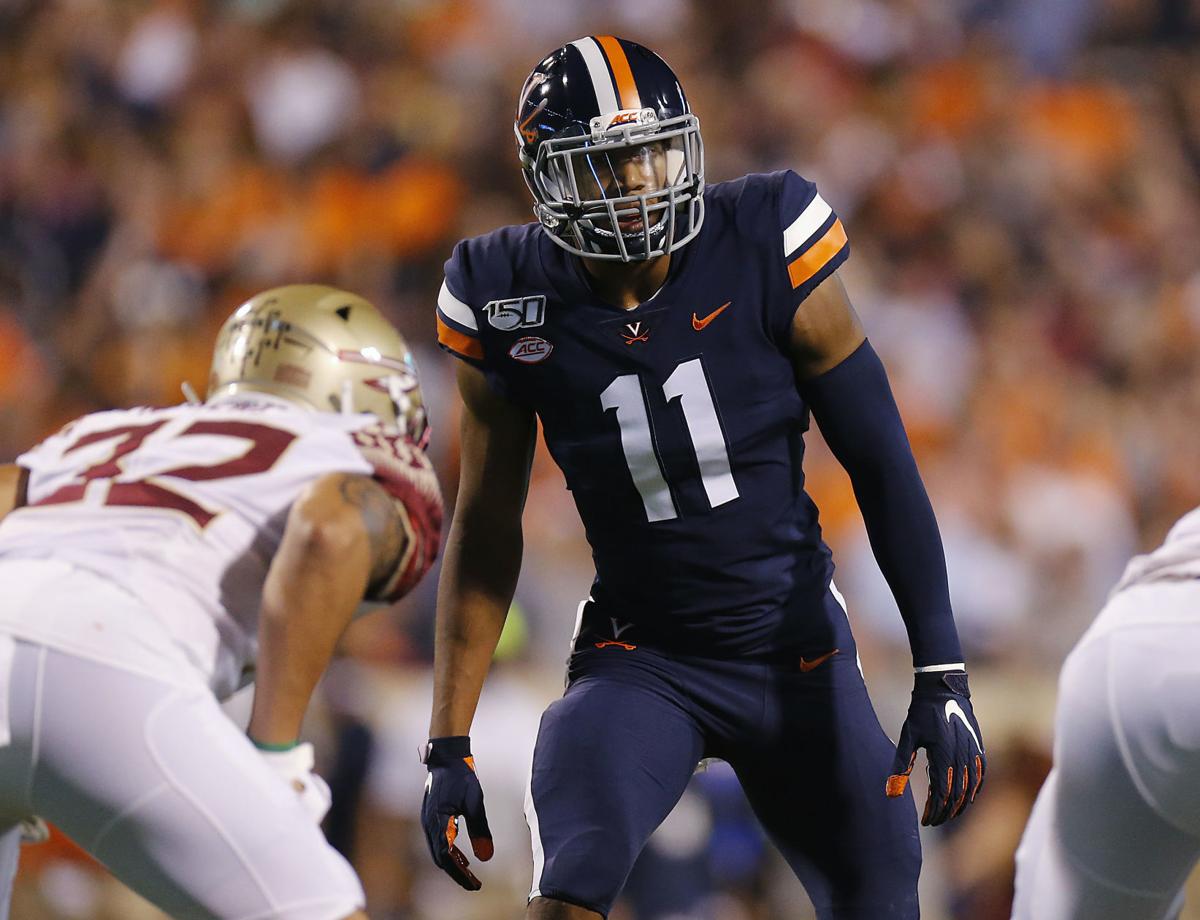 Earlier this month, with his production lacking, Virginia star linebacker Charles Snowden admitted the empty seats most ACC football teams are playing in front of this season were leaving him listless and lifeless.
"Feeling seen, knowing that there's 60,000 in the stands rooting for you or rooting against you, it does play a part," Snowden said then.
At the moment, Snowden was struggling to replace that part. After being in on 11 plays behind the line of scrimmage the past two games, that appears to be behind him.
"I think I've just accepted the fact that I feed off that," Snowden said after his four-sack outing in Virginia's 44-41 win over then-No. 15 North Carolina on Saturday. "At the beginning of the year I tried to be like, 'Oh, I love football. I Don't need a crowd. I just love football.' But just acknowledging that I do need that so finding that energy source elsewhere, whether it's from my fourth side teammates, within myself, the guys on the field, just finding energy and motivation wherever I can."
The self-described "energy guy" flipped the energy back on in back-to-back games against Miami and UNC. He had 22 tackles, with just one for a loss, and no sacks through the team's first four games. He's made 18 tackles, 7½ for losses, and recorded five sacks in the past two contests.
"He's just been himself," said coach Bronco Mendenhall. "He's been a great leader through his words and through his presence. But without the performance part, it's not quite the same in terms of igniting and helping your team. Your leadership doesn't quite go as far. … This team needs that."
To help Snowden get himself back to the form he flashed last season, when he became an honorable mention All-ACC selection, Mendenhall and the defensive staff have made adjustments. They've played him fewer snaps in games, rotating in senior Matt Gahm more to spell Snowden. They've used Snowden more on the open, field-side of the defense, after playing him almost exclusive on the boundary side earlier this year.
And they've scaled back his workload in practice.
"It wasn't that he wasn't trying before and it wasn't that he wasn't doing his job. It just was on his part an increased focus," Mendenhall said. "With his mindset kind of more specific and his body fresher, just that little tweak, here he goes. And we've seen it in the last two weeks."
Saturday, Snowden recorded a season-high 10 tackles to go with his four sacks, harassing UNC quarterback Sam Howell to a smattering of applause from the mostly-family crowd of about 1,000 at Scott Stadium and the raucous, joyous UVA sideline. The Cavaliers high-fived, leapt into each other in the air, and ran around like airplanes.
The more Snowden did, the more his teammates followed suit. Each sack seemed to breathe life and confidence back into a secondary that started the game looking like little more than tinder to UNC's offensive firepower.
And for the first time in five weeks, they won.
"Charles Snowden is an electric player," said inside linebacker Nick Jackson. "He's got havoc written all over him. He's a playmaker and he just makes plays all night long."
Snowden's resurgence has brought back havoc for the 'Hoos — the disruptive defensive identity that fueled last season's ascension to a division title and an Orange Bowl berth.
He had eight tackles, including 3 ½ for losses, and a sack in UVA's 19-14 loss at Miami two weeks ago. And the rest of the defense has followed suit. Virginia (2-4, 2-4 ACC) has 18 tackles for losses and 10 sacks in its last two games, emerging from a challenging early-season schedule with two things it had been missing — that defensive identity and healthy dose of hope.
UVA's five most recent opponents have had a combined record of 24-7, a stretch that included games against ranked teams in No. 1 Clemson, No. 11 Miami and then-15th ranked UNC.
The Cavaliers' next five upcoming opponents are 8-15 this year. That stretch starts Saturday night at home against Louisville (2-5, 1-5).
The Cavaliers' next five upcoming opponents are 8-15 this year. That stretch starts Saturday night at home against Louisville (2-5, 1-5).{div}{/div}{div}{/div}