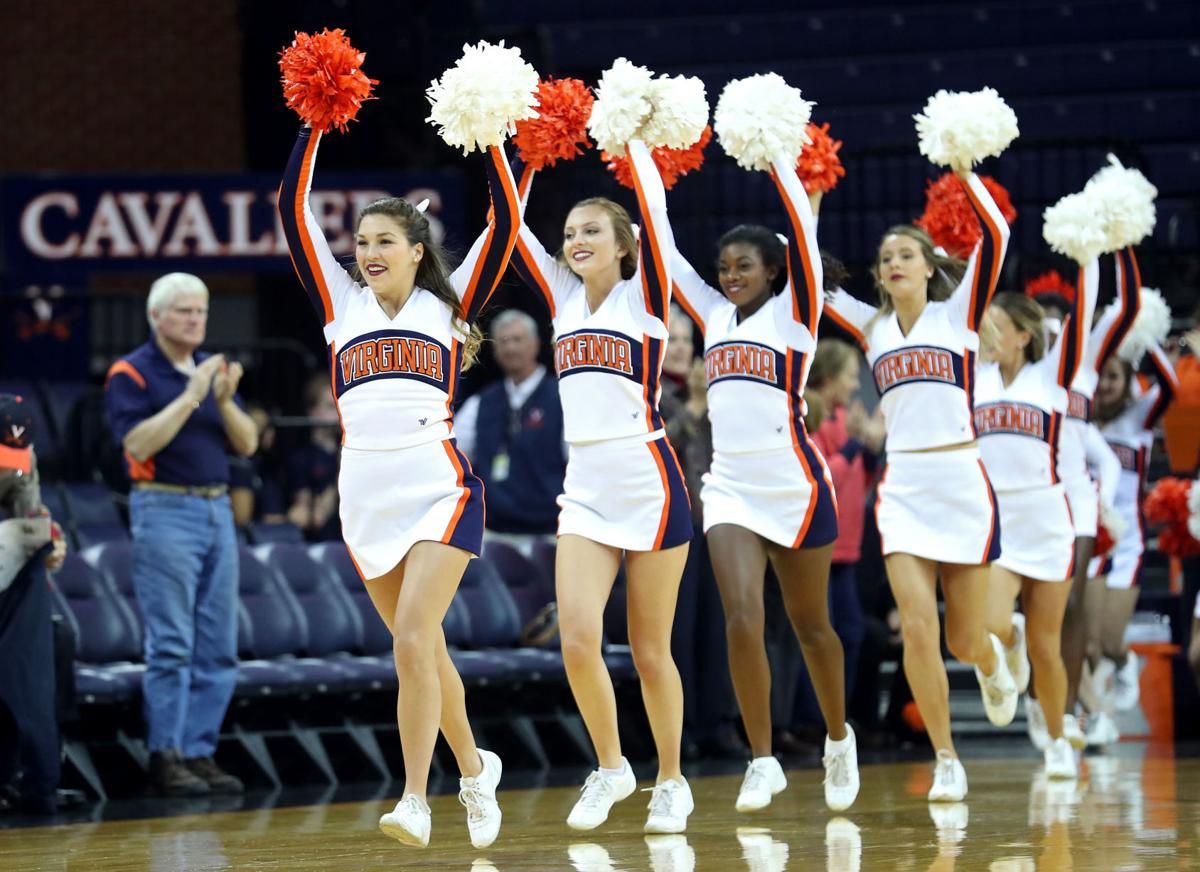 You've read this story before. You'll read variations of this story several more times before 2020 is over.
No one knows what fall athletics are going to look like. Many things are being moved online. Coronavirus is creating questions faster than they can be answered.
One of those questions for schools: What happens to the cheerleaders on the sidelines at sporting events?
It's unclear whether they'll be permitted on the field this season. Even if they are, it's unclear how many people — if any — will be in the stands. It's unclear what type of choreography they'll be able to do. It's unclear when they'll be allowed to start practicing.
With so many decisions up in the air and a football season potentially fast approaching, some coaches are starting to feel like they're behind the eight ball.
In a normal year, the University of Virginia's cheer tryouts would have been in April. The squad would have come back for a weekend in June, and they would have had a full week of preseason training before the first football game in August.
But — as you may have heard — this is not a normal year.
UVA coach Kelley Haney has already had to reschedule tryouts twice, originally pushing them back to July and now moving forward with a virtual approach.
Varsity Spirit, a cheerleading brand that puts on camps and competitions, has created a system to help programs like Haney's facilitate online tryouts. Material is sent out to the athletes who then record themselves performing the moves at home. The video is then distributed to the coaches and any other judges the team is using. Over 400 schools are currently using Varsity's system.
The first round of UVA's tryouts is on Friday.
There will be a second round of virtual cuts after that. Haney feels confident she'll be able to make the right calls based on video but wants to do the third round in person before making a final decision. That means waiting for students to return for school in the fall.
Losing that week of preseason means the squad may be thrown into the mix unprepared. The Cavaliers have an away game on Sept. 7 that the cheerleaders could be expected to travel to.
Varsity Spirit has tried to solve that problem with virtual — and in-person — camps. The virtual camps were launched three weeks ago.
"You have a full day and a half of virtual training," said Bill Seely, the president of Varsity Spirit. "Everyone's there, and they're in front of an instructor. The instructor takes them through and teaches them all the material that they need to be ready for the upcoming season."
The in-person camps have primarily been in states with fewer restrictions, like Alabama, Tennessee, Texas and Florida.
Above all the logistics and budgetary concerns hangs a much larger question: Will there be anything to cheer for?
The situation is rapidly changing, with more and more schools opting out of fall sports or cutting non-conference competition.
"Not knowing when they're going to be able to get on the football field, I'm not as worried as if I knew we were definitely going to have our first game on Sept. 7 and have our cheerleaders travel for that game," Haney said. "Then I'd be worried. I don't think we're going to be on the field for the first few games."
Even if there is no football or if spirit teams aren't allowed to perform, Haney hopes her squad could still practice.
While there is a governing body of cheerleading — USA Cheer — it doesn't govern individual squads in the same way the NCAA governs teams. Haney thinks the ACC likely will develop a set of guidelines. Otherwise, these decisions will be made on a school-by-school basis.
A call later this week with all the ACC cheer coaches may shed more light on the situation.
From a health and safety perspective, cheer could be looked at a couple different ways. Tumble, which is the more gymnastics-based portion of cheer, could be done 6 feet apart and would likely involve very little risk.
On the other hand, stunting — the throwing, catching, human pyramid part of cheer — is inherently not socially distanced.
Haney has been keeping up with the changing restrictions more than most. She also works for the Virginia High School League, so she's been seeing COVID-19's effects on athletics at many different levels.
Because of COVID-related budget cuts, UVA will be cutting eight to 10 spots from its roster on the all-female team and six to eight from the co-ed team. The teams, combined, previously had around 40 cheerleaders.
The cuts may be rolled back next year, but only time will tell.
"Who knows at this point?" she said.