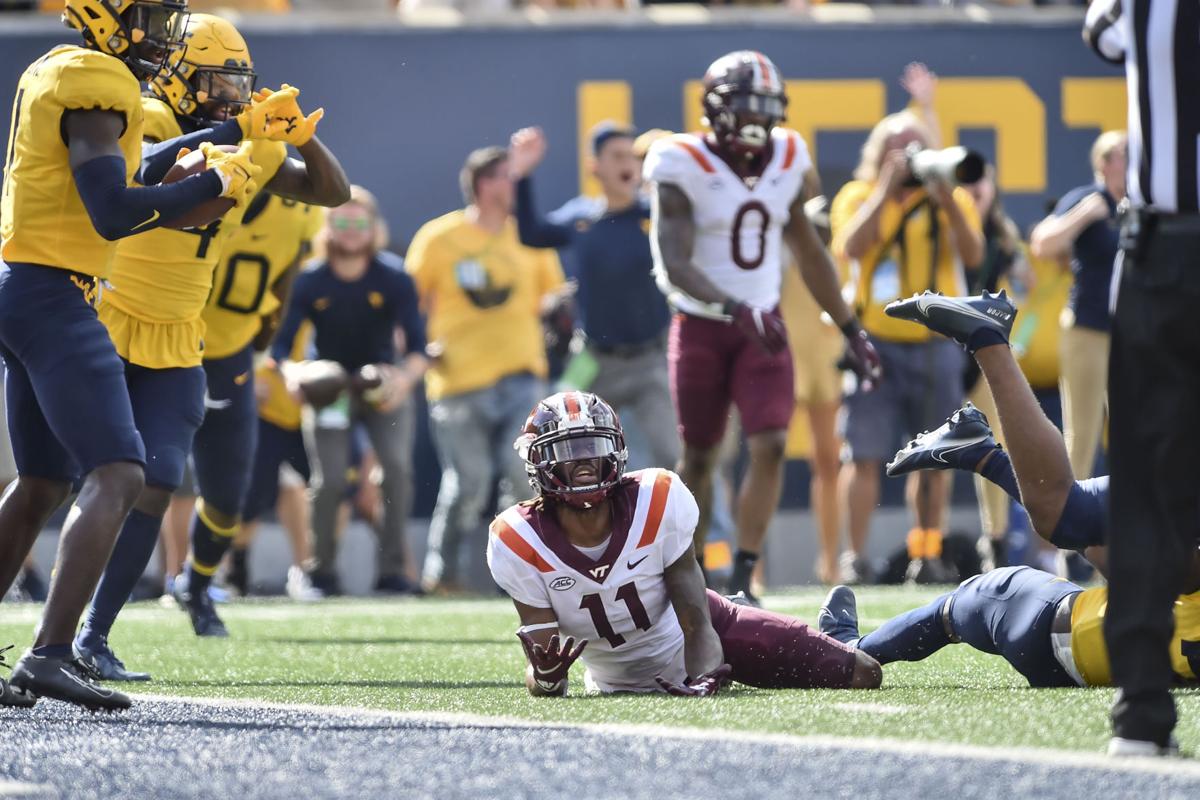 When Virginia Tech opened the season with a 17-10 home win over preseason division favorite North Carolina, the Hokies elevated themselves into the ACC's Coastal Division title race. They won't run another leg in the race until mid-October.
After kicking off the year with a conference contest — and a division matchup — Tech is in the midst of a stretch of four straight nonconference games before it jumps back into league play on Oct. 16 against Pittsburgh.
"It was weird," coach Justin Fuente said Monday. "We played a conference game, then you go put that in the closet."
The Hokies' rival, Virginia, is facing a very different path to a potential Coastal title. The Cavaliers, who won the division in 2019 before the ACC played without divisions last season because of the pandemic, are coming off a 59-39 loss at North Carolina on Saturday. UNC had slogged through a defensive affair against Tech (2-1, 1-0 ACC).
That loss to the Tar Heels kicked off a stretch of six straight conference games, a leg of the schedule that figures to determine whether UVA (2-1, 0-1) has a shot to win the division again. It continues Friday night when it hosts undefeated Wake Forest.
Opening with a division loss certainly made things harder for coach Bronco Mendenhall's team.
"Much harder," said Mendenhall on Monday. "But if you can get the lessons exposed and what needs to be improved early ... that gives us the best chance to recover and go forward. UNC found themselves in a similar situation after losing to Virginia Tech in the opener, and, man, I think they've made considerable improvement from what I've seen by the time that we faced them."
So three weeks into 2021, what can be made of the Coastal Division?
North Carolina (2-1, 1-1), despite its early setback, may again be the favorite. The Tar Heels have found their offense, waxing overmatched Georgia State 59-14 and then putting that same total on UVA.
Miami (1-2, 0-0), picked in the preseason to finish second in the division, is off to a 1-2 start, losing to Alabama and Michigan State and squeaking by Appalachian State.
Factor in the injury to quarterback D'Eriq King, and the Hurricanes could be in a trouble. King is questionable this week with a shoulder injury.
But Miami, which plays its last nonconference game Saturday against Central Connecticut, has yet to take on a conference foe. So there's still time for the Hurricanes to be a factor in the division race. Their first two league games will reveal if they're in or out of the hunt. They play host to Virginia, then play at Carolina in a pivotal stretch for the division.
Like Miami, Pittsburgh's schedule offered four nonconference games before the Panthers (2-1) get an ACC contest. They open October with road games at Georgia Tech and Virginia Tech that figure to announce their relevance.
Virginia Tech suffered a 27-21 road loss at West Virginia in an old Big East rivalry renewed. While Fuente acknowledged the significance of that matchup for a number of reasons, he also agreed it does little to nothing to derail the Hokies' quest for a spot in the ACC title game.
After hosting Richmond on Saturday, Tech plays another notable nonleague game against Notre Dame. But just like WVU, that game won't play into the Hokies' divisional hopes. Still, even more important than positioning Tech for a higher-level bowl game, this stretch of nonleague games is helping it get ready to be a title contender.
"You have to find a way for us to continue to improve to give our team in the long run a chance to be the best team we can be," Fuente said. "And then it's on. It's eight straight conference games and it's the gantlet, the grinder."
In the seven seasons from 2013 to 2019, each of the Coastal Division's seven teams won the title once, a bizarre cycle of parity that culminated with Virginia's 2019 run. And while UNC was a heavy favorite to run away with the division this year — and that may still happen — players said no one should surprised by how unclear the title race looks during the season's first month.
"No matter what, the Coastal's always going to be hard," UVA senior offensive lineman Ryan Nelson said. "It's Coastal chaos, and everyone knows that."
North Carolina 59, UVA 39
Michigan St. 38, Miami 17
Virginia at Miami, Sept. 30
Va. Tech at Miami, Nov. 20