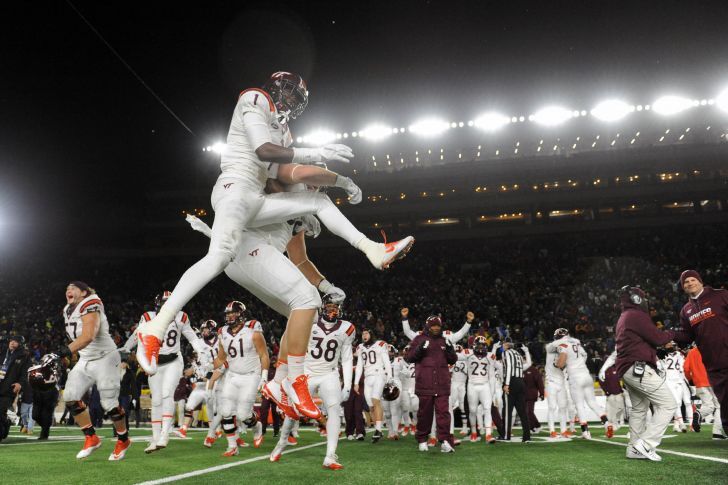 Another big game for the Hokies, and another chance for an ACC road win for the Cavaliers. Virginia Tech fans figure to show up in a big way for this weekend's night game against Notre Dame, while UVA will need its defense to show up to slow down Malik Cunningham in Louisville.
Nothing could slow down David Teel last week as he took over first place with a perfect 4-0 showing.
This season, I'm joined by the Richmond Times-Dispatch's Teel, the Roanoke Times' Aaron McFarling and the Charlottesville Daily Progress's Bennett Conlin as we pick winners for Virginia Tech, UVA and other key ACC games. And, in an attempt to create some separation in the standings, each week we'll offer up an upset special from somewhere in the FBS landscape.
Here are Week 6's predictions:
Virginia at Louisville, 3 p.m. Cardinal Stadium, Louisville, Ky.
David Teel, Richmond Times-Dispatch (13-7): Facing a backup quarterback last week, the Cavaliers yielded three touchdowns in Miami's final five possessions and watched the Hurricanes' decisive field goal attempt from 33 yards doink off the left upright as time expired. Two days later, the Cardinals gained a season-high 540 yards in a 37-34 setback at unbeaten Wake Forest. This contrast does not bode well for the visitors.
THE PICK: Louisville 35, Virginia 34
Aaron McFarling, Roanoke Times (12-8): The home team has covered the spread each of the past five times these two teams have met. That makes sense, given UVa's stark home/road splits in recent years. Also of note: The total has gone under in each of those meetings, too. It's 66 here.
THE PICK: Louisville 31, Virginia 24
Mike Barber, Richmond Times-Dispatch (10-10): Virginia went and got a road win at Miami last week and it certainly has the offense to win a shootout with the Cardinals. The problem for UVA is, its defense is currently hemorrhaging points faster than its offense can score them. Malik Cunningham figures to continue that trend.
THE PICK: Louisville 34, Virginia 31
Bennett Conlin, Daily Progress (10-10): UVA's defense showed improvement against Miami, but the Hurricanes were without starting quarterback D'Eriq King. Malik Cunningham is one of the most dynamic quarterbacks in the ACC, and I expect the Cardinals' offense to give UVA's defense fits. But can Louisville slow down UVA's potent passing attack?
THE PICK: Louisville 42, Virginia 35
Notre Dame at Virginia Tech, 7:30 p.m. Lane Stadium, Blacksburg
TEEL: A victory over the No. 14 Fighting Irish would give the Hokies two top-15 wins at home — the other was versus No. 10 North Carolina — in a season for the first time since 2005. The question is whether Tech, which ranks last among 14 ACC teams in yards per play and yards per rush, and 13th in scoring, can score enough against an opponent that's groping to discover a reliable quarterback.
THE PICK: Notre Dame 17, Virginia Tech 16
McFarling: It's the ol' "something's gotta give" situation here. The Irish (favored by 1) have covered in eight of their past 10 road games, while the Hokies are 5-1 against the spread in their past six as a home dog. Winning on the road is hard, as Notre Dame showed in its only true road game of the season (41-38 win at Florida State). I'm expecting an inspired Hokies effort.
THE PICK: Virginia Tech 30, Notre Dame 21
Barber: Both teams come in scuffling on offense. Notre Dame has uncertainty at quarterback – where its used three different players – while Virginia Tech has dealt with inconsistency from Braxton Burmeister. Both defenses are stout and the Hokies' fans figure to be a vocal part of this nighttime affair. The difference will be Notre Dame has the individual playmakers to turn in just enough big plays to pull this one out. The Hokies have lost their last five regular season games after having a weekend off.
THE PICK: Notre Dame 24, Virginia Tech 20
Conlin: Lane Stadium should be rocking Saturday night. This game feels winnable for the Hokies, as Notre Dame is good but not great. A bye week to prepare for this matchup should help Virginia Tech create a good enough offensive game plan to score 20+ points. I think 20 points might be enough to beat the Fighting Irish, who rank 124th nationally in rushing yards per game.
THE PICK: Virginia Tech 21, Notre Dame 17
Wake Forest at Syracuse, 3:30 p.m. Carrier Dome, Syracuse, N.Y.
TEEL: Wake Forest (5-0) hasn't been 6-0 since 1944, when the Deacons went 8-1 under Peahead Walker and finished second to Duke in the Southern Conference. That drought ends Saturday, despite Syracuse's considerable improvement on defense. The Orange are yielding 20.8 points per game, far better than last season's 32.7, but the Deacs have scored at least 35 in every outing this year.
THE PICK: Wake Forest 38, Syracuse 30
McFarling: The Orange have been a covering machine so far this season (4-1 ATS) and have fared well relative to expectations against Wake (7-3 ATS in the past 10 meetings). The Deacons have impressed in 2021, but I smell an upset out of the 6.5-point pup.
THE PICK: Syracuse 34, Wake Forest 28
Barber: I'm not convinced Wake Forest is built to last for an entire season and a road game at Syracuse is as good a place as any for the Demon Deacons to get tripped up. But no one has been able to trip up Wake's offense yet this season, while Syracuse's attack was shut down by Rutgers. I still don't think Wake runs the table, but they get by in this one.
THE PICK: Wake Forest 38, Syracuse 27
Conlin: This game won't generate much national buzz, but it's huge for the Demon Deacons. Moving to 6-0 heading into a bye week would be impressive. Beating Syracuse won't be easy, as the Orange are 3-2 with their two losses coming by a combined 13 points against Power Five foes. I think the Orange pull the upset, leaning on the ground game in the process.
THE PICK: Syracuse 31, Wake Forest 28
Upset of the week
TEEL: Texas has scored 160 points in three victories since a humbling Week 2 loss at Arkansas. Casey Thompson is completing 71% of his passes, and Bijan Robinson is averaging 6.2 yards per carry and 130.4 rushing yards per game. Conversely, unbeaten and fifth-ranked Oklahoma has struggled on offense the past three weeks, especially by its standards. The Longhorns are 3-point pups and win outright.
THE PICK: Texas 38, Oklahoma 35.
McFarling: The underdog has covered in seven of the past nine meetings between these two rivals. The Longhorns (catching 3 points here) have been an ATM of late for bettors, covering in six of their past seven games dating back to last year. Oklahoma's record (5-0) looks great, but the fact is the Sooners have covered just once this season. In the four games they haven't, they've been a combined 62 points on the wrong side of the line.
THE PICK: Texas 31, Oklahoma 28
Barber: Baylor managed all of 14 points the last time out, in a loss to Oklahoma State. West Virginia's defense will be the best the Bears' have seen to date and should hold them in check, especially with how well the Mountaineers have been rushing the passer. WVU's 2-3 mark isn't impressive, but those three losses have come by a combined 12 points. Here's guessing West Virginia finishes a game off this weekend.
THE PICK: West Virginia 31, Baylor 27
Conlin: Rutgers was blown out last week by Ohio State, but aside from that performance against a strong program, the Scarlet Knights have played well this fall. Rutgers went 3-0 in the nonconference and lost at Michigan by just seven points. Rutgers is due for a bounce-back performance against a Michigan State team that is a bit overrated.
THE PICK: Rutgers 28, Michigan State 24