CHARLOTTESVILLE – Seasons have their peaks and valleys. Virginia Tech and Virginia are coming off disappointing performances that led to losses last weekend. Similarly, this panel is licking its wounds after a decidedly down week prognosticating outcomes.
The Hokies, the Hoos and the sports hacks – can they all bounce back this weekend?
This season, I'll be joined each week by Richmond Times-Dispatch columnist David Teel, Roanoke Times Columnist Aaron McFarling and Charlottesville Daily Progress Virginia beat writer Bennett Conlin.
Each week we'll pick games involving Virginia Tech and UVA, along with one other key ACC match up. Then, to create a little more separation in the standings, we'll each predict on upset against the spread from anywhere on the FBS board.
Here's this week's slate: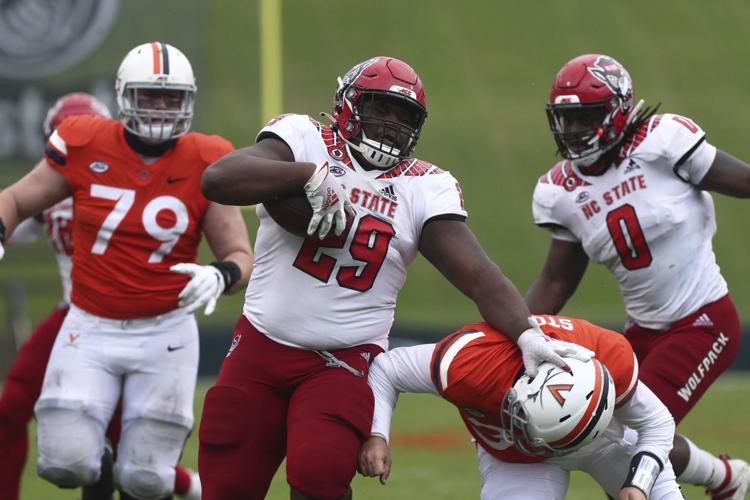 Virginia at Wake Forest, 4 p.m., Truist Field
Bennett Conlin, Charlottesville Daily Progress (9-3): UVA enters Saturday's game frustrated and motivated after a 17-point home loss. Unfortunately for Virginia, it might need to lean on its backup quarterback this weekend. Even with Wake Forest coming off a bye and Lindell Stone potentially starting at quarterback for the Wahoos, an angry UVA defense should play well enough to help Virginia escape with a win.
THE PICK: Virginia 27, Wake Forest 23
Mike Barber, Richmond Times-Dispatch (8-4): Bronco Mendenhall has been critical of his team's pass rush and star outside linebacker Charles Snowden. This feels like a get-right game for that group. Add in the return of safety Joey Blount and UVA's defense should make up for any offensive shortcomings if Brennan Armstrong is out.
THE PICK: Virginia 27, Wake Forest 13
Aaron McFarling, Roanoke Times (7-5): You think the 'Hoos and Hokies are smarting from last week? How about my stellar 0-4 mark in these picks, including that woeful backing of Miami? The frustration ends now – for all of us. Virginia gets back on track in a high-scoring affair. Why? Because Mr. 0-4 says so.
THE PICK: Virginia 42, Wake Forest 30
David Teel, Richmond Times-Dispatch (7-5): The Deacons have yielded 82 points in two ACC games, just the elixir for a Cavaliers offense that may start backup quarterback Lindell Stone after starter Brennan Armstrong sustained a concussion in last week's loss to N.C. State.
THE PICK: Virginia 30, Wake Forest 24
Boston College at Virginia Tech, 8 p.m., Lane Stadium
Conlin: Boston College deserves credit for its strong start. The Eagles look good, especially through the air. With a roster returning to full strength and Hendon Hooker at quarterback, it's hard to pick against the Hokies.
THE PICK: Virginia Tech 34, Boston College 27
Barber: The Hokies' defense is eager to make amends for last week's shellacking at North Carolina. Unfortunately for Tech, BC's new-look offense won't be an easy out. How Vegas sees the home team as a 12-point favorite is befuddling. This one figures to be much more competitive, even with Hendon Hooker back leading the Hokies' offense.
THE PICK: Virginia Tech 38, Boston College 34
McFarling: Fun fact: Derek Jeter, Kris Bryant and Alex Bregman went a combined 0 for 13 with six strikeouts in their MLB debuts. As they say, it's not how you start. At least Tech defensive coordinator Justin Hamilton sure hopes so. Hokies bounce back, but don't cover the 12.
THE PICK: Virginia Tech 38, Boston College 30
Teel: At last check, the Hokies were favored by 12, a line that makes zero sense, even if their defense is healthier after two weeks of virus issues. The Eagles have been stingy on defense and, under new coach Jeff Hafley, reborn on offense with Notre Dame transfer Phil Jurkovec at quarterback.
THE PICK: Virginia Tech 31, Boston College 30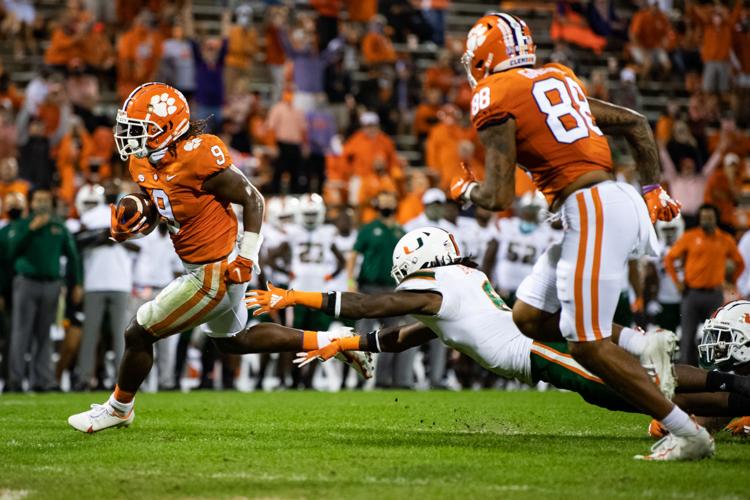 Pittsburgh at Miami, Noon, Hard Rock Stadium
Conlin: Both teams enter Saturday licking their wounds. The Panthers come off two consecutive one-point defeats, while Miami suffered an embarrassing loss against Clemson. Miami's inability to stretch the field vertically will help Pitt's defense rebound with a good showing this weekend.
THE PICK: Pitt 31, Miami 28
Barber: Miami got undressed by the ACC's best last weekend, blown out by No. 1 Clemson. The Hurricanes might not be up to the task of unseating the champions, but that doesn't mean they're ready for the scrap heap, either. If North Carolina State's offense could move the ball against Pittsburgh's supposedly-stout defense, I'm guessing D'Eriq King and the Hurricanes will be able to score enough to win this one.
THE PICK: Miami 31, Pittsburgh 24
McFarling: Hurricanes, you disgust me. Here I thought you were poised to knock off the ACC monster, injecting some uncertainty into what has been an all-too-certain league, and you go and get trampled. Gamblers can't hold grudges, though. Good luck this weekend; I'm with you.
THE PICK: Miami 30, Pittsburgh 17
Teel: The Hurricanes have endured losing streaks of at least three games in each of the last four seasons. Was last week's 42-17 shellacking from Clemson the start of this year's? Or do they rebound against a rival that's lost two straight?
THE PICK: Miami 24, Pitt 17
Upset of the week
Conlin: Arkansas won the first week I trusted them in this column, so let's go back to the Razorbacks. They gave Georgia a fight in Week 1, upset Mississippi State in Week 2 and nearly beat Auburn in Week 3 if it wasn't for a blown call in the final seconds.
THE PICK: Arkansas 28, Mississippi 24
Barber: There are a slew of potential upsets in the SEC this weekend, starting right at the top where a Nick Saban-less Alabama team figures to be tested by Georgia. But I'm going with Arkansas as my upset of the week. This pick has less to do with the Razorbacks – their Mississippi State win looks less impressive with each passing week – and more to do with Ole Miss, which expended a ton of emotional energy in last week's loss to Alabama.
THE PICK: Arkansas 27, Mississippi 24
McFarling: South Carolina has won only one of its first three games, but the Gamecocks have covered in two of them and pushed in the other. The hope here is that bruising USC-East running back Kevin Harris can help shorten the game and give the hosts the mild (+3) upset.
THE PICK: South Carolina 28, Auburn 23
Teel: I liked Georgia over Alabama even before COVID-19 shelved Crimson Tide coach Nick Saban on Wednesday. The Tide's defense is meh, the Dawgs' is not.
THE PICK: Georgia 31, Alabama 28