A week later than originally scheduled, Virginia hosts Louisville. Virginia Tech's defense couldn't handle Liberty's offense on Saturday. Now, No. 9 Miami rolls into town. And after knocking off No. 1 Clemson, will Notre Dame, now up to No. 2, let down against Boston College?
This season, I'm joined each week by Richmond Times-Dispatch columnist David Teel, Roanoke Times Columnist Aaron McFarling and Charlottesville Daily Progress Virginia beat writer Bennett Conlin.
Each week we'll pick games involving Virginia Tech and UVA, along with one other key ACC match up. Then, to create a little more separation in the standings, we'll each predict on upset against the spread from anywhere on the FBS board.
Last weekend, Aaron McFarling's upset of the week – Air Force over Army – never happened, yet another victim of a COVID-19 postponement. The panel wishes the rest of the weekend never happened, as well. We combined to go 2-9.
Here are this week's picks: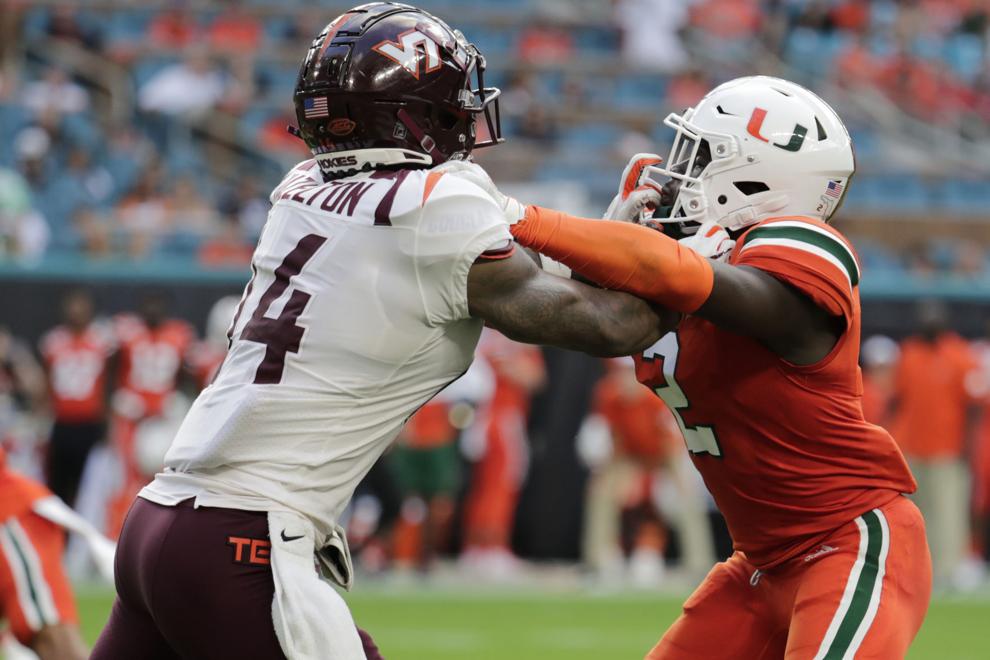 No. 9 Miami at Virginia Tech, noon, Lane Stadium
Bennett Conlin, Charlottesville Daily Progress (17-10): Virginia Tech actually enters the game as a favorite, which might speak more to Miami's recent close-call victories than it does the Hokies' most recent efforts. I'll take D'Eriq King coming off a 500-yard performance to keep things rolling in a win over the Hokies.
The Pick: Miami 38, Virginia Tech 31
Aaron McFarling, Roanoke Times (16-10): This has potential to be a really fun game featuring two quarterbacks playing at a very high level. Alas, it's hard to have much faith in the Tech defense right now, and the uncertainty surrounding RB Khalil Herbert (hamstring) gives me pause.
The Pick: Miami 38, Virginia Tech 30
Mike Barber, Richmond Times-Dispatch (16-11): Virginia Tech has struggled with run defense, struggled to contain mobile quarterbacks, struggled on third down and struggled allowing big plays. In roll the Hurricanes, with star QB D'Eriq King and a high-scoring offense. Vegas sees the Hokies as slight home favorites. Not sure what I'm missing, but I like Miami in a high-scoring affair.
The Pick: Miami 45, Virginia Tech 38
David Teel, Richmond Times-Dispatch (13-14): Yes, the Hurricanes are ranked ninth, and no, I can't explain why they're 2-point pups against a Hokies bunch that just lost at home to Liberty. Tech is 0-5 versus the top 10 since winning at Ohio State in 2014, and all but one of those setbacks was by 14 points or more.
PICK: Miami 35, Virginia Tech 27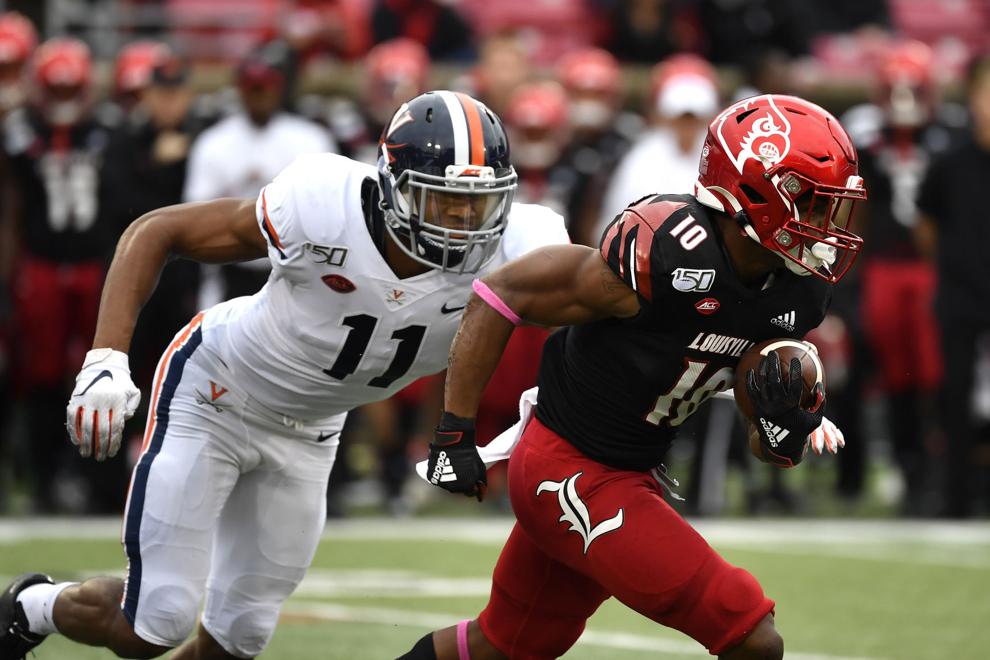 Louisville at Virginia, 3:30 p.m., Scott Stadium
Conlin: Quarterback Brennan Armstrong starting for UVA signals good things to come, and the extra week of rest should help as he nurses a left knee injury. Louisville struggles with consistency in all three phases, and the Cavaliers play well at Scott Stadium even with limited crowds. Both of UVA's wins this fall came in Charlottesville.
The Pick: Virginia 34, Louisville 23
McFarling: A week later, I'm still leaning in the same direction. The Cavaliers rank fourth in the ACC against the run. The Cardinals have covered the spread only twice in the past 11 games as a road underdog, which they are again here (+3.5)
The Pick: Virginia 35, Louisville 30
Barber: It's not clear whether Virginia quarterback Brennan Armstrong could have played last weekend, after injuring his knee in the previous game, the upset win over North Carolina. This week, he's a full-go, though he will wear a brace. Louisville, meanwhile, has contained the spread of its COVID-19 outbreak, but the defense doesn't expect to have everyone available on Saturday. All of that favors the home team.
The Pick: Virginia 31, Louisville 27
Teel: UVA's stout run defense limited North Carolina's exceptional rushing offense to 3.3 yards per carry two weeks ago. Reprise that effort against the Cardinals -- Javian Hawkins leads the ACC in rushing at 117.4 yards per game -- and the Cavaliers are golden.
The Pick: Virginia 34, Louisville 21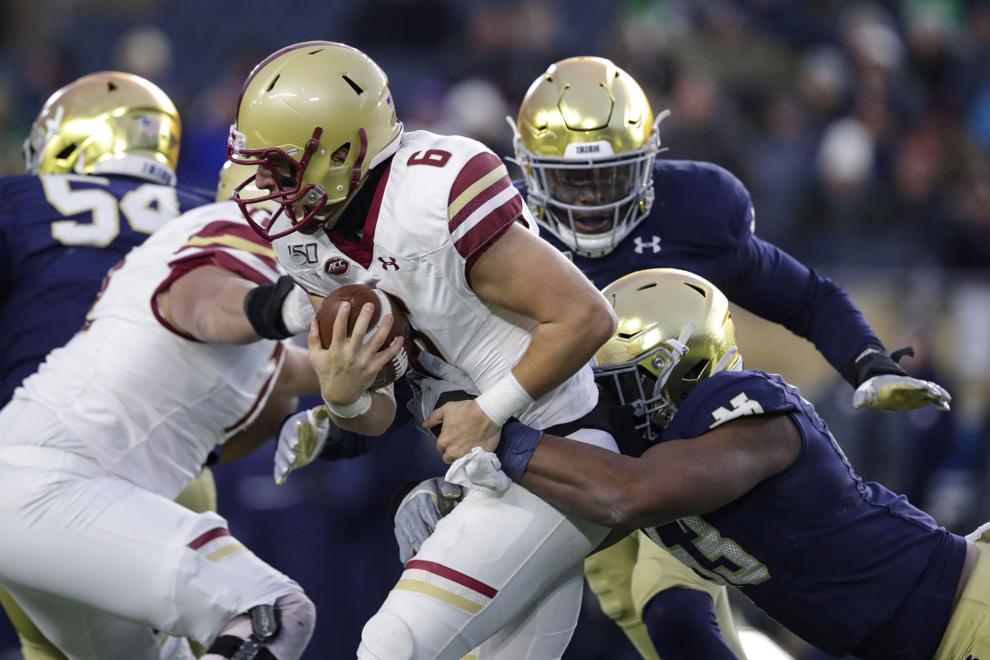 No. 2 Notre Dame at Boston College, 3:30 p.m., Alumni Stadium
Conlin: Notre Dame faces a pesky Boston College team on the road after an emotional double-overtime victory over Clemson. An upset shouldn't shock anyone, but the Fighting Irish should control the battle of the trenches enough to avoid a loss.
The Pick: Notre Dame 27, Boston College 20
McFarling: We'll say it again: All the Eagles do is cover. They've cashed tickets in 22 of their past 30 ACC games and 19 of their past 27 games as an underdog. A Notre Dame letdown seems predictable, making 13.5 points feel like too many.
The Pick: Notre Dame 28, Boston College 24
Barber: Notre Dame is riding high after upsetting Clemson. The last time the Irish downed the No. 1 team in the nation was 1993, when it beat Florida State. The next week, it lost to Boston College on a last-second field goal. So who do the schedule maker's throw Notre Dame's way after the big win over Clemson? You guessed it. History's great, but the Irish are better.
The Pick: Notre Dame 31, Boston College 24
Teel: A week after toppling No. 1 Florida State in 1993, Notre Dame lost to Boston College. Last week's victory over Clemson marked the Fighting Irish's first conquest of No. 1 since, and lo and behold, look who's next on the schedule. Not only that, Eagles quarterback Phil Jurkovec transferred to BC from Notre Dame.
The Pick: Notre Dame 30, Boston College 17
Upset the week
Conlin: Tulane lost to Navy earlier this season, and the Green Wave sit at 4-4 overall this fall. Army's triple-option attack should find weaknesses in Tulane's defense much like Navy did earlier this year. A win improves Army to 7-1 this fall.
The Pick: Army 24, Tulane 21
McFarling: These proud programs enter the game a combined 0-5. Maybe Maryland is for real, but the Nittany Lions getting wrecked by the Terps at home last week as a 27.5-point favorite was a huge red flag. Huskers win this one as a 3-point pup.
The Pick: Nebraska 30, Penn State 24
Barber: There are four intriguing home underdogs in the Big Ten this week with Minnesota, Michigan, Michigan State and Nebraska. I'm taking the Spartans – yes, the ones who lost to Rutgers – to get the upset here, which means I'm betting Michigan State won't turn the ball over as it much as it has going into this game.
The Pick: Michigan State 31, Indiana 28
Teel: Army is clamoring to play after last week's game against Air Force was postponed due to virus concerns at Air Force. Moreover, the Black Knights are 6-1, their only setback to undefeated Cincinnati. Yet Army is a 5 1/2-point beagle at 4-4 Tulane.
The Pick: Army 38, Tulane 34