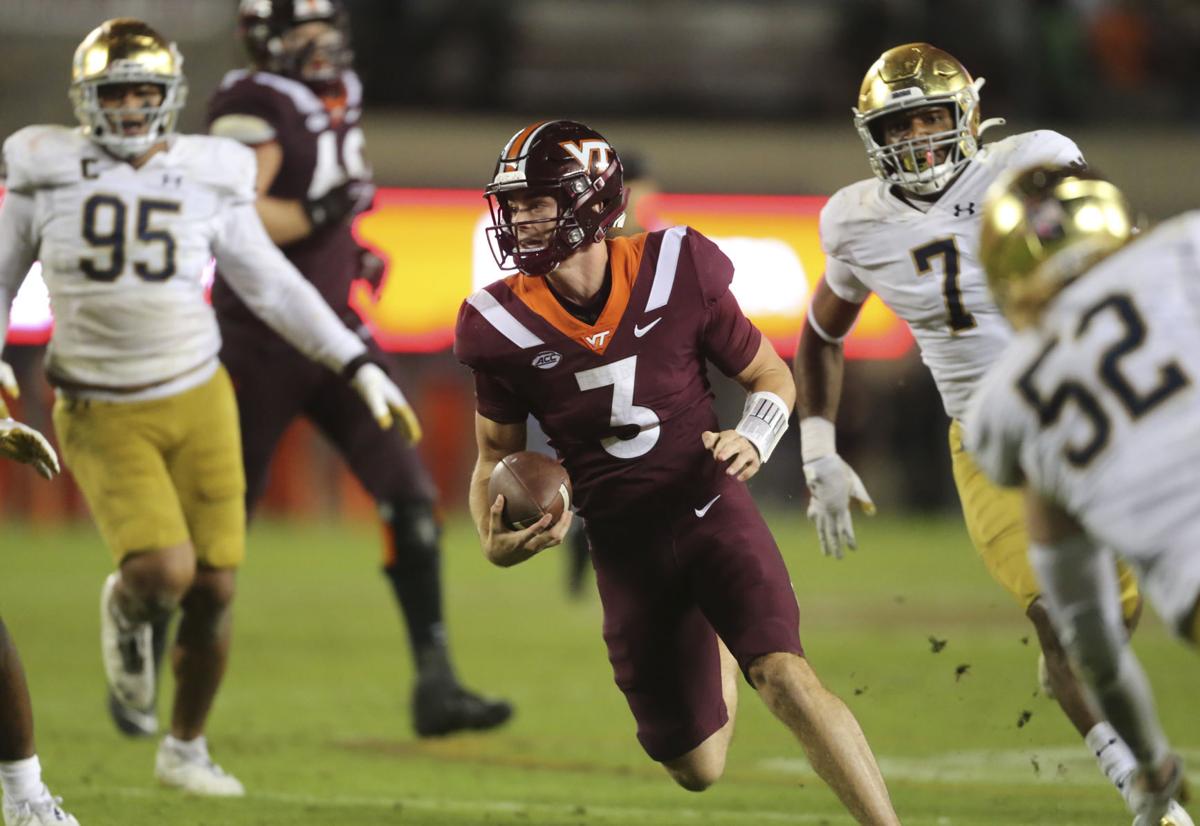 It's been a wild and unpredictable start to the college football season, and our panel certainly has struggled with predictions. Only one member, David Teel, has a record over .500 at this point. Last week, two members – Aaron McFarling and Bennett Conlin – went 0-4. Can we bounce back?
That's the same question Virginia Tech is asking itself after squandering a late lead at home against Notre Dame last weekend. Virginia, meanwhile, got lucky for the second straight week when – yet again – an opposing kicker missed a potential game-winning field goal on the final play of the game. Can the 'Hoos streak continue at home against Duke?
This season, I'm joined by the Richmond Times-Dispatch's Teel, the Roanoke Times' Aaron McFarling and the Charlottesville Daily Progress's Bennett Conlin as we pick winners for Virginia Tech, UVA and other key ACC games. And, in an attempt to create some separation in the standings, each week we'll offer up an upset special from somewhere in the FBS landscape.
Here are Week 7's predictions:
Duke at Virginia, 12:30 p.m. Scott Stadium, Charlottesville
David Teel, Richmond Times-Dispatch (15-9): Fresh off torching the ACC's worst pass defense (Louisville) on the road, Brennan Armstrong and the Cavaliers return home to face the league's second-worst pass defense. Oh, and UVA has won six straight in this series, the last three by a combined 66 points.
THE PICK: Virginia 40, Duke 14
Mike Barber, Richmond Times-Dispatch (12-12): Virginia has strung together back-to-back ACC road wins and now returns home for a pair of ultra-winnable contests against Duke and Georgia Tech. The Blue Devils' defense won't have any answers for Brennan Armstrong and the depth of UVA's passing attack and Virginia's defense just might look decent against the fairly one dimensional offense led by running back Mataeo Durant.
THE PICK: Virginia 45, Duke 24
Aaron McFarling, Roanoke Times (12-12): All that late-game sorcery the Cavaliers have performed in recent weeks shouldn't be necessary here. The Cavaliers (-11) have covered in five of their past six as a home favorite and 9 of 12 overall.
THE PICK: Virginia 40, Duke 27
Bennett Conlin, Daily Progress (10-14): The ACC Coastal is chaotic, but the Blue Devils still feel like the safe choice to finish last. Duke running back Mataeo Durant is a top-tier running back, but he's one of the team's few weapons. Defensively, Duke is second-to-last in the ACC in points allowed and yards allowed per game. UVA quarterback Brennan Armstrong should have a good day.
THE PICK: Virginia 42, Duke 28
Pittsburgh at Virginia Tech, 3:30 p.m. Lane Stadium, Blacksburg
Teel: The Hokies share the ACC lead with seven interceptions, four by cornerback Jermaine Waller, who returned his most recent pick for a touchdown last week against Notre Dame. Tech will need similar plays against Kenny Pickett (19 touchdown passes, one interception) and the nation's highest-scoring team (52.4 points a game).
THE PICK: Pittsburgh 41, Virginia Tech 20
Barber: The Hokies absolutely must have this game if they're going to be contenders in the ACC Coastal Division. The problem is, it's not a great matchup for the home team. Kenny Pickett has the Panthers playing some serious offense, while Tech's offense continues to struggle, and its defense wore down in the fourth quarter against Notre Dame. The Hokies have to have this one, but I don't think they will.
THE PICK: Pittsburgh 38, Virginia Tech 34
McFarling: The Hokies have to hope the venue matters, and it has in this series. The home team has covered in eight of the past 10 meetings between Tech and Pitt, and the underdog is 10-3 in the past 13. Tech (catching four points here) scores a mild upset.
THE PICK: Virginia Tech 30, Pittsburgh 28
Conlin: Coming back from a heartbreaking defeat isn't easy, but that's the task for the Hokies after a close call against Notre Dame. This game feels critical for the Coastal Division race. Pitt's offense is dynamic, while Virginia Tech leans on its defense. I'll take the Panthers after a bye week rather than the Hokies after a grueling three-point loss.
THE PICK: Pittsburgh 34, Virginia Tech 27
North Carolina State at Boston College, 7:30 p.m. Alumni Stadium, Chestnut Hill, Mass
Teel: Two Atlantic Division contenders coming off open dates clashing here. The Wolfpack upset Clemson in double-OT at home, and a week later in Death Valley, the Eagles darn near did the same before falling by six. Translation: This is a coin flip, and when confronted with such, I say side with the better quarterback, in this case Devin Leary.
THE PICK: N.C. State 24, Boston College 21
Barber: Boston College has proven it can win with its backup quarterback and the Eagles are a tougher out at home. North Carolina State lost its only road game so far this season. Still, despite injuries, the Wolfpack defense remains stout, and Devin Leary just isn't making mistakes at quarterback.
THE PICK: N.C. State 28, Boston College 27
McFarling: The Wolfpack (-3) hasn't covered in any of its past six road games. The Eagles have covered in six of their past seven at home. The last eight times N.C. State has visited BC, the Eagles are 6-1-1 ATS.
THE PICK: Boston College 24, N.C. State 21
Conlin: Thanks to a win over Clemson, N.C. State has a legitimate shot to win the Atlantic Division. Keeping pace with a red-hot Wake Forest is important, and a road win over Boston College would go a long way toward the Wolfpack's chances of winning the ACC title. Expect a close game between two solid teams.
THE PICK: N.C. State 28, Boston College 21
Upset of the Week
Teel: In its last two games, routs of Missouri and South Carolina, Tennessee has scored a combined 107 points and gained a combined 1,155 yards. This production thanks in large measure to Virginia Tech transfer quarterback Hendon Hooker's efficiency. Saturday night the Vols are 2½-point home mutts to the nation's 105th-ranked defense.
THE PICK: Rocky Top 40, Ole Miss 38
Barber: Arkansas and Sam Pittman have been a great story so far in 2021, but Auburn has been a great defense. Defense wins in this one. Auburn might not have been a match for Georgia, but this game isn't against Georgia. The Tigers beat the Razorbacks for the sixth straight year.
THE PICK: Auburn 27, Arkansas 24
McFarling: Washington is the Miami of the west in 2021. The Huskies opened the season ranked No. 20 and have massively underperformed, going 1-4 against the spread and 2-3 straight up. The Bruins (+2) have covered in each of their past four games as an underdog. Wrong team favored here.
THE PICK: UCLA 30, Washington 24
Conlin: If BYU can limit turnovers, the Cougars should have a chance against Baylor. I'll chock up the team's loss to Boise State due to uncharacteristic errors, rather than a strategy or long-term issue.
THE PICK: BYU 24, Baylor 20