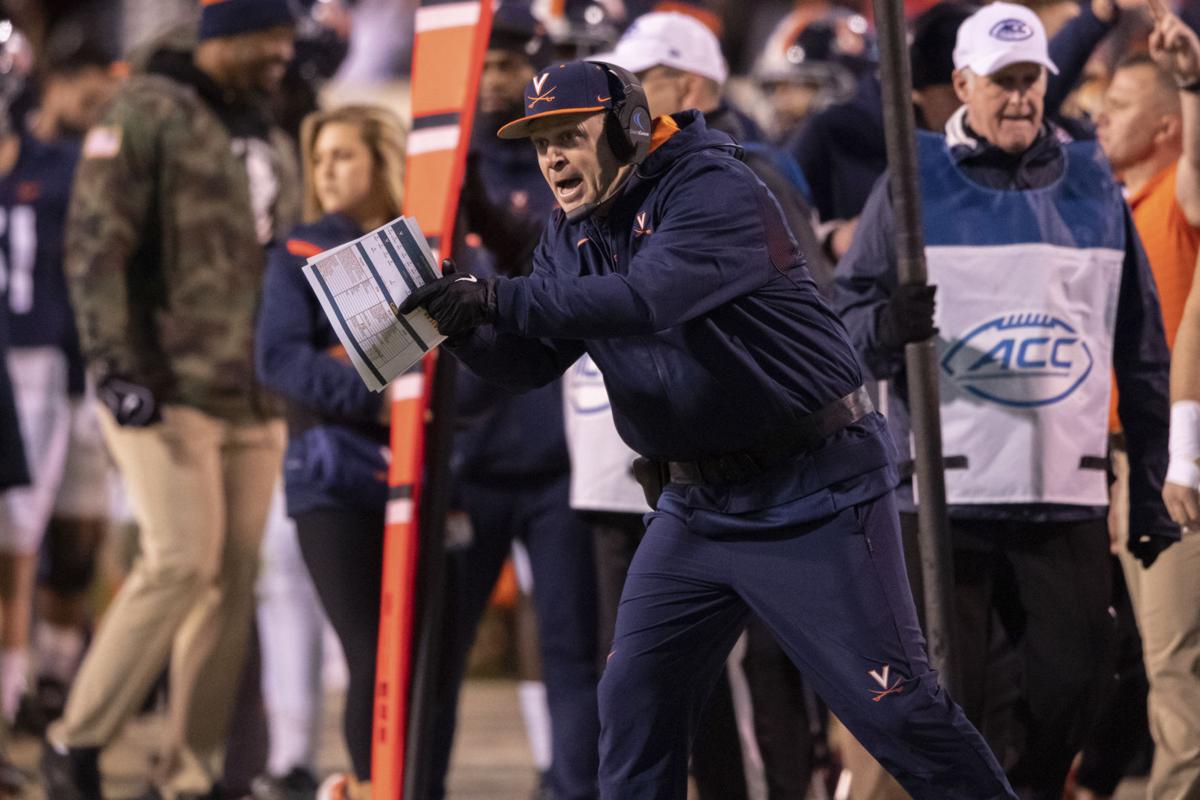 Virginia Tech bounced back in a big way against Duke – but not enough to save Justin Fuente's job – and so did our panel last week. David Teel and Mike Barber each turned in 4-0 weeks and the group went 3-1 with our upset specials.
Now, Virginia wants to join the bounce-back train and keep itself alive in the race for the ACC's Coastal Division by winning a huge game at Pittsburgh. The Hokies will be tasked with winning at Miami under their interim coach.
Each week, Richmond Times-Dispatch columnist David Teel, Roanoke Times columnist Aaron McFarling and Charlottesville Daily Progress sports editor John Shifflett will join me in predicting UVA, Virginia Tech and other key ACC games. To create a little separation in the standings, each week we'll also offer up an upset special from anywhere on the FBS schedule.
Here are this week's picks:
Virginia at Pittsburgh, 3:30 p.m., Heinz Field, Pittsburgh
David Teel, Richmond Times-Dispatch (29-15): Stop me if you've heard this before: It all depends on whether Brennan Armstrong plays. Indeed, what held for the Cavaliers' game last week versus Notre Dame applies to Saturday at Heinz Field. With a healthy Armstrong, UVA can hang with the Panthers in what figures to be a track meet. If Armstrong is unavailable or compromised, Kenny Pickett and friends are prohibitive favorites to clinch the Coastal Division title.
THE PICK: Pittsburgh 41, Virginia 30
Mike Barber, Richmond Times-Dispatch (27-17): Pittsburgh and Kenny Pickett are going to be up some points in this one. Both their gaudy offensive numbers and UVA's defensive woes tell us that much. The question is, will Virginia be able to do the same? If Brennan Armstrong is back from his rib injury, the answer is probably yes. I don't think he will be and that makes the answer a resounding no.
THE PICK: Pittsburgh 38, Virginia 17
Aaron McFarling, Roanoke Times (23-21): Just like last week, we're getting cheated out of a good one if Brennan Armstrong can't play. We saw what that looked like against Notre Dame, and this one could get out of hand, too, unless UVa's prized signal-caller returns. Cavs (+13.5 here) have covered in four straight ACC games; that streak's in jeopardy.
THE PICK: Pittsburgh 40, Virginia 20
John Shifflett, Daily Progress (20-20)*: As it was last week, the big question is will Virginia quarterback Brennan Armstrong play? Even if he does, I expect him to be limited and a little rusty after not playing for several weeks. Virginia's defense showed some improvement against Notre Dame, but I have my doubts that they can slow down Kenny Pickett and the Pitt offense.
THE PICK: Pittsburgh 45, Virginia 35
*Includes Bennett Conlin's 16-16 mark.
Virginia Tech at Miami, 7:30 p.m., Hard Rock Stadium, Miami Gardens, Fla.
Teel: Interim head coach versus interim athletic director. What strange times these are. J.C. Price is coaching the Hokies after Justin Fuente's dismissal, and Jenn Strawley is leading the Canes' athletic department after Blake James' firing. I have no idea who wins but absolutely believe Price will extract an inspired performance from his team.
THE PICK: Virginia Tech 31, Miami 27
Barber: I don't trust either of these teams. Virginia Tech dominated Duke last week, but that was Duke. And the team is dealing with distraction of having its coach fired on Tuesday. Miami blew a leading a lost a crushing game to rival Florida State. Its coach is on the hot seat. But its quarterback, freshman Tyler VanDyke, has found his way in a big way here in the second half of the season. He'll be the difference.
THE PICK: Miami 27, Virginia Tech 20
McFarling: Classic weakness vs. weakness matchup here. The Hokies have covered in just two of their past 10 away games, while the Hurricanes are 2-8 against the spread in their past 10 at home. I'll give the nod to the 'Canes, who've covered in five of the past seven meetings with Tech.
THE PICK: Miami 31, Virginia Tech 20
Shifflett: Justin Fuente is out at Virginia Tech. Miami coach Manny Diaz may soon join him on the coaching job market. With the Hokies dealing with more immediate uncertainty and having to make the trip to South Florida, I give the slightest of edges to the Hurricanes.
THE PICK: Miami 24, Virginia Tech 21
Wake Forest at Clemson, Noon, Memorial Stadium, Clemson, S.C.
Teel: The Tigers own the nation's longest home winning at 33 games. Moreover, they have beaten the Deacons each of the last 12 seasons, the average margin a staggering 28 points. But Wake is the nation's only team to score at least 35 points in every game this season, while Clemson has yet to manage more than 30 versus a Power Five opponent.
THE PICK: Wake Forest 30, Clemson 28
Barber: Poor Wake Forest. If they had played this game a few weeks ago, I would've gone with the Demon Deacons. And I still think they notch that one last victory to clinch the ACC Atlantic. But not this week. Clemson has scored 30 or more points in each of its last three games, all wins. The Tigers have found themselves just in time to win a 13th in a row over Wake.
THE PICK: Clemson 34, Wake Forest 31
McFarling: The Demon Deacons are 5-2 against the spread in their past seven meetings with Clemson, and they appeared better equipped than ever to win the game outright. Time for new blood atop the Atlantic.
THE PICK: Wake Forest 30, Clemson 24
Shifflett: The No. 12 Demon Deacons are four-point underdogs in this matchup with the Tigers. This is a big opportunity for Wake Forest to earn some respect both in the ACC and nationally. This isn't the same Clemson team that has dominated the ACC for the past half-decade, but the Tigers are 5-0 at Death Valley this season. The Deacons end that unbeaten run Saturday.
THE PICK: Wake Forest 31, Clemson 28
Upset of the week
Teel: Oregon at Utah could well be a preview of the Pac-12 championship game. The Utes' Kyle Whittingham is among the sport's most underrated coaches, and his team has won three straight since a hiccup at Oregon State. But the Ducks, 3-point spaniels, are ranked third by the College Football Playoff selection committee and beat No. 4 Ohio State on the road.
THE PICK: Oregon 35, Utah 30
Barber: Quarter to quarter, my opinion on Oregon changes. The Ducks have been mostly underwhelming in four of their last five wins, but still, they've won five straight. Hard to figure why it's an underdog at Utah, outside of the fact that the game is in Salt Lake City and that the Utes blasted Stanford a couple of weeks ago – the only team to have beaten Oregon this year.
THE PICK: Oregon 38, Utah 27
McFarling: Oregon (+3 here) isn't an underdog very often, but it's dangerous to doubt the Ducks when they are. They've covered in five of their past six in that scenario. This series, too, has been good for pups, who've covered in four of five.
THE PICK: Oregon 30, Utah 27
Shifflett: I was surprised to see that Liberty is a 4.5-point favorite in Saturday's matchup with Louisiana. The Ragin Cajuns are 9-1 this season and have won nine in a row after losing the season opener to Texas. Liberty is a good football team, but I think Louisiana leaves Lynchburg with a victory on Saturday night.
THE PICK: Louisiana 38, Liberty 35