A challenging, and at times frustrating, regular season comes to an end Saturday night in Blacksburg for both UVA and Virginia Tech. The Hokies will play their 11th game of the season, their full 2020 COVID-19-revised schedule. The Cavaliers will have 10 final results on their ledger, absent the canceled game against Florida State.
With a shortage of good games this week, we'll take a stab at predicting arguably the worst game on the docket – two-win Duke visiting two-win Florida State. That's in addition to the Commonwealth Clash and a big game of normal Coastal Division rivals.
This year, I've been joined each week by Richmond Times-Dispatch columnist David Teel, Roanoke Times Columnist Aaron McFarling and Charlottesville Daily Progress Virginia beat writer Bennett Conlin.
We'll pick games involving Virginia Tech and UVA, along with one other key ACC match up. Then, to create a little more separation in the standings, we'll each predict on upset from anywhere on the FBS board.
Here are this week's picks: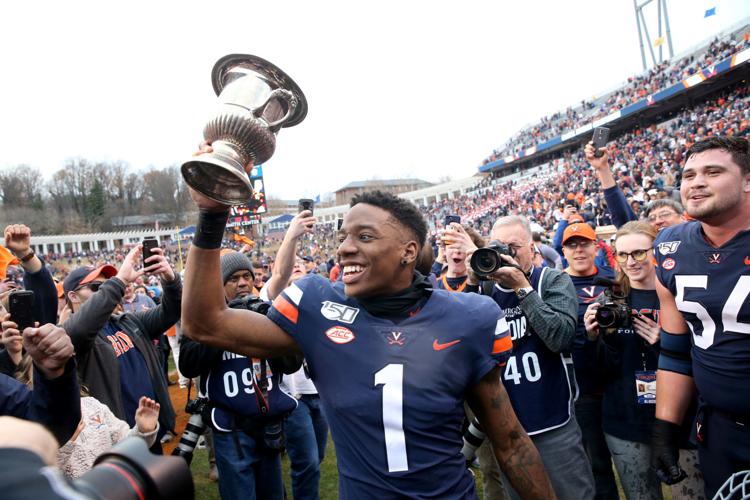 Virginia at Virginia Tech, 8 p.m., Lane Stadium
Aaron McFarling, Roanoke Times (27-12): There have been many years where it's felt like the Hokies have had a considerable edge in talent. This isn't one of them. The Cavaliers have covered in five straight games, winning outright in the past four of them, and Tech just hasn't provided any reason to believe in the second half of 2020.
THE PICK: Virginia 35, Virginia Tech 30
Mike Barber, Richmond Times-Dispatch (27-14): A defense that has been shaky all season (Virginia Tech) or a defense that has been beset by personnel losses down the stretch (UVA)? A run game with the potential to dominate a game (the Hokies and Khalil Herbert) or a quarterback who can do the same (Virginia's Brennan Armstrong)? A team driven to keep the Commonwealth Cup (UVA) or a team desperate to reclaim it (Tech)? In the end, the Hokies will struggle to slow down Armstrong and that'll be the difference.
THE PICK: Virginia 38, Virginia Tech 37
Bennett Conlin, Charlottesville Daily Progress (26-15): The two teams enter Saturday's contest heading in opposite directions. The Wahoos have won four straight, while the Hokies are losers of their last four. While it's fun to say you can throw the records out when rivals meet, I'm not sure that's entirely the case this weekend. Confidence matters, and UVA has it.
THE PICK: Virginia 38, Virginia Tech 31
David Teel, Richmond Times-Dispatch (22-19): The Cavaliers have won four straight; the Hokies have lost four straight. So why does ESPN's power index give Tech a 64% chance of winning, and why does Vegas peg UVA as a 2 1/2-point pup? I realize that Vegas knows, but I'm riding the hot hand.
THE PICK: Virginia 35, Virginia Tech 34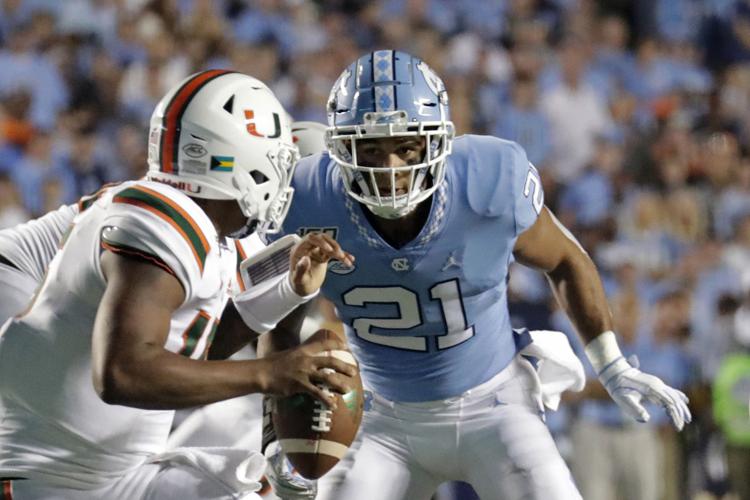 No. 17 North Carolina at No. 10 Miami, 3:30 p.m., Hard Rock Stadium
McFarling: Love, love, love the Hurricanes in this spot. The home team is 7-1 against the spread in the past eight meetings between these two, and the Tar Heels have covered in just one of their past five trips to Miami. The Hurricanes are fresh and motivated and should cover the 3 with ease.
THE PICK: Miami 40, North Carolina 28
Barber: In a year where we seldom go we expected, these two teams lived up to their preseason billing. In a matchup of two high scoring offenses and two electric quarterbacks, North Carolina's Sam Howell and Miami's D'Eriq King, the Hurricanes' defense makes the difference in this one. The home team pulls it out in a thriller.
THE PICK: Miami 35, North Carolina 31
Conlin: Arguably the best ACC matchup of the weekend pits UNC against Miami. The Hurricanes looked fantastic in a 48-0 win over Duke, but UNC feels too good to finish this season without a signature win.
THE PICK: North Carolina 38, Miami 34
Teel: The Hurricanes aren't as good as the Notre Dame defense that smothered the Tar Heels two weeks ago, but they're close. If Clemson and Notre Dame make the College Football Playoff, the winner of this game is almost certainly Orange Bowl-bound.
THE PICK: Miami 31, North Carolina 28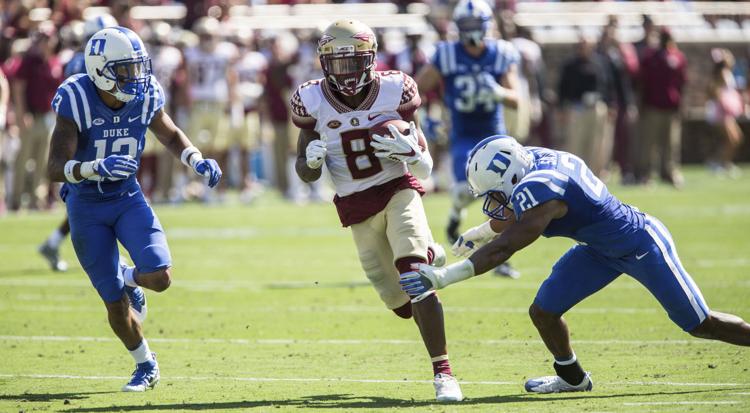 Duke at Florida State, 4 p.m., Doak Campbell Stadium
McFarling: Why are we picking this game, exactly? Sigh. The Blue Devils haven't covered in any of their past seven meetings with Florida State (0-6-1). The Seminoles salvage a little something with a win here…I guess.
THE PICK: Florida State 28, Duke 20
Barber: The Hurricanes and Tar Heels is the best game on the ACC slate. This other matchup between a Florida school and a North Carolina one, figures to feature less great football. So what's the answer to the question, which team is worse? Florida State and Duke feature two of the league's worst offenses and two of the league's worst defenses. Chase Brice and an edge in special teams give the Blue Devils a chance, but well-rested FSU – which inexplicably beat UNC earlier this year – pulls out an ugly win.
THE PICK: Florida State 24, Duke 23
Conlin: Finally, the matchup we've wanted to see all season. Both teams are subpar, and it's hard to know if either side will truly care about the outcome. Assuming the game isn't canceled hours before kickoff, I'll take Florida State in a snoozer.
THE PICK: Florida State 23, Duke 14
Teel: The Seminoles have yielded 127 points in losing their last three games. The Blue Devils have allowed 160 in losing their last three. I'll take the least-awful defense.
THE PICK: Florida State 35, Duke 28
Upset of the Week
McFarling: Sure, the Trojans are 4-0. But it's the Bruins who have covered in their past four games, and that's what matters to me. USC has covered just twice in its past eight visits to UCLA, and the home team is 12-5 against the number in the past 17 meetings between these two schools. Back the bears with bravado.
THE PICK: UCLA 31, Southern Cal 24
Barber: After considering a trio of road dogs (Nevada, Western Michigan and Washington), I ultimately settled on the Wolf Pack. The Mountain West has been good to me this year and Nevada has won three in a row in this series. I'll look past the Wolf Pack's hiccup in Hawaii and bank on quarterback Carson Strong moving the ball and protecting it to get Nevada on top.
THE PICK: Nevada 31, San Jose State 28
Conlin: It's been a long time since Wake Forest played a football game. Since the Demon Deacons last played on Nov. 14, Louisville head coach Scott Satterfield showed interest in South Carolina's head coaching job. Most widespread interest in this Louisville team stems from Satterfield's recent comments about why he showed interest in a different job. Wake Forest takes advantage of a distracted Louisville team and wins.
THE PICK: Wake Forest 35, Louisville 24
Teel: Wake Forest and Louisville have scored 286 combined points in their last three meetings, so if nothing else, roll with the over of 63 1/2. The Deacons have not played in a month due to COVID and are 1 1/2-point mutts. But they've scored at least 37 points in every game except a 23-20 upset of Virginia Tech, while the Cardinals have dropped seven of their last nine.
THE PICK: Wake Forest 38, Louisville 31​