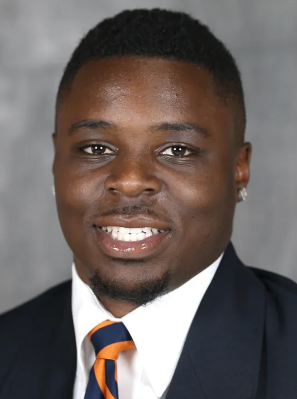 LOUISVILLE, Ky. — Hassan Hall broke away from the Virginia defense with just over three minutes left in the fourth quarter. The Cavaliers trailed 30-27.
Louisville fans, after enjoying adult beverages for three quarters, reacted loudly. The group roared as if Hall would score a touchdown when he neared midfield. In their defense, the dynamic running back did seem destined to race up the middle of the field for a score. The Cardinals would go up 10 and hold off a furious UVa finish for a win.
The game seemed all but over.
Darrius Bratton had other plans.
"I just went and ran as fast as I could, turned on the jets and tried to save a touchdown for my team," Bratton said.
The Virginia defensive back flew in from the left side of the field, appearing almost like he sprinted off UVa's sideline to make the tackle. He wrestled Hall to the ground at the UVa 27-yard line. It was a 53-yard gain, but the tackle kept UVa's hopes alive.
"I was thinking, 'I love you,'" Nick Jackson said.
The junior linebacker knew how important the play was for the Cavaliers.
By making the tackle, UVa had a chance to force a field goal and get the football back only down six points. A Hall touchdown would've forced UVa to erase a two-possession deficit in about three minutes. That scenario probably requires recovering an onside kick, among other things.
Instead, Bratton's play gave UVa's defense another chance. The Cavaliers forced a field goal.
Louisville opted not to attempt an offensive play on fourth-and-five from near the UVa 20-yard line, instead booting a 40-yard field goal and taking a 33-27 lead with 2:22 left.
UVa needed a touchdown to win.
The Cavaliers got that touchdown, taking the lead with 22 seconds left on a one-yard Brennan Armstrong touchdown pass to Grant Misch.
Armstrong finished the game with 487 passing yards, including the game-winning score to his blocking tight end. Three other receivers caught nine passes, and two of those three finished with more than 100 receiving yards. Coen King had eight tackles, a forced fumble and a fumble recovery for UVa. He was awesome.
Yet, after the game, it was Bratton and his hustle play that captivated Bronco Mendenhall.
Bratton was chosen to break the rock.
"I was just speechless," Bratton said.
Bratton's effort kept Virginia alive. The Cavaliers (4-2, 2-2 ACC) cashed in his hustle play, using a last-minute touchdown drive to leave Louisville a 34-33 winner.
"He didn't have a significant role tonight in terms of number of plays," Mendenhall said. "But wow, there couldn't have been a bigger play."
The team celebrated loudly from their locker room postgame, blasting music. A few minutes prior to the dance party, Bratton held a sledgehammer high and slammed it down into the rock.
It was a well-deserved honor.
Bratton didn't put together a flashy performance. He only recorded two tackles. Decades from now, his play will likely fade into box score oblivion.
Stats don't tell the full story of Saturday's game. Bratton's play was one you had to watch to fully appreciate.
"That one, to me, I'm not gonna forget as a coach," Mendenhall said. "I only remember a couple plays for that whole game, and that I was the one I remember most."