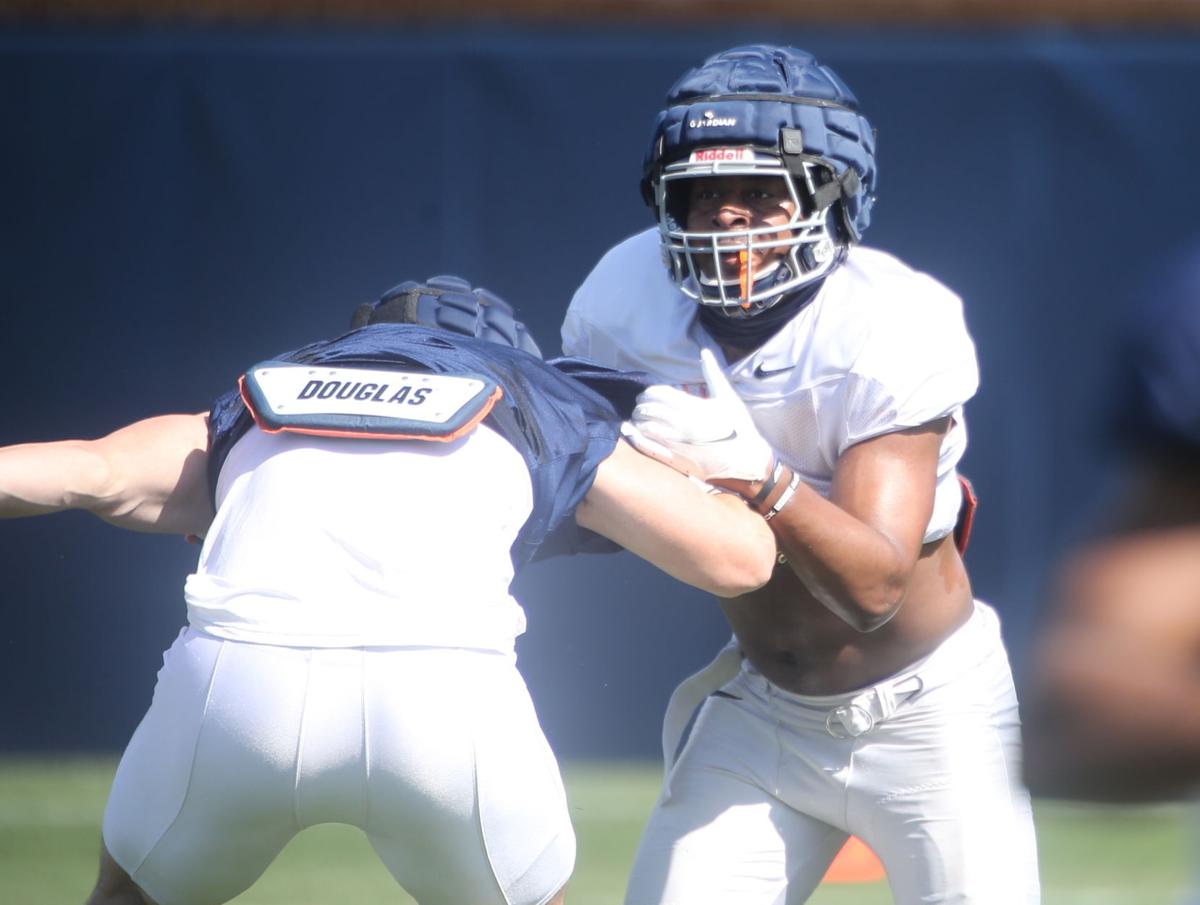 CHARLOTTESVILLE — As he reviewed video from Virginia's last bowl appearance, the 2019 Orange Bowl, co-defensive Nick Howell took note of just how many players for his unit are still with team. At one point, Howell counted seven defenders on the field that day who are with the Cavaliers this spring.
"There's experience at multiple positions," said Howell this week. "It's really just kind of seeing who's going to fill in the gaps."
In all, Virginia has six starters and 10 total defensive players back from the Orange Bowl team, and seven who started at least four games this past season. Fans who attend Saturday's final spring practice, UVA's spring game, figure to see plenty of familiar faces, including a pair of key players who opted out of 2020 due to COVID-19 concerns in running back Mike Hollins and defensive end Aaron Faumui.
The workout figures to be more of an open practice, with scrimmaging portions, than an actual game.
Howell said there is still work to be done and competition coming in the fall at some key positions, chiefly inside and outside linebacker and cornerback.
UVA must replace outside linebacker Charles Snowden and inside linebacker Zane Zandier, two of the defense's top performers the past two seasons.
Sophomore Josh Ahern, a likely replacement to lineup next to Nick Jackson at Zandier's old spot, missed the spring due to injury. Chico Bennett, a transfer from Georgia Tech who was working at outside linebacker, suffered an ACL injury this spring that will keep him out until at least November, taking him out of the running to align opposite Noah Taylor.
That's opened the door for Sam Brady, inside, and Hunter Stewart, outside, among others, to impress the coaching staff this spring.
"We've had a lot of guys have a lot different reps and opportunities," said Howell. "We're assessing that every day. I'd say that competition is still very much open going into the summer and going into fall camp."
While the work to find the most capable options at linebacker will continue in the preseason, so will the competition at corner. Nick Grant, who missed spring with an injury, is back after starting every game in 2020.
Darrius Bratton has fully recovered from a knee injury that cost him the 2019 season. Virginia also brought in Louisville transfer Anthony Johnson this spring and North Dakota State transfer Josh Hayes will join the program for the fall.
Saturday, Howell hopes UVA puts on display a defense that limits big plays and is more effective getting a pass rush without relying on the blitz, an area where Faumui's return figures to have a major impact. Those areas have been two of the primary focuses the unit had this spring.
Offensively, Virginia hopes to show off a more effective traditional running game, with senior Wayne Taulapapa and Indiana transfer Ronnie Walker (Hopewell High School) leading the way, and Hollins working his way into the mix, and a passing attack that isn't afraid to go for 50-50 balls to stretch the field. That vertical passing game took a hit when sophomore Lavel Davis Jr. suffered an ACL injury this spring that will likely keep him out until at least November.
The Cavaliers' offense has also focused on being better in key situations, after ranking 12th in the 15-team ACC on third down last season, when it converted just 37.1% of the time.
UVA scored touchdowns on just 25 of its 41 trips inside the redzone. Only four teams in the ACC had fewer redzone TDs last year.
"Lots of new things that we're pressing the envelope with," said offensive coordinator Robert Anae. "One of the main things that we're focusing on as a group is to see if we can't be more execution oriented in critical moments."