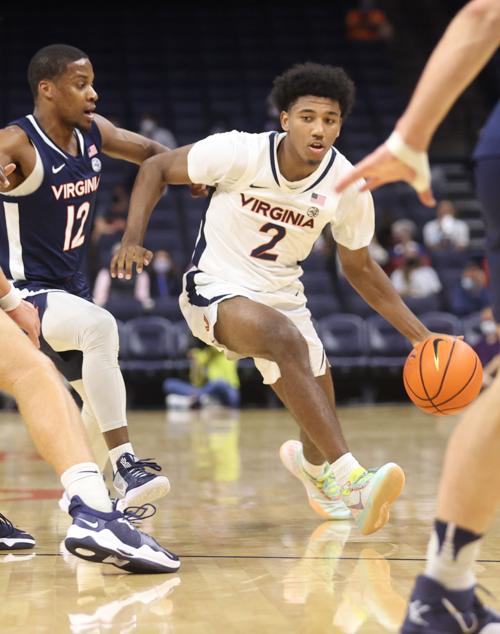 CHARLOTTESVILLE — As he considered an offer to become Virginia's basketball coach in 2009, Tony Bennett — then at Washington State — perused the Cavaliers' media guide.
"It struck me that they had some great players, great coaches and success in spurts, but there wasn't a lot of consistency," Bennett said. "There were very few over .500 or .500 years in the ACC conference, so that drew me to it. Can you build a consistent winner?"
As he heads into his 12th season at Virginia, Bennett has led the Cavaliers to 11 straight winning seasons, including 10 straight winning marks in league play.
The expectation is that trend will continue this season, despite major roster overhaul.
Virginia — ranked No. 25 in the preseason AP poll — was picked to finish fourth in the ACC this season in a vote of media members, the league said Tuesday, behind Duke, Florida State, and North Carolina and one spot ahead of Virginia Tech.
Senior point guard Kihei Clark was named to the conference's preseason second team and received five of 81 votes to be the league's preseason player of the year.
That honor went to Duke freshman Paolo Banchero, also the preseason rookie of the year.
Virginia Tech's Keve Aluma finished second in the player-of-the-year voting and was named first-team preseason all-ACC.
He was joined on the first team by Banchero, Syracuse's Buddy Boeheim, North Carolina's Armando Bacot — a Richmond native — and Miami's Isaiah Wong.
Clark was joined on the second team by Georgia Tech's Michael Devoe, Notre Dame's Prentiss Hubb, Duke's Mark Williams and Wendell Moore Jr., North Carolina's Caleb Love and Louisville's Malik Williams.
After the top five teams, media members selected Louisville, Syracuse, Notre Dame, North Carolina State, Georgia Tech, Clemson, Miami, Wakes Forest, Pittsburgh and Boston College.
Duke, in coach Mike Krzyzewski's final season, was named the preseason favorite for the seventh time in the last 10 years despite not winning the ACC's regular-season title since 2010.
Virginia has won the regular-season crown five times during that stretch, but this season, it must replace its top three scorers — Sam Hauser, Jay Huff and Trey Murphy III — and six of its top eight from last year's team.
"Each year, you evolve to that and form your identity," Bennett said. "And of course, defense will be a part of it. We'll have to be able to play great defense. We lost three great shooters, three great scorers. Now we find other ways. You change things. And I'm excited to see the new opportunities for our newer guys."
Virginia returns Clark, sophomore guard Reece Beekman and sophomore forward Kadin Shedrick who figure to be joined in the starting lineup by East Carolina transfer Jayden Gardner and Indiana transfer Armaan Franklin.
Igor Milicic Jr. received three votes to be the league's rookie of the year.
"You don't know until you start playing, but we'll have to figure out ways to fit our team," Bennett said. "This team will be different than last year's team. And find ways that fit their strengths. It always starts with how do you have to play to have a chance to be competitive first, and then successful."
2021 ACC men's preseason poll
(With school and points; first-place votes in parentheses; 81 total voters)
2. Florida State (14), 1,034
3. North Carolina (5), 1,001
5. Virginia Tech (5), 857
Buddy Boeheim, Syracuse, 68
Keve Aluma, Virginia Tech, 52
Armando Bacot, North Carolina, 46
Michael Devoe, Georgia Tech, 25
Kihei Clark, Virginia, 23
Prentiss Hubb, Notre Dame, 17
Wendell Moore Jr., Duke, 9
Caleb Love, North Carolina, 9
Malik Williams, Louisville, 9
Keve Aluma, Virginia Tech, 16
Buddy Boeheim, Syracuse, 13
Armando Bacot, North Carolina, 12
Wendell Moore Jr., Duke, 3
Caleb Love, North Carolina, 2
Preseason freshman of year
Terquavion Smith, NC State, 3
Dontrez Styles, North Carolina, 3
Igor Milicic Jr., Virginia, 3
Benny Williams, Syracuse, 1
Cameron Hildreth, Wake Forest, 1