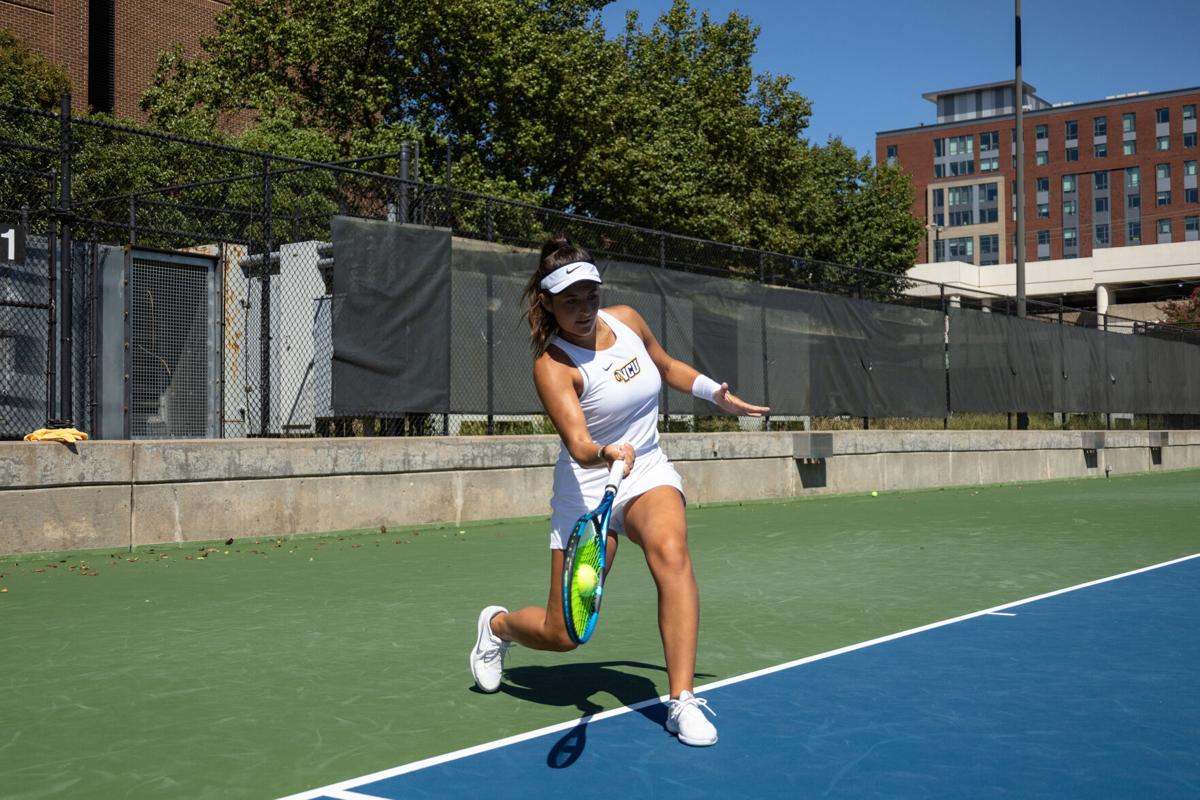 Nina Sorkin remembers the day vividly. It's a day she'll never forget.
In July 2016, Virginia Tech women's tennis coach Terry Ann Zawacki-Holdren called Sorkin with an opportunity she longed to accept.
Sorkin had her share of options to continue her tennis career in college — that's what comes with going 89-1 in singles in a storied high school career at Deep Run. She was a five-star recruit ranked No. 1 in Virginia.
But she knew if offered the chance to play at Virginia Tech, she wanted to go there. It was the place she knew the most.
The Sorkin family practically bleeds maroon and orange. Her mother, Maria, played tennis for the Hokies and her father, Scott, played baseball at the school. Her brother, Nick, attended Virginia Tech, too.
In the recruiting process, Sorkin waited to see if Virginia Tech would be an option for her as well. When Zawacki-Holdren called her that summer day 5½ years ago to offer a scholarship, Sorkin committed right away.
It was a dream come true for Sorkin, and it opened the door for a successful four-year career with the Hokies.
But with that dream realized and an opportunity for a swan song in front of her — availed when the NCAA granted athletes an extra year of eligibility because of the pandemic — Sorkin again evaluated her options. This time, she returned to Richmond, joining VCU as a graduate transfer.
Her last act begins Saturday with the first match of the Rams' spring-semester season at Furman.
"I feel like we're all so excited to see how well we're going to do this season," Sorkin said. "I know we're going to have a lot of success because we have a ton of really good players on our team."
Almost a year after committing to Virginia Tech, Sorkin finished her time at Deep Run with a fourth singles state title, becoming just the second female in VHSL history to accomplish that feat. She was coached by her mother.
In Blacksburg, Sorkin went 12-6 at the No. 6 spot in her first collegiate spring season and 20-17 overall. Late in that season, Sorkin secured what she considers one of her favorite memories of her time at Virginia Tech, winning the clinching singles match to give the Hokies a team victory over Louisville in the first round of the ACC tournament.
"And everyone comes running on the court," said Sorkin, whose parents and sister, Elena, attended the event.
Sorkin won 10 singles matches and eight doubles matches as a sophomore. She went 5-4 in a junior season shortened by the pandemic. It was that spring, of 2020, when the NCAA approved extra eligibility for athletes.
Sorkin knew she wanted to play a fifth season. But after talking to Zawacki-Holdren, she learned there wouldn't be a spot on the roster for her in that additional year.
She was scheduled to graduate from Virginia Tech in May 2021, so Sorkin began to explore other schools. She was in contact with programs as far away as Oregon and Minnesota.
But then she discovered the Center for Sport Leadership graduate program at VCU. "And I was like, 'This is the program I've been looking for,'" Sorkin said.
It didn't hurt that the Rams have been perennial Atlantic 10 tournament champions, either. VCU has won A-10 titles, advancing to the NCAA tournament, in seven of the last eight possible seasons.
VCU announced Sorkin's addition in November 2020 as a newcomer for the 2021-22 season. Sorkin was able to complete her fourth season at Virginia Tech in spring 2021 and won the clinching match for the Hokies against VCU last February.
Sorkin joined the Rams this past fall.
"I think her adaptation was good because of her experience, but also because she's such a great athlete, such a great person," VCU coach Vivian Segnini said.In the fall season, Sorkin won her doubles flight with teammate Gabriela Davidescu at the Bedford Cup in Washington, D.C. She also went 3-1 in singles play at the Mean Green Invite in November, hosted by the University of North Texas.
Being back in Richmond has allowed Sorkin to spend much weekend time with her family. Her mother is still the coach at Deep Run, so she hits with the Wildcats whenever she has the opportunity.
This spring likely will be Sorkin's last stretch of consistent competitive tennis. She anticipates playing recreationally, with perhaps the occasional tournament, after VCU.
She's already grabbed one dream, playing at Virginia Tech. This spring, she'll be after one more: playing in the NCAA tournament.
"That has always been a dream," Sorkin said. "And then, personally, I just want to finish out my tennis career as strong as possible."
(804) 649-6442
Twitter: @wayneeppsjr