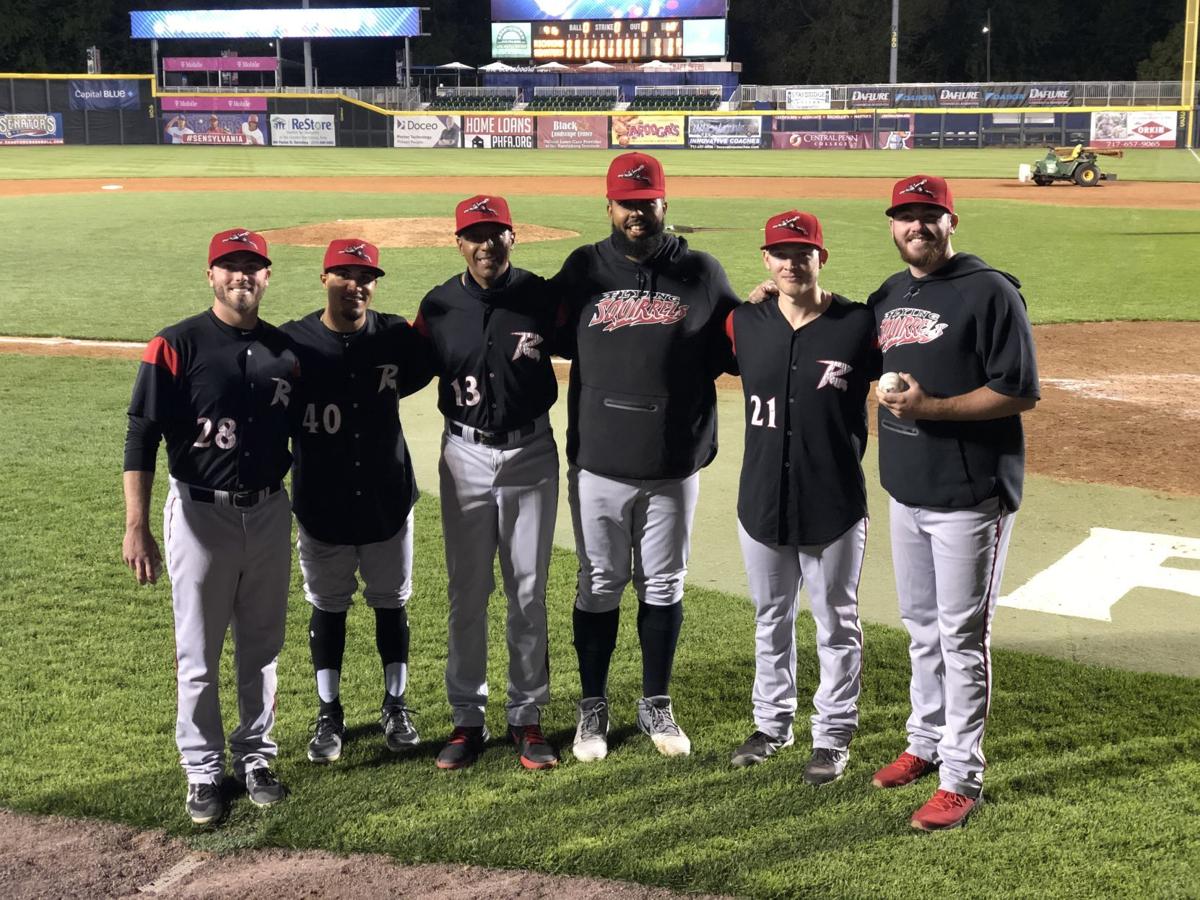 José Alguacil admits he was a bit nervous.
The Flying Squirrels, during the third game of a six-game set at the Harrisburg Senators Thursday night, had weaved through 8 2/3 innings without allowing a hit, utilizing four different pitchers.
"I was like, 'Oh my God, I want this to come through for these guys,' " Alguacil, the Squirrels' manager, said Friday.
It all came down to one final matchup, closer Patrick Ruotolo vs. second baseman Osvaldo Duarte. On the third pitch of the at-bat, Duarte knocked a chopper back toward the mound.
Ruotolo calmly stuck his glove up, snagged the ball and tossed it to first baseman Frankie Tostado.
Then Alguacil could exhale. And then the Squirrels had history.
The club, the Double-A affiliate of the Giants, notched its first-ever nine-inning no-hitter, in its 11th season of existence.
Players hopped in celebration on the mound after Ruotolo secured the last out, an exciting moment, Alguacil said.
"We were able to [do it], and the guys were excited," he said. "And it was a special moment when I saw all those guys jumping on the mound, and giving five to each other."
The win, 2-0, also marked an eighth straight for the Squirrels, which is a new club record. Until Friday, they hadn't lost since their opener at The Diamond on May 4.
The pitchers who shared the baton were right-handed starter Matt Frisbee (six innings), left-hander Joey Marciano (1ª innings), right-hander Matt Seelinger (⅓ inning) and Ruotolo (one inning).
For Frisbee, it was a second straight shutout start. The Candler, N.C., native threw five innings with no runs and two hits in his first outing on May 8.
His strong beginning to the year has come after a productive 2020 off from competition, when the minor league season was canceled due to the COVID-19 pandemic.
Frisbee used the time to train with friends and fellow pitchers Andrew Wantz (Salt Lake Bees, Angels Triple-A affiliate) and Bryce Hensley (High Point Rockers, independent Atlantic league).
One of the things Frisbee did was sharpen a third pitch, a splitter, which he alternates with a changeup depending on the situation.
His first outing was like a validation of the work. Thursday was a continuation, though early he thought it might be a long night against the Senators, a Nationals affiliate. Shortstop Jackson Cluff, the leadoff batter, worked a seven-pitch at-bat to start, fouling off three pitches. Then Frisbee struck him out, and began to settle in.
He avoided getting deep into counts, was able to locate his fastball and threw his offspeed for strikes.
Frisbee didn't realize he had a no-hitter going until the fifth inning. He expected that he was going to come out of the game then. But when he went back to the dugout, no one shook his hand.
"So I look at the scoreboard, I was like, 'Oh, crap, there's a no-hitter,' " Frisbee said.
It was a deliberation Alguacil had to have, about how long exactly to let Frisbee go. Because of pitch-count rules in the organization, Frisbee wasn't going to be able to try to go for the full nine.
"We cannot be selfish. We have to be very careful," Alguacil said. "We're talking about these guys that can be the future for the Giants organization."
So Frisbee went through the sixth, a perfect outing, with no walks or hit batters either, and six strikeouts.
Then watching his teammates finish the job was awesome, Frisbee said.
"That's one of the most special parts about it, is that there's multiple guys that were a part of it," he said.
Ruotolo got the last leg. Frisbee, like Alguacil, was nervous, in the final inning — "Just because that's history." Though he said he had all the confidence in the world in Ruotolo.
"I was definitely thinking about it," Ruotolo said of the no-hitter, when he entered the game. "It's kind of hard not to. But after you get that first out, it's kind of just like the same game."
Ruotolo drew three ground balls to seal the deal.
Bryan Torres caught the game for the Squirrels. Alguacil said they have to give a lot of credit to the 23-year-old for his role Thursday.
"He keeps us focused, and he keeps our confidence level on the mound," Frisbee said.
The Squirrels will finish the weekend off in Harrisburg before returning home next week.
A hot start overall for the team brought about Thursday's no-hitter, with a group that Frisbee said gets along very well.
It was the first no-hitter Alguacil has ever managed and he said with a chuckle that he hopes it's not the last.
The Squirrels will hope to keep rolling at least, as the opening month progresses.
"I'm very proud of these guys. How we're working, how we're just dealing with each other in the clubhouse," Alguacil said. "It's been great. And it's our responsibility to keep it like this."
(804) 649-6442
Twitter: @wayneeppsjr