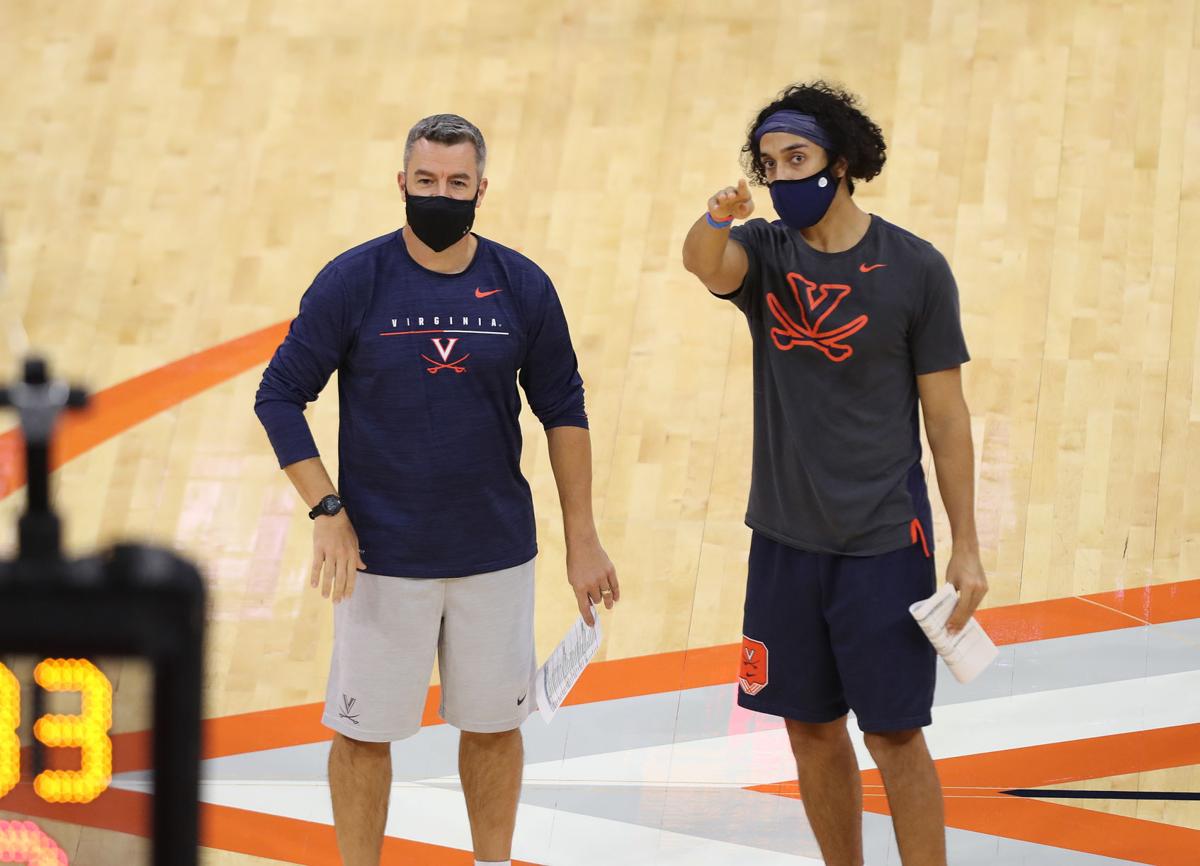 CHARLOTTESVILLE — Johnny Carpenter wanted to play basketball at Virginia. He tried to earn a walk-on spot. It didn't happen.
Instead, Carpenter set out on a new path.
"My dream was to actually get a jersey, get into a game," Carpenter said Thursday.
"I never thought I'd be able to come back and have my name on a locker in the Virginia coaches' locker room. When I walk in, I'm like, 'Is this reality?'"
Carpenter had to settle for being a student manager in 2009, joining new coach Tony Bennett's program as a way to explore the coaching profession. A dozen years later, Carpenter stepped onto the court at John Paul Jones Arena as an assistant coach, filling for a depleted staff during Wednesday night's 70-61 win over Wake Forest.
As the No. 22 Cavaliers walked off the floor and headed to their locker room, Carpenter and director of operations Ronnie Wideman rushed toward each other and jumped together for a celebratory chest bump.
"I either split my Lululemon pants or I pulled a calf muscle," Carpenter joked. "I'm just so happy for the guys more than anything. There's so much adversity in this year in college basketball. We were so pumped to see our guys play so hard and show that defensive grit."
Out of that adversity was born Carpenter's coaching debut. The team's director of player personnel normally spends his days breaking down video of upcoming opponents and helping the assistant coaches with scouting reports and practice plans. But NCAA rules prohibit anyone with Carpenter's position from actually working with the players.
This week, however, UVA was without associate head coach Jason Williford and assistants Brad Soderberg and Orlando Vandross due to COVID-19 testing and contact tracing. The team also played without guard Casey Morsell and walk-on Austin Katstra.
Guard Kody Stattmann remains out as he deals with a non-COVID health issue.
The situation figures to be the same Saturday when Virginia plays at Boston College, although there is still a chance some or all of the assistant coaches could return. If they don't, Bennett said he's comfortable with Carpenter in this larger role.
"Johnny is a student of the game, loves the game, one of the hardest workers I've had," said Bennett. "Studies film. He's gone overseas, coached teams in other countries. It was a great experience for him to lead the scout team in practice, do a scouting report before the team and asking him questions during the game."
It isn't hard to see why Bennett has taken a liking to Carpenter. The 29-year-old Great Falls native is the physical embodiment of two of Bennett's most valued basketball virtues — passion and humility.
Carpenter — a self-described "nerd when it comes to basketball" — bashfully said he didn't need to be referred to as "coach" during an interview Thursday, even though that's how many of the UVA players viewed him even before Wednesday night's assignment.
"Part of the reason I've grown out my beard and hair is so that people stop thinking I'm a college student," he said.
In long, heartfelt answers, Carpenter could barely contain his simultaneous awe at that opportunity he's earned and his burning desire to do so much more.
It's that passion and drive that led him to Europe in 2018 and 2019, coaching with Slovakia's under-18 and under-16 FIBA teams. He worked as a graduate assistant with the UVA women's program under Joanne Boyle and a spent a year with the Dallas Mavericks, as a video coordinator under Virginia graduate Rick Carlisle. NBA rules allowed him to work with the players in that role.
All of that, Carpenter said, prepared him for Wednesday, when Bennett asked him to live out one of the program's mantras — being prepared in the event the team calls upon you.
"Honestly, it's a dream come true, even if it's just for one seven-day, one 10-day, one 14-day period, whatever these COVID restrictions are," said Carpenter. "It's just a blessing. I had to pinch myself."
In the game, Wake jumped out to an early lead behind a 62.5% first-half shooting performance. But thanks to Sam Hauser's second straight ACC double-double, the Cavaliers took control after the break.
UVA hit 10 of its first 12 shots in the second half, opening the period on a 14-4 run and going up 48-43 after a 3-pointer by Trey Murphy III. It held off a late push from Wake to run off the court still unbeaten in ACC play.
That's when Carpenter and Wideman came together for their chest-bumping — and maybe pants-splitting — celebration. Thursday, Carpenter joked there was a healthy measure of relief in the act, as well.
"We were happy we'd all have jobs still," said Carpenter.
But Bennett saw something else — a deep passion about their work and an unbridled excitement that it resulted in a win.
"I think they need to go have a beer and relax," said Bennett. "They're a little amped up."