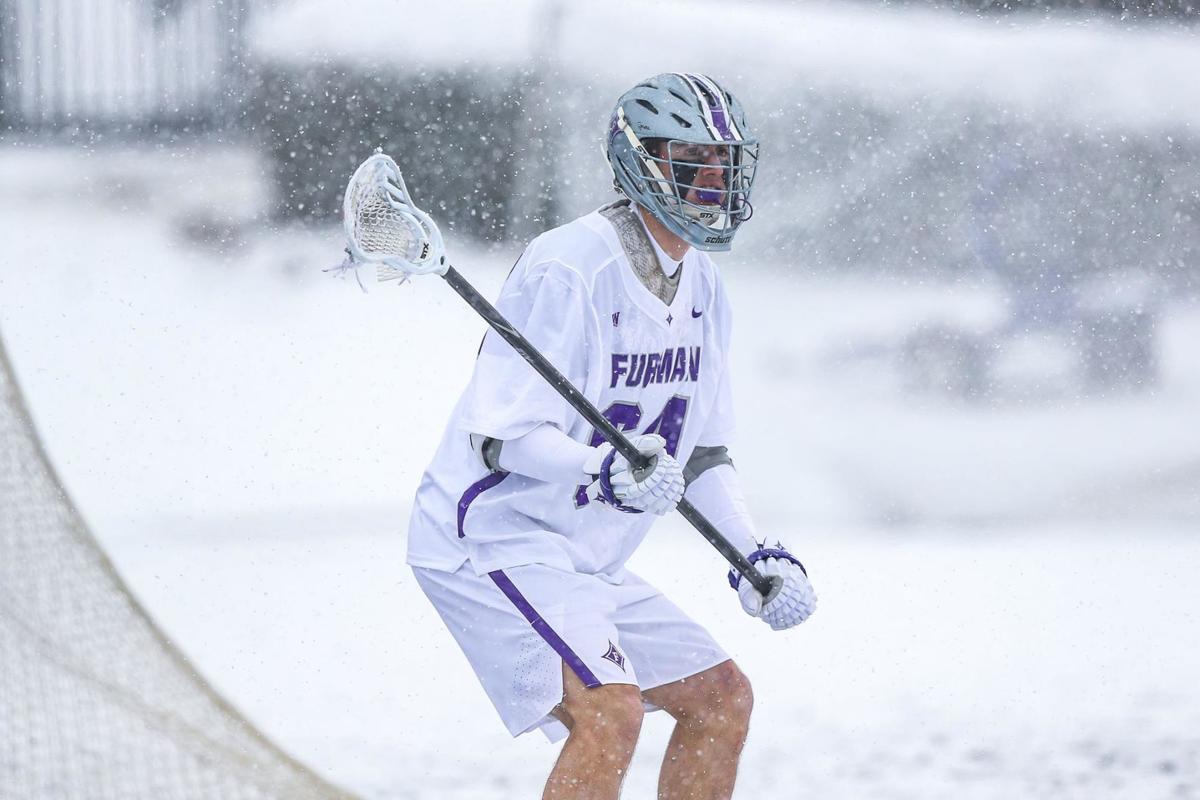 Coaches constantly advise, "Move on to the next play." Athletes learn the benefits of focusing on what's in front, not what's behind.
This approach helps get Burke Widhelm, a college lacrosse player from St. Christopher's, through a challenging and unanticipated collegiate transition period this year. Widhelm was a sophomore defenseman on Furman's team this past season, a member of the Paladins' playing rotation who was fulfilling a dream of competing on the Division I level.
Furman announced on May 18 the elimination of men's lacrosse and baseball in response to what the school called "dramatic reductions in revenue" related to the health crisis. About 60 lacrosse players, Widhelm among them, lost their past, present and future team.
The Associated Press reports that four-year colleges have dropped approximately 100 programs in cuts related to the coronavirus. As was the case with Furman lacrosse, some team members chose to stay at the school without athletics involvement, some transferred to other schools to continue playing, and some transferred without being members of sports teams.
At Furman, there had been on-campus rumblings of budgetary concerns since the mid-March onset of the pandemic, according to Widhelm.
"But when we hopped on the Zoom call with our whole team and the athletic department (members), I don't think anybody was expecting our program to be cut," he said. "It was a complete shock."
Widhelm let it all soak in for a day or two before he moved on to the next stage. There was a lot to consider.
His older brother, Parker, played at Furman and was a senior when Burke was a freshman. The siblings were never on the same team at St. Christopher's, so that was a treat, and one of the draws of Furman, a private school in Greenville, S.C., for Burke Widhelm.
"Furman, I had been there a lot to visit my brother. It felt like a good connection. It felt like the right fit," Widhelm said. "It made it so much easier with my brother there."
After a year in the Furman lacrosse program, Widhelm was even more convinced that he made the right choice. He enjoyed the school, there looked to be substantial Division I playing time in his future, and "with the Furman team, I've never felt more of a family," he said.
"I feel like I could have gone up to every single teammate and had a great conversation with them about anything. That's something I'm really sad about losing, but at the same time, I'm not technically losing it because all those connections will stay the same.
"Those guys will always be family in my book."
Furman got off to a 1-6 start this season while playing a schedule that included games against three ranked opponents — Duke, North Carolina, Penn State — and trips to Navy and Utah. Just as the Paladins prepared to begin competition in the Southern Conference, to which Richmond and VMI belong for men's lacrosse, NCAA athletics were suspended because of the coronavirus.
And then in mid-May, down came the axe on the Paladins program, which the school added during the 2014-15 academic year. After classes were shifted online in March, Furman refunded millions in room and board and other fees, encountered new costs related to the pandemic — such as increased technology support — and the value of the school's endowment dropped by more than $100 million, according to Furman.
"I'm trying to look at it and understand the situation instead of kind of reacting in an angry way," Widhelm said. "I honestly think the situation has made me learn a lot about myself, a lot about how I can handle things in the future.
"I know several guys who have not taken the news well. Obviously, the first day or so, it wasn't great. There's just that massive disappointment and unknown, and fear of what's going to happen. But I pretty much directed my whole attention to figuring out my next step."
Staying at Furman and not playing lacrosse did not agree with Widhelm. He wanted a broader college experience that included lacrosse. He considered several options. Division III Christopher Newport showed interest in Widhelm while he was a St. Christopher's student, and the Captains' coach is Mikey Thompson, a Collegiate graduate who has been familiar with Widhelm for many years.
"I actually was one of the coaches of his 2018 (select) team, so I got to coach him a fair amount in the summers and in the fall when Burke was at St. Christopher's, and just got to know him pretty well," Thompson said. "I recruited him quite a bit when he was in high school for CNU. He was very, very interested. He really seemed like a great fit."
That coach-player relationship will be renewed, as CNU found a roster spot for Widhelm, though college programs at all levels are trying to arrange five classes onto each spring team because of NCAA allowances in response to the pandemic and the suspended season of 2020. Widhelm will attend Christopher Newport in Newport News and play lacrosse for the Captains.
He looks at the opportunity as a clean slate, a chance to rebuild what unexpectedly came tumbling down at Furman. Through a 20-minute interview, Widhelm spoke not one sour word about Furman.
"Everything seemed to work out," Widhelm said. "At the end of the day, you can't just sit there and sulk. You've got to move on and try to look at the positives."
(804) 649-6233
@RTDjohnoconnor