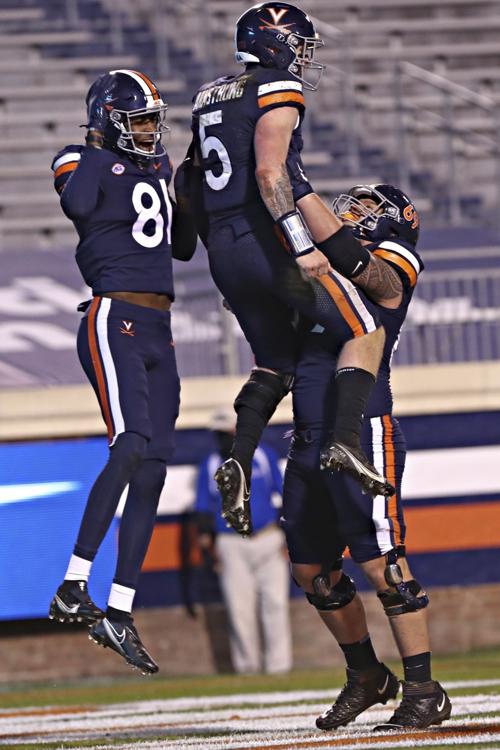 CHARLOTTESVILLE — An executive order from Virginia Gov. Ralph Northam last week would have made it hard for UVA to stage a football game this weekend, but a clarified interpretation will allow full staffing and participation.
The initial order, which capped gatherings at 250 people, said that participants in a sporting event count toward the tally.
For Saturday's game against Abilene Christian, the Cavaliers would normally have 80 players on hand, plus 15 coaches and graduate assistants.
That number doesn't include four strength and conditioning coaches, four athletic trainers, five team physicians, and two nutritionists. It doesn't include 10 equipment managers, six team video staffers, and two workers who run the headsets.
Add in the 10 game officials, four people to work the chains on the sideline, three to run timing and the scoreboard, four for keeping statistics, five administrators and a medical observer and that already totals 155.
Still unaccounted? The visiting team, all its players and staff, and a regional television/radio contingent of 45-68 people to broadcast the game.
That had officials scrambling to find a way under the 250 number, before even thinking about inviting any spectators.
Wednesday brought good news for the school, though.
"For collegiate and professional sports, spectators are limited to no more than 250," Cassidy Rasnick, deputy secretary of commerce and trade, wrote in an email Wednesday afternoon. "This does not include players, coaches, and staff necessary to the operation of the business. It does include cheerleaders and marching or pep bands."
That means the game can go on, though Virginia will have to trim its guest list. (Virginia Tech is playing in Pittsburgh this weekend.)
UVA had been hosting about 1,000 fans — the family of players and staff from the two participating teams.
LaKeesha Hayes-Winfield, the mother of Virginia running back Ronnie Walker, said Tuesday night that she had been told families would be unable to attend this weekend's game.
It was not immediately clear how many family members would be accommodated under the new limits.
Two Virginia games have been postponed when opponents were unable to field a complete team due to positive tests and contact tracing, but the Cavaliers have remained capable of fielding a team for the entire season.