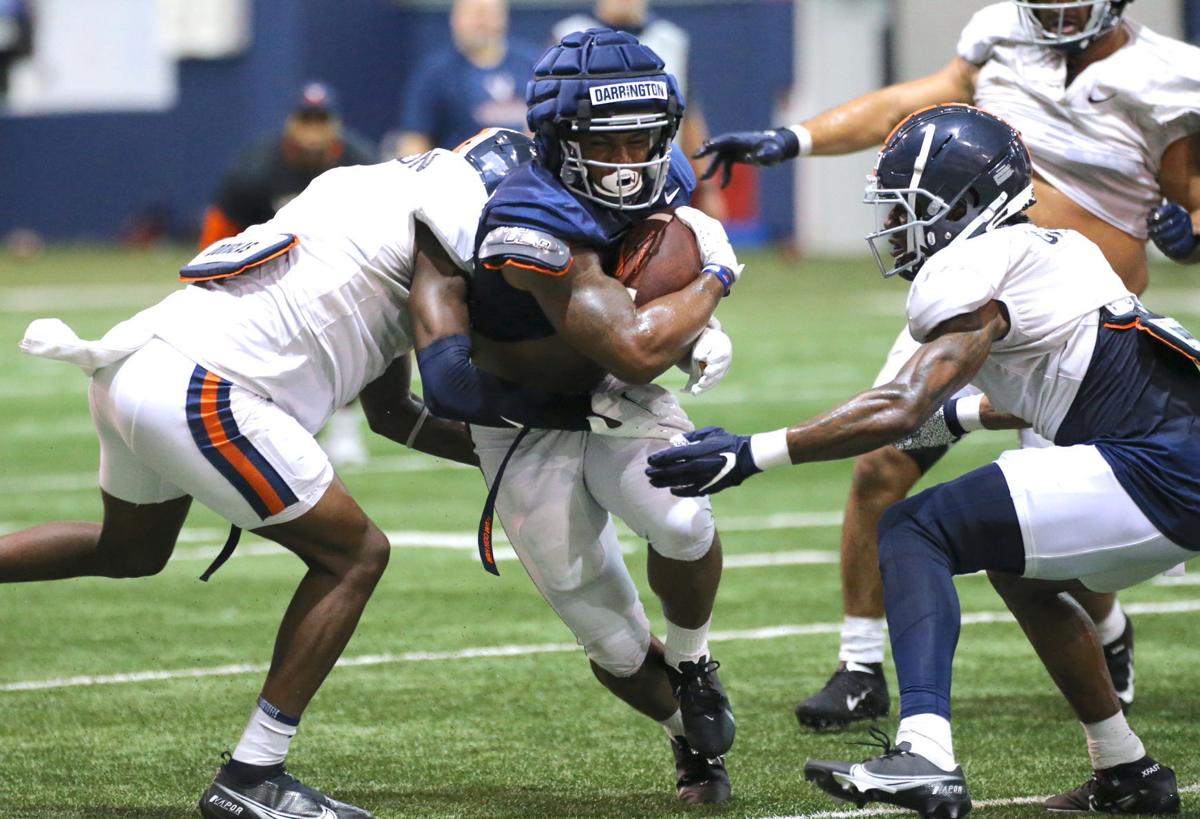 CHARLOTTESVILLE — When Devin Darrington scored on a 3-yard run for Harvard against Princeton on Oct. 26, 2019, the Maryland native had no idea how long he'd have to wait to reach the end zone again.
Darrington didn't score in any of the Crimson's final four games that season. Then, facing the COVID-19 pandemic, the Ivy League canceled the 2020 season.
Darrington was working out when he got the news. He considered taking a semester off and staying at Harvard to play his final season. Instead, he graduated and transferred to Virginia.
But, though he played in the team's first six contests, he did not score.
So Saturday, when he took a handoff 7 yards for a third-quarter touchdown during UVA's 48-0 blowout of Duke, a score set up by Darrington's 34-yard run the previous play, it was an extra special moment.
All that was missing? Darrington's family.
His parents hadn't missed a Virginia game this season, home or away, but they skipped the Duke contest to be with his younger sister for a school activity.
"I told them, I was laughing, I was like, 'You all got to stay home every week'," Darrington said.
Darrington's parents will be back in the stands Saturday night when UVA (5-2, 3-2 ACC) hosts Georgia Tech, seeking a fourth straight victory. They'll be hoping to see their son's next touchdown for the Cavaliers, having missed his first.
Darrington has seen limited action carrying the football this season — just 131 yards on 19 carries — though to be fair, the same could be said for all Virginia running backs. UVA has thrown the ball 339 times through seven games and run it just 207. It's scored 19 of its 31 touchdowns via the pass.
Senior Wayne Taulapapa leads the running backs with 208 yards and two touchdowns on 43 carries. Quarterback Brennan Armstrong and wide receiver Keytaon Thompson share the team lead with three rushing touchdowns each.
But the 5-foot-11, 215-pound Darrington leads UVA in yards per carry, averaging 6.9, as he's worked to maximize his productivity in his limited chances to run the ball.
"I would love to run the ball more, but hey, whatever helps the team win," Darrington said. "When my number's called, I just have to make sure I do what I have to do to make the most out of my opportunity."
Those two sentiments summarize Darrington's approach to his time at Virginia. His willingness to do whatever the team needs is evident in his role on multiple special teams units.
"I was more excited about hitting people than people hitting me," he quipped. "I love contact."
With a degree in government from Harvard already in his possession, Darrington is getting his master's in leadership and public policy at Virginia, with his sights set — in the future and after pursuing an NFL career — on going to law school.
For now, he's looking to get more opportunities on the field.
His coaches said those could be coming his way.
"He's tough and he's physical and he's productive," UVA coach Bronco Mendenhall said. " Devin is just coming into his own. The capability has always been there, right; it's just getting adjusted and having the opportunities and earning the opportunities. But man, he ran really well on Saturday."
Virginia ranks fourth in the ACC in scoring, putting up 36.1 points per game, but is last in the league in rushing, averaging just 120.3 yards per game.
The blitz-heavy Yellow Jackets (3-3, 2-2), Saturday's foes, are eighth in the conference in rush defense, yielding 154.2 yards per game.
If Virginia is to expand its run game, much of that production could come from Armstrong. The quarterback suffered a knee injury in the team's second game of the season, a win over Illinois, and the coaches have been reluctant to call many designed runs for him since.
That started to change Saturday against Duke when he ran five times for 34 yards and a touchdown, not counting yardage lost on three sacks.
UVA could lean on its running backs, as well. Or not. Either way, Darrington is happy to be back on the football field.
"After the COVID year, just having the chance to play ball again, just touching the rock felt great," he said.