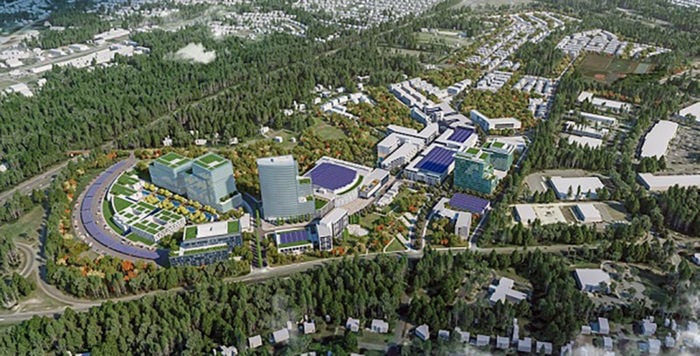 A principal with the company behind the GreenCity mixed-use project planned for Henrico County said the 17,000-seat arena anchoring the development may be home to minor league basketball and hockey and also expressed optimism that the NCAA will find GreenCity an appealing destination for men's and women's basketball tournaments.
Michael Hallmark, with GreenCity Partners, said having open dates for concerts and family shows will be a priority for the arena, scheduled to be built with a budget of $245 million and expected to open in 2025.
"The popular notion of these buildings is they have to have a prime tenant. They do not," Hallmark said Thursday. "Having said that though, we would likely have a minor league hockey team in the building, and probably would want to pursue something like a G League team. I think that would be exciting."
The G League is the NBA's official minor league. It prepares players, coaches, officials, trainers and front-office staff for the NBA.
"We want to make sure that we have an arena with open dates, that we can attract the big shows. That's really a prime motivator for the project is to bring these shows back to the community," Hallmark said. He added, "Having a broad spectrum of uses is really the key to these things."
GreenCity is a $2.3-billion privately funded, 204-acre, mixed-use development that Henrico County announced in December 2020. The location is on the site of the former corporate headquarters of Best Products, off East Parham Road and Interstate 95.
Parks, trails, about two million square feet of office space, 280,000 square feet of retail space, 2,400 housing units, and two hotels would be located in GreenCity, according to the county.
Hallmark said he could "absolutely" see the GreenCity arena as a destination for early-round NCAA tournament games and conference basketball tournaments. He said planners received "a number of really warm responses for both men's and women's basketball" when they contacted the NCAA about its national tournaments during an initial programming phase for GreenCity two years ago.
The University of Richmond's vice president and director of athletics, John Hardt, said in December that the Atlantic 10 Conference, to which UR and Virginia Commonwealth University belong, has monitored developments in Richmond-area competition venues.
"I have to believe that this project will be of real interest to the league," Hardt said.
Additionally, a new arena in the Richmond area could be a spot where VCU and UR may be able to play opponents that prefer not to face those teams at the Rams' Siegel Center or the Spiders' Robins Center, but would be open to more of a neutral-site meeting.
According to Dan Schmitt, who represents the Brookland District on Henrico County's Board of Supervisors and also serves on the Sports Backers board of directors, there would be flexibility in the arena's capacity, allowing it to be arranged for significant less than 17,000 to accommodate sports and community events.
Touring concert acts will be drawn by GreenCity's commitment to sustainability, Hallmark believes. He said many artists have signed climate pledges, and "do not want to play in arenas that still serve disposable cups and are wasteful. And so I think promoting the region as a green region, the arena and GreenCity as a place that respects those kinds of pledges, which we will have in abundance there, I think will be further attractive.
"I would expect to draw shows that may not play anywhere else, except here, as a result of that."
Hallmark said developers are not currently marketing naming rights for the arena. The newness, location and environmental consciousness of the facility will be of great interest to companies, Hallmark projected.
(804) 649-6233
@RTDjohnoconnor