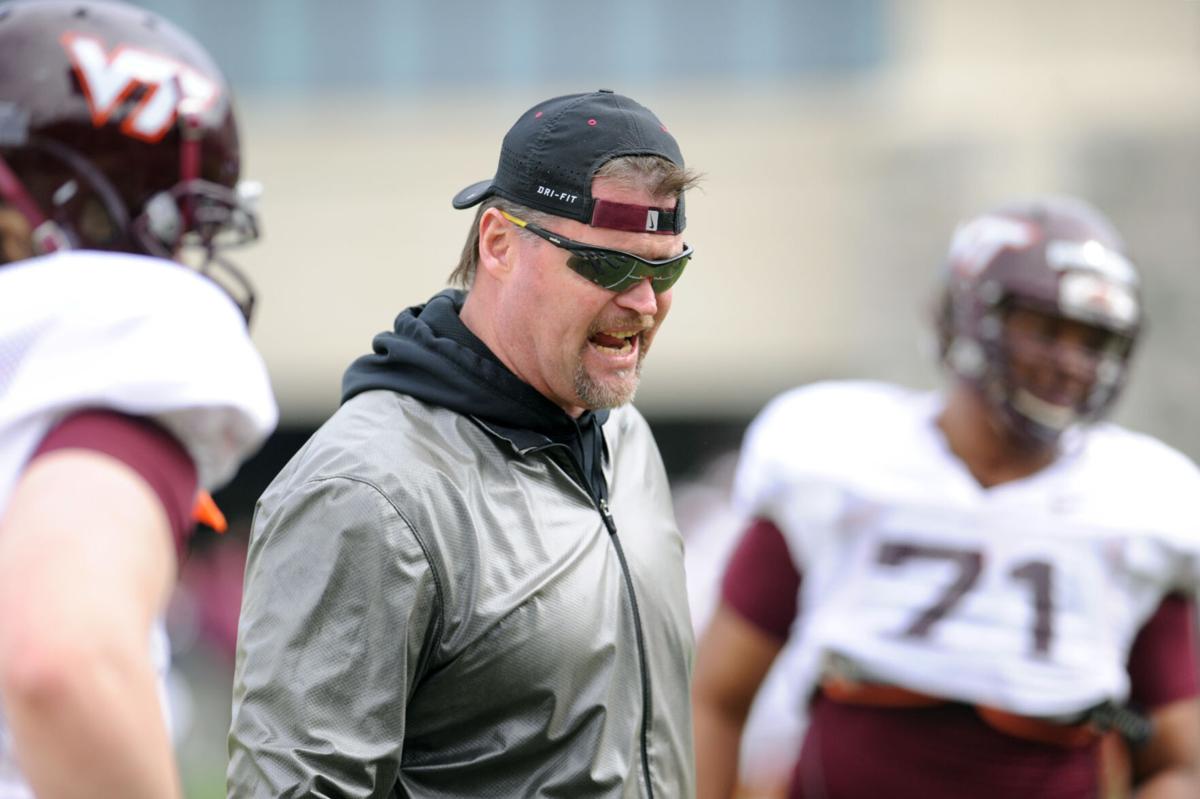 BLACKSBURG — Virginia Tech offensive line coach Vance Vice addressed the departure of Doug Nester and Bryan Hudson for the first time this past week.
Nester and Hudson entered the transfer portal back in December, but Tech didn't make the team's position coaches available to the media in 2020. Nester ended up at West Virginia while Hudson stayed within the ACC and transferred to Louisville.
"We were constantly rotating up front and there was never really an answer why," Nester said.
Vice was asked about Nester's comment, but mostly stuck to the script Justin Fuente used in February when he declined to address their reasons for leaving.
According to Pro Football Focus, Nester played 433 snaps last fall and Hudson played 303 snaps. It was a decline from their workload as true freshmen when they were among only 28 first-year offensive linemen in the country to play more than 500 snaps.
"I don't know if off guard is the word anymore in the time of the portal," Vice said Wednesday. "It is there. We also have been great benefactors of the portal, not just in our room, on offense and on this team. I wish those guys the best of luck. Every fit is not a fit. They are good people and good players, and I wish them well."
While Vice did a comprehensive review of the 2020 season — "we always go back and analyze every situation, every game, every possession, every player, everything" — he wouldn't necessarily do anything differently.
"We are always moving forward and making the room as competitive as I can," Vice said. "There's nothing that's going to be handed out and everybody in the room knows that, and that's how we are going to go move forward."
That's not to say their departure hasn't significantly impacted Virginia Tech this spring.
Tech went from having one of the deepest offensive lines in the country to having only nine scholarship offensive linemen on the roster this spring, a list that includes early enrollee Danijel Miletic (an international signee) and Derrell Bailey, who just recently switched positions from defensive end.
Tech has two more offensive linemen enrolling in May (Johnny Jordan and Bryce Goodner), but they will still be working the transfer portal in the coming months to increase the "number of dependable guys" they have up front as Fuente said.
"We have a small number in the spring right now," Vice said. "The number one thing is, the [position] room they are very, very open to do whatever we need to get done and a lot of times that's going to mean guys knowing multiple spots to create some depth. ... It's going to take all of us. I'm very excited about how we are working and how we show up to work everyday."