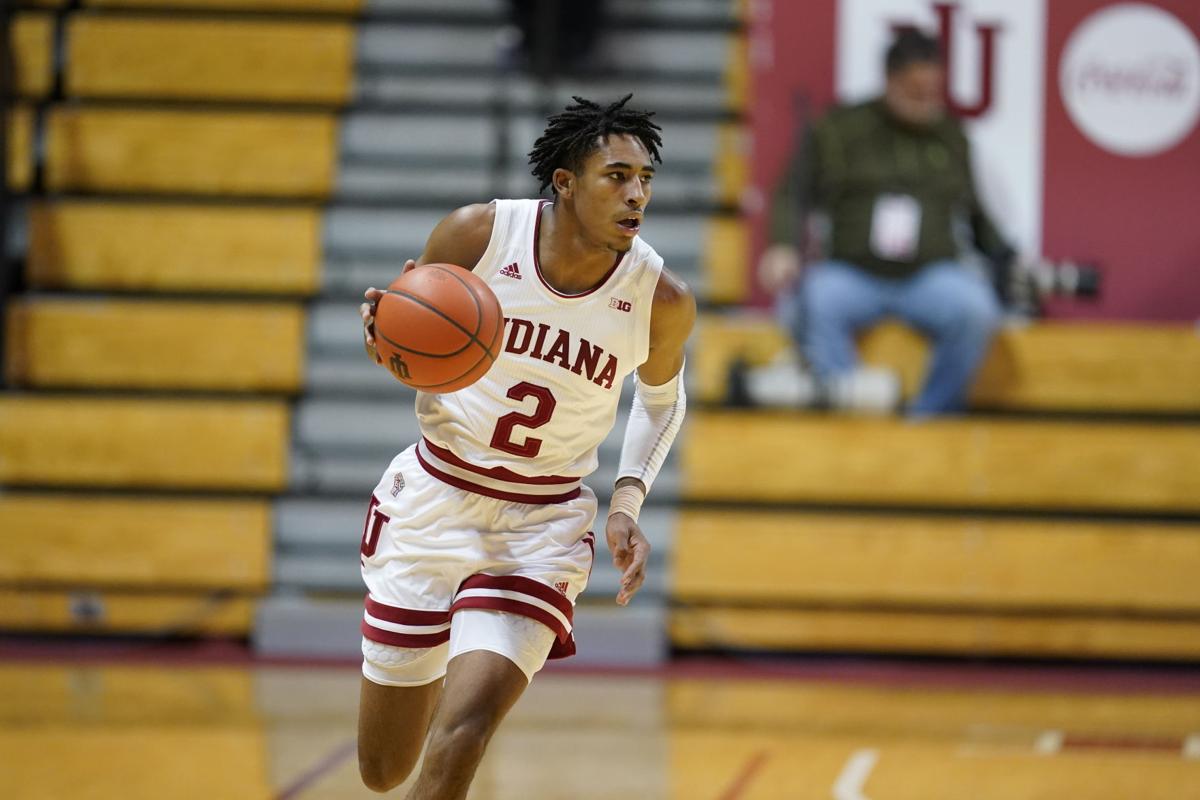 CHARLOTTESVILLE — Armaan Franklin hadn't been home for more than a day or two when he started making requests. But these weren't the normal asks from a college sophomore to his mother. Franklin wasn't interested in special meals or to borrow a set of wheels.
The 2019-20 college basketball season had been cut short by the COVID-19 pandemic, and the Indiana guard didn't want his time at home to set his game back.
So he asked his mother for a basketball hoop, so he could work on his shot, and a bicycle, so he could keep up his conditioning.
"He came home and initially I was like, 'The season's over. Don't do anything. Just relax. Kind of decompress," said India Franklin this week. "Probably after two days, if he made it two days, he was like, 'Alright, I'm bored.'"
Armaan and one of his two older brothers set up the hoop, Mom helped mark off a 3-point line, partially in the grass, and she even became his rebounder and played some one-on-one defense.
"I tried to play tough, hacking defense on him," said India, who played high school basketball and graduated from Michigan. "I'm throwing elbows, smacking his hand, and doing all kinds of stuff to him."
She rode her bike with Armaan, until he told her she "was too slow." Her efforts on the court were appreciated, if not entirely respected.
"I think she's pretty bad," Armaan joked. "A liability on the defensive end."
Her son, however, said he prides himself on his play on both ends of the court, a mindset he'll bring to Virginia this season. Franklin is transferring to UVA, choosing Tony Bennett's program over Illinois, Louisville, Georgia and the hometown Hoosiers.
Armaan started for Indiana last season, averaging 11.4 points per game and hitting 42.4% of his 3-point attempts, despite dealing with an ankle injury late in the season. He scored 23 points against Illinois on Dec. 26, a week after going for 20 against Butler. He hit five 3-pointers in each of those games.
When Indiana fired coach Archie Miller after the season, Armaan entered his name in the NCAA's transfer portal, wanting to keep his options open while awaiting word of who would succeed Miller.
Armaan and India were both impressed by Mike Woodson, Indiana's eventual hire, and he said his decision came down to staying at IU or transferring to UVA.
"It was tough," said India.
Armaan, his mother, aunt, his two brothers and his trainer had been on all the recruiting Zoom calls with all the schools. They huddled and each one ranked the five programs, where they thought would be the best landing spot for the 6-foot-4, 195-pound scorer.
"Everybody had UVA at the top," said India.
Armaan will arrive in Virginia in early June, assuming he's been able to get vaccinated, and that will be his first time seeing the school's campus. His recruitment was done entirely over phone calls and Zoom, including a session with most of the UVA staff, a presentation that "blew away" India and gave Armaan the confidence to commit sight-unseen to the Cavaliers.
"You really don't get a feel for the campus, what campus life is like," said Armaan. "It's really like a leap of faith."
Armaan believes he's taking that leap into a program that fits him well, from Bennett to the assistants to the pack-line defense, which Indiana employed a version of under Miller.
"I think for me it was just trying to build a good relationship with a coach, being in a system and style of play that fit me, as well," said Armaan of what he was looking for in a destination. "And then be surrounded by teammates who want to win and to be part of a winning culture."
Virginia won the ACC's regular-season championship this past season, then lost in the first-round of the NCAA tournament after having to pause practicing due to COVID-19 issues.
The team loses three seniors, including its top two scorers, in Sam Hauser, Jay Huff and Tomas Woldetensae. Additionally, sophomore forward Justin McKoy (North Carolina), sophomore guard Casey Morsell (North Carolina State) and freshman guard Jabri Abdur-Rahim (Georgia) all transferred out of the program.
Guard Trey Murphy III will explore his NBA draft possibilities while maintaining his college eligibility.
UVA's work rebuilding the roster started last week with Armaan's addition, and continued this week when East Carolina forward Jayden Gardner committed to the program.
Armaan's work to be ready to contribute will continue for the next two months — riding his bike and shooting on that home hoop.