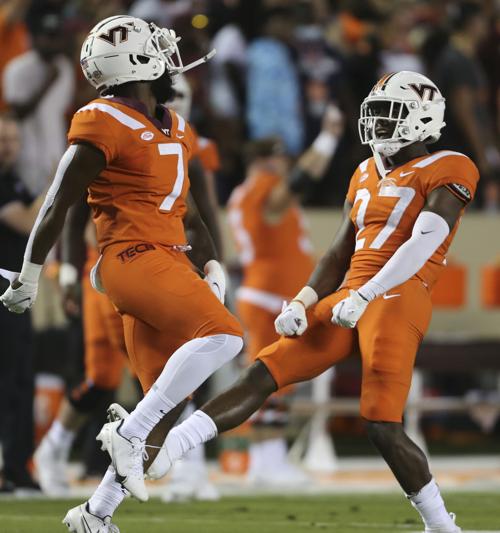 Having already beaten then-No. 10 North Carolina in a surprisingly low-scoring game on Friday night, Virginia Tech football coach Justin Fuente found some time to watch a few games on Saturday. He saw Georgia edge Clemson 10-3 without scoring an offensive touchdown, and Penn State outlast Wisconsin in a game that was scoreless at the half.
In this points-crazy era of college football, those outcomes, combined with his team's 17-10 win in its opener, caught Fuente's attention.
"I was a little shocked, just across the country, at least the games I watched," Fuente said. "It's a little bit shocking in today's age. I don't know if that's an early-season thing or that's just a small sample size."
It wasn't just Clemson and Georgia failing to score an offensive touchdown or the Hokies' humbling of UNC star quarterback Sam Howell that gave the impression that, at least in Week 1, defense ruled the roost in the ACC.
A year ago, only two ACC teams held their opening-week opponents to 10 points or fewer.
This season, eight of them did.
Of course, last season, with COVID-19 impacting the schedule, teams opened with ACC opponents. But go back to 2019, when teams played a more normal mix of foes, and only two teams held their opponents to 10 points or fewer — Syracuse shut out Liberty and North Carolina State held East Carolina to a pair of field goals.
This season? Virginia, Boston College and North Carolina State all shut out lesser opponents.
"It's really hard to shut anybody out," said UVA coach Bronco Mendenhall, whose defense turned in a blank sheet for the first time since posting a zero against South Carolina in the 2018 Belk Bowl. "I made the comment to my team today, it's hard to shut someone out just playing against air. It's challenging. There's just so many different things that can happen."
And as Mendenhall and Fuente both noted, the rules in college football — from pass interference to protecting quarterbacks to targeting — largely favor the offense.
"With the rules moving more and more toward offensive philosophy and being offensive-friendly, it's a challenge," Mendenhall said.
There is an element, the coaches said, of defenses being naturally ahead of offenses early in a season, though UVA, North Carolina State, Pittsburgh, Boston College and Wake Forest didn't have much trouble scoring points. They all scored more than 40 in their season-opening wins.
"There is a little bit of timing and execution," Fuente said. "I don't know if that's an overarching theme of early in the year or not. It'll be nice to see if that's how things go this week or if that was just a byproduct of matchups."
With the NCAA allowing seniors to retain an extra year of eligibility after last year's coronavirus-impacted season, a number of teams in the league have veteran defenses.
The Hokies returned 11 defensive players who started multiple games in 2020, and the Cavaliers brought back nine. Of course, the league returned plenty of offensive talent as well.
Every team except Duke returned a starting quarterback this year.
Still, North Carolina coach Mack Brown cautioned against reading too much into the outcomes of September games.
"I wouldn't take anything out of any early game scores," Brown said. "Opening games are so crazy. Preseason rankings mean nothing. You look at Iowa State beats Northern Iowa 16-10 and they're No. 7 or 8 in the country."
Brown's advice to take a wait-and-see approach was echoed by Fuente and Mendenhall. And count them among those curious to learn more.
Will 2021 be the year of great defense in the ACC? Or will the offenses strike back and make Week 1 a distant memory?
"Hard to say for sure," Mendenhall said. "It'll be interesting to see if it continues that way."