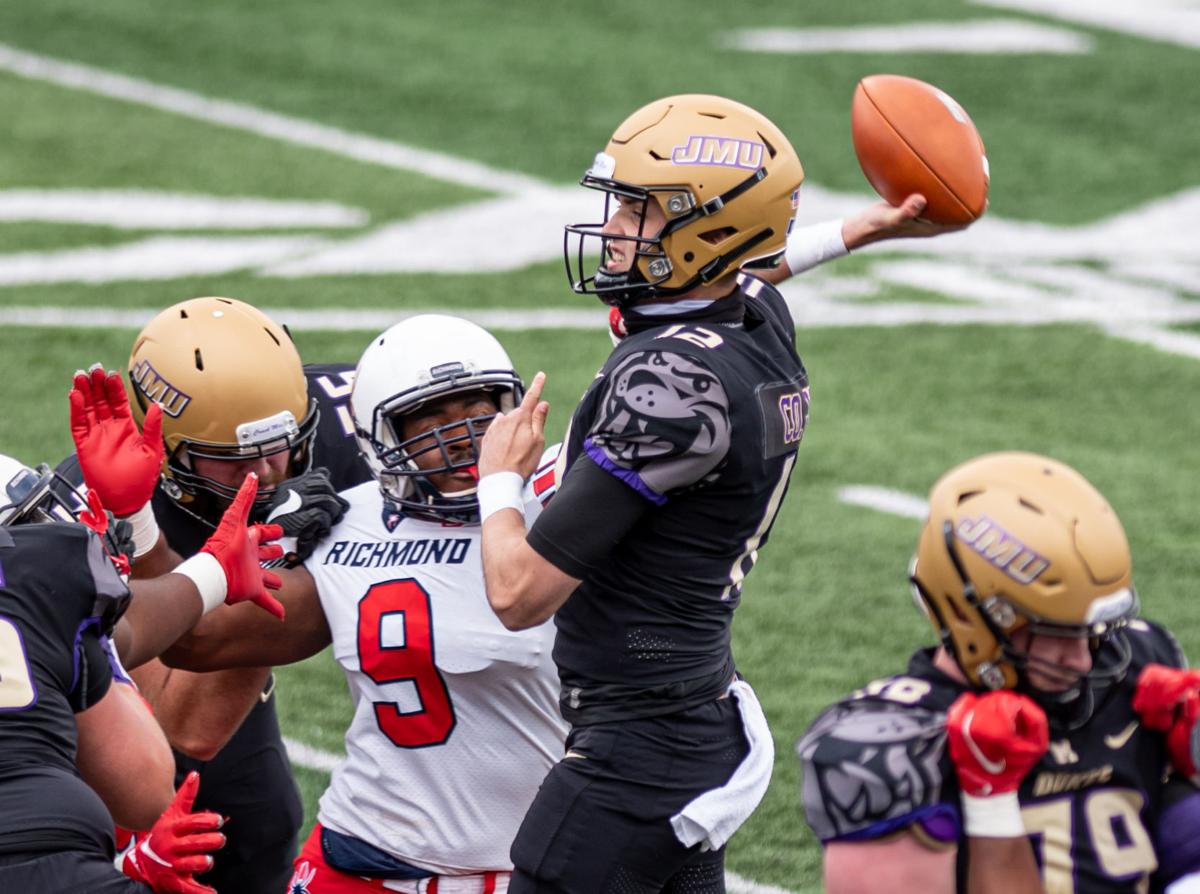 HARRISONBURG — The gap parted like the Red Sea.
In what had become a battle of attrition against rival Richmond, top-ranked James Madison decided to go for it on fourth-and-3 from the UR 31-yard line with just under 10 minutes to go in the game.
A play-action pass was called, and quarterback Cole Johnson executed it with running back Percy Agyei-Obese. But when Johnson dropped back, a huge hole opened in front of him.
Johnson tucked the ball and took off, and the 6-5 213-pounder scampered virtually untouched, escaping the grasp of UR defensive tackle Ray Eldridge near the 15, and scored the Dukes' first touchdown since their opening drive.
The run, the second-longest of Johnson's career, effectively sealed the door on the No. 11-ranked Spiders at Bridgeforth Stadium. JMU secured a 23-6 victory in both teams' regular-season finale.
"Great defensive effort," JMU coach Curt Cignetti said. "It was a hard-fought win."
Despite the win, the Dukes (5-0, 3-0 Colonial Athletic Association) did not earn the CAA's automatic bid to the playoffs and regular-season title, which was awarded after Saturday's game by a panel of athletics directors — the procedure because the league wasn't able to play its full slate of spring games.
No. 7-ranked Delaware (5-0, 4-0), which beat Villanova 27-20 Saturday, earned the automatic bid.
But JMU is a virtual lock to earn one of the six at-large bids in the trimmed 16-team playoff field that will be revealed Sunday in a selection show to be broadcast at 11:30 a.m. on ESPNU.
Richmond (3-1, 3-1) will hope it earns an at-large bid.
In both teams' toughest test of the season, JMU proved superior in a defensive battle.
It was 16-6 in the fourth quarter. Time after time, the teams' offenses found slivers of daylight before stalling or settling for field goals.
But on an early fourth-quarter drive, the Dukes seemed to pick up steam. Agyei-Obese saw that, in the second half, the offensive line and running backs began getting a feel for the game.
JMU began to wear down Richmond.
"They rotated backs in there," Richmond coach Russ Huesman said. "And we were sliding off of tackles quite a bit."
To start the Dukes' first drive of the fourth quarter, Agyei-Obese ran for 13 yards, eclipsing the 2,000 career-yards mark. He then picked up gains of 6 and 10 yards.
That helped set up Johnson's run, which put the game out of reach.
Huesman said UR called a blitz, which wasn't executed correctly. Two or three players made the wrong decision on the play, he said.
Cignetti said the play was supposed to be a pass in the flat to tight end Clayton Cheatham (Hanover). But Cheatham was dragged down on the play.
"They weren't ready for [the play] because we did it out of a different personnel grouping," Cignetti said. "And a totally different look. And then Cole had green grass, and there he went."
Johnson started at quarterback for the Dukes, holding on to the job after a plan to give junior Gage Moloney a shot last month was nixed coming out of a JMU COVID-19 pause.
He put his stamp on the game early, directing a seven-play, 2½-minute, 75-yard drive at the start of the game for a 7-0 lead.
JMU then forced a three-and-out, backing the Spiders up to their 15. The Dukes' Jack Sroba took the punt to the Richmond 30, and it seemed things could begin to get out of hand for the Spiders quickly.
But hurt in part by an illegal-substitution penalty, the JMU drive stalled at the 10. The Dukes settled for a 27-yard field goal by Ethan Ratke (Atlee) to make it 10-0 with 7 minutes left in the first quarter. The field goal was the 65th of Ratke's career, which made him the CAA's all-time leader, passing Towson's Aidan O'Neill (2016-19).
"It's crazy," Ratke said of the accomplishment. "I never even thought I'd get to this point."
From there, the stout JMU and Richmond defensive lines settled in, limiting damage, particularly on the ground — until the Johnson touchdown.
Ratke finished with three field goals and the Spiders' Jake Larson had two.
JMU improved to 20-18 all-time against Richmond.
"Just anxious to go back to work for another opponent," Cignetti said. "And keep trying to improve this team."
Note: Attendance Saturday at the 24,877-seat Bridgeforth Stadium, limited to 30% capacity by state COVID-19 guidelines, was 5,713.
James Madison 10 3 3 7 — 23
JMU—Agyei-Obese 1 run (Ratke kick), 12:34
JMU—Johnson 31 run (Ratke kick), 09:37
Rushes-yards 24-75 43-149
Comp-Att-Int 9-24-1 16-25-0
Time of Possession 21:09 38:51
Rushing–Richmond, Aa. Dykes 7-36, Sa. Smith 4-20, Jo. Mancuso 13-19. James Madison, Pe. Agyei-Obese 20-78, Ja. Hamilton 9-33, Co. Johnson 7-26, Ga. Moloney 2-7, La. Palmer 4-6, Team 1-(minus 1).
Passing–Richmond, Jo. Mancuso 9-24-1-125. James Madison, Co. Johnson 16-25-0-235.
Receiving–Richmond, Ju. Jasper 1-55, Jo. Fitzgerald 4-42, Le. Henley 2-17, Sa. Smith 1-7, Aa. Dykes 1-4. James Madison, An. Wells 4-92, Kr. Thornton 3-54, No. Turner 1-29, Sc. Bracey 2-26, Cl. Cheatham 2-11, Ja. Hamilton 2-10, Dr. Painter 1-7, Re. Brown 1-6.
(804) 649-6442
Twitter: @wayneeppsjr