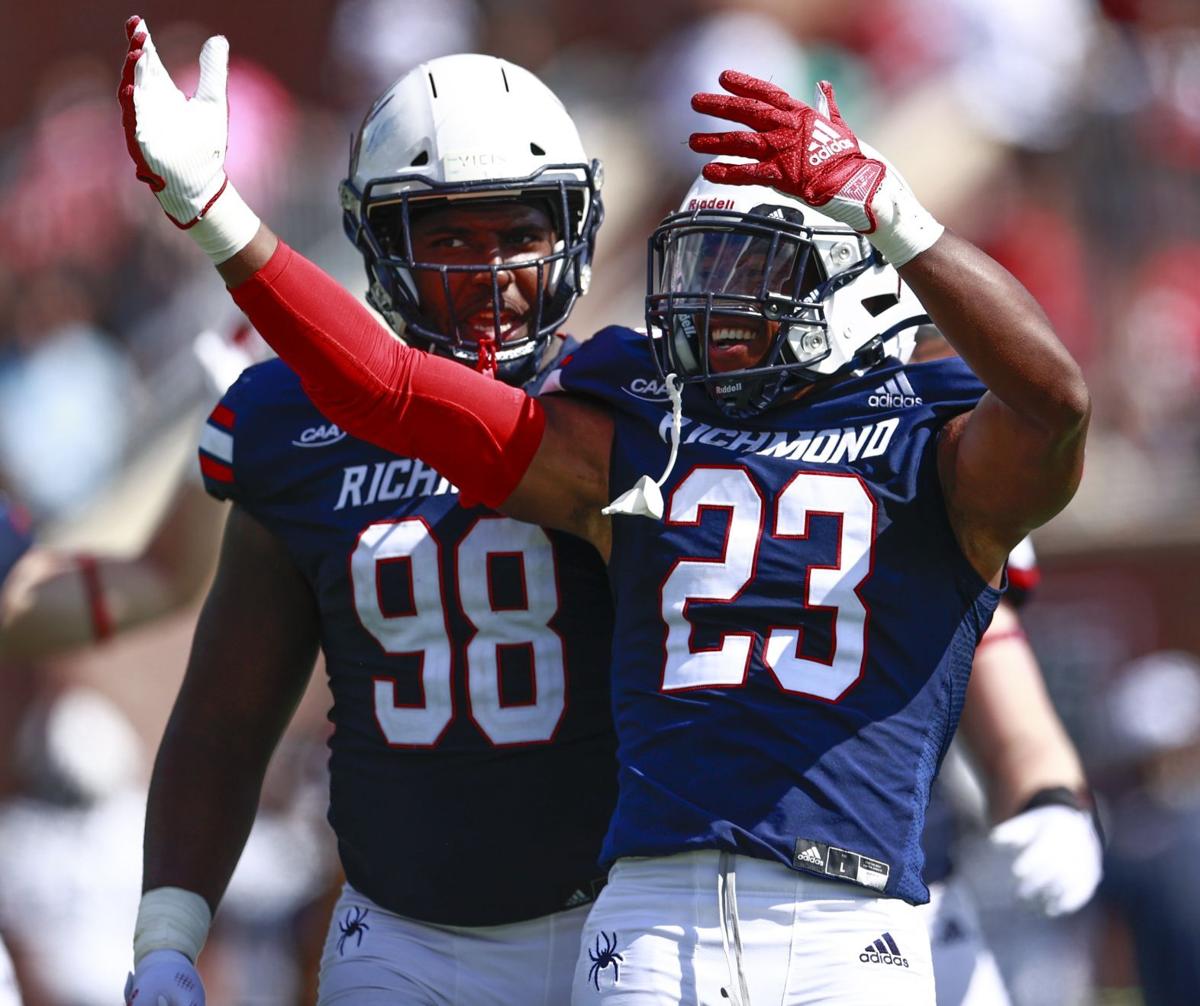 Shortly after being named the University of Richmond's football coach in December of 2016, Russ Huesman was asked about his recruiting philosophy.
"We'll give up size for speed all day" was part of his response.
That's particularly true on defense, Huesman's area of concentration since he entered the industry in 1982 as a student coach at Chattanooga after starting four seasons as a Mocs defensive back.
This brings us to players such as Spiders redshirt sophomore Xavier Marshall, who came to UR from Charlotte's Vance High School. There, as a 6-foot-1 200-pounder, he played outside cornerback, slot cornerback, strong safety, free safety and linebacker. Marshall also was a receiver early during his time at Vance.
Richmond recruiters "saw me as a player who could run and could come up and make a tackle," Marshall said.
That made him a perfect fit for the swingman position that's been part of Huesman's defensive arrangement since he was Chattanooga's coach for eight years prior to arrival at UR. On depth charts, Marshall is an outside linebacker who now weighs 215. He does more than the job title suggests.
"A hybrid player" is how Marshall describes his position.
He is a major part of Richmond's run defense. Marshall also drops in zone coverage, and often deals with receivers in man-to-man situations downfield. He regularly communicates before snaps with defensive backs and linebackers to sort out the Spiders' responsibilities.
More college programs are incorporating this blended position, and players such as Marshall, as offenses evolved to spread systems with passing accents. Effective open-field defenders who can also successfully operate near the congested line area are half-safety, half-linebacker and highly valuable in college football 2021.
Saturday, Marshall be one of the Spiders' most important players as UR (2-3, 0-2 CAA) takes on No. 8 James Madison (4-1, 2-1 CAA) at Robins Stadium. The Dukes will challenge Marshall's ability to handle the run and the pass. JMU, averaging 42 points, leads the league in rushing (196 ypg) and ranks second in passing (269 ypg).
"They can hand the ball off and be physical if they want to. They can spread it out and throw the ball if they want to," Huesman said. "It'll be a big test for our defense this week."
The JMU stat that sticks out to Marshall: 51.3% success on third down. Only three FCS teams in the country are superior.
"That really shows how they execute on first and second down," Marshall said. "Executing on first and second down really sets you up to execute on third down. Every play really matters. Winning on first and second down will always put you in a better position to win third down."
JMU, one of the FCS' elite programs, will not arrive in the state capital with its usual head of steam. The Dukes needed a fourth-quarter rally to win 23-21 two weeks ago at New Hampshire, and fell to visiting Villanova 28-27 last Saturday. Madison hasn't dropped consecutive CAA games since 2015, when Everett Withers was the coach and JMU lost to visiting Richmond 59-49 and followed that with a 44-41 defeat at William & Mary.
The Spiders lost their last two league games (Villanova, Elon) and in between were defeated at Virginia Tech.
"Everybody's ready to get back at it, especially having the bye week last week," Marshall said. "We've been stacking good practices on good practices. I would say nobody's really down. Everybody's focused and we're locked in this week."
Note: Huesman said Wednesday that quarterback Joe Mancuso continues to recover from surgery he underwent after breaking his right index finger at Virginia Tech on Sept. 25. Back-up Beau English is listed as UR's starter against JMU. Mancuso could play Saturday "if something miraculous happened," Huesman said.
(804) 649-6233
@RTDjohnoconnor