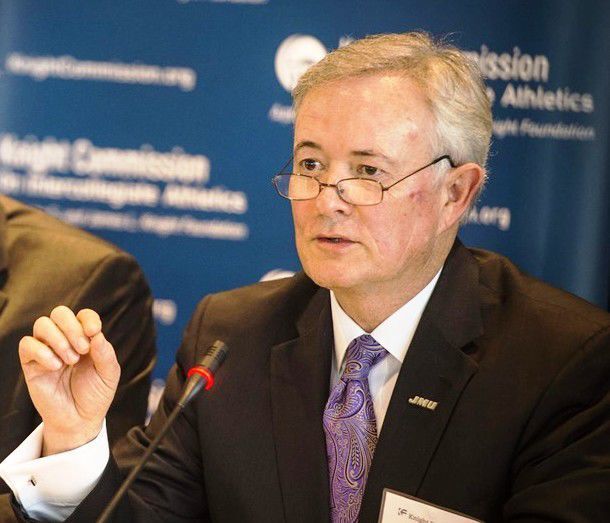 Jeff Bourne was straightforward with his assessment.
As it navigates revenue losses and unintended expenses induced by the COVID-19 pandemic, the current period is probably one of the most challenging that the James Madison athletics department has ever experienced, he said.
The department is facing a budget shortfall of more than $5 million, and it's a hole that could get deeper.
This is an important crossroads for JMU athletics, Bourne said.
So, to help try to make up for what's been lost, JMU on Thursday announced a fundraising campaign called Dukes Unite, which will run until Nov. 7. In this still unprecedented time, it's a special initiative for the department, to try to do what it can to offset the shortfall.
"There's tremendous need for this campaign on any number of levels, whether it's revenue or whether it's expenses," Bourne, JMU's director of athletics since spring 1999, said in a Zoom video conference with media members Thursday afternoon.
The hole can be attributed to a number of factors. For one is the fact that the school isn't playing football, its flagship sport, this fall. The target is to play in the spring.
With the cancellation of the fall football season, though, came a loss of a guaranteed $500,000 payday, through the Dukes' planned game at FBS North Carolina.
The school also experienced a more than $1 million reduction in donor spending for the 2019-20 fiscal year, compared to the previous year, due to the effects of the pandemic.
A major project was supposed to open to the public in full force in November: JMU's new $140 million Atlantic Union Bank Center, the soon-to-be home of its men's and women's basketball programs. But, if there are fans in the stands at all this season, ticket revenue still won't be like it usually would be.
Then there's the sizable expenses of COVID-19 testing and scholarships for athletes who receive eligibility relief to return additional years, an allowance granted by the NCAA in light of the pandemic. The scholarship costs will start at around $250,000, Bourne said.
JMU has a significant budget for its level. According to USA Today's NCAA finances database, the school's budget was $52,704,654 in 2018-19, ranked No. 63 among 227 schools in the database and most of any FCS institution.
Still, like so many peers around the country, the school hasn't been immune to the economic impacts of the pandemic.
The sense of urgency around the Dukes Unite campaign is how it differs from any other athletics fundraising campaign, said Cliff Wood, JMU's senior associate athletics director for development.
"Because if things don't change, and if we can't raise money, the way you experience JMU athletics is going to change. Because we just don't have the budget to pay for those things," said Wood, who is in charge of the Duke Club, JMU's athletics fundraising entity. 
Bourne said he hopes JMU doesn't have to drop any of its athletics programs, like multiple schools already have. But other impacts could range from salary reductions to reduced team travel.
"We are operating right now on just incredibly thin margins," Bourne said. "Our goal would be, we will follow the university's lead on whatever they do. There's not been an announcement yet to furloughs or salary reductions. We're going to do everything that we can on the expense side to hopefully stay away from that."
JMU isn't setting a specific goal on how much money it wants to raise with Dukes Unite. The goal, Bourne said, is to have an aggressive campaign.
JMU isn't alone in launching campaigns sparked by the impacts of COVID-19. UVA, for example, started a 4TheHoos virtual ticket initiative to raise funds, and Virginia Tech started the Keep Jumping Fund.
Bourne said the athletic directors at JMU, UVA, Virginia Tech, VCU, ODU and George Mason have had biweekly group calls.
"We share notes on those calls about where we are with regard to a lot of different things," Bourne said.
Looking ahead, Bourne expects the impacts of his year to reverberate a minimum of 24 months.
But first, JMU, like schools across the country, must march through the current time. The Dukes' new campaign is trying to help them do it.
"This has been a crazy year," Wood said. "So it's certainly a need."
(804) 649-6442
@wayneeppsjr