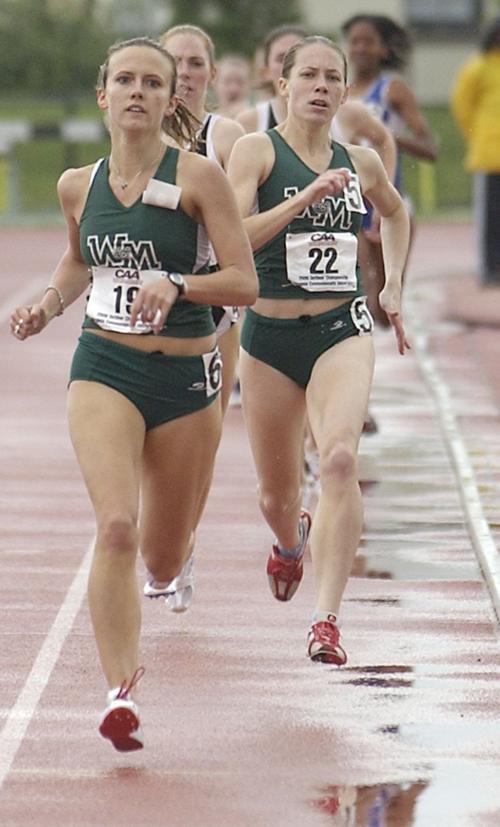 Today, the memory man blends the long ago with cost-cutting of the present. Of course, some things never change. When faced with a deficit, something must go. At William & Mary, which used to be concerned that too much success in athletics might be misconstrued that it had abandoned its strenuous academic commitment, officials took the big plunge recently by announcing the elimination of seven sports — none called football or basketball. The resulting outcry is being measured by very large tears. This is Volume 23: "We're Talking Peanuts."
When the school announced it was cutting its athletic department by 30 percent, including men's track and field, we could only imagine John Randolph's reaction, sitting up there in the great beyond. Sorry, Lord, but I couldn't help myself. It was a move worthy of more than a few four-letter words. For nine years as track and field coach and 10 more as athletics director, I put my heart and soul — and a lot more — into my sport and alma mater. I loved William & Mary, and I thought the school was proud of what we accomplished against all odds. Now this.
As an undergraduate (Class of 1964), Randolph was a quarter-miler on the track team. As track coach (1968-76) his teams featured 11 All-Americans and won 45 championships. Before he left to coach at Army, then Florida, the former Marine from Arlington raised $95,000 to replace the cinder track on which he competed at W&M with a new Tartan surface, then personally supervised its installation, working as a crew foreman. Nobody had more energy for, or enthusiasm about, the "Nation's Alma Mater," what Randolph considered a very special place.
Not that it was all wine and roses for him in Williamsburg. He returned as AD in 1985 and soon found the job and winning a popularity contest had nothing in common. In 1991, Randolph was similarly slammed by friends of wrestling, men's and women's swimming and women's basketball, which he pointed for extinction, citing a budget shortfall. He learned the drill firsthand and endured despite protests and threats of a lawsuit that led to the school changing its mind 10 days later.
That being said, you still have to believe Randolph is leading the cheers from above for D.R. Hildebrand and friends. W&M alumni, they are waging war on the school's decision, hopeful of getting the rejected seven — all Olympic sports and therefore generally considered minor — reinstated. This is a tribe of diverse, strong and unyielding complainants, Dave Hildebrand (Class of 2003) said, adding, "They are insulting our intelligence on so many levels."
He insists he's not the ringleader, but he has become face of this rebellion, thanks to an op-ed piece in The Times-Dispatch on Sept. 14 — "The myth of football-funded athletics" — followed by another in the Virginian-Pilot a week later. Hildebrand majored in religion at William & Mary. Now, having spent time in a number of countries, among them Israel and Germany, he's working in New York City as a model, primarily on television commercials. Oh, did we mention Hildebrand, 39, was all-conference and captain of the swimming team? "What I want everyone to understand is that I'm not some dumb jock," he said.
On the surface, this appeared to be little more than a brief, unrewarding snit going nowhere. How dare they eliminate our games. They'll be sorry. We'll show them. They make some noise that quickly fades away and goes mute. At least we indicated our displeasure. It was all we could do, wasn't it?
Well, the school's administration quickly learned people who really care about the demoted seven won't settle for an attaboy, nice try, now let's get on with the rest of our lives routine. They're determined to show the school — namely athletics director Samantha Huge — it has made a major mistake. They're also in it for the long haul, if the anger expressed over the past three weeks is any indication.
"This is not going to die down … not at an academically challenging school which prides itself on the accomplishments of the underdog," Hildebrand said from New York.
The way Hildebrand sees it, in their reasoning to slash men's and women's swimming, men's and women's gymnastics, men's indoor/outdoor track and field and women's volleyball, Huge and W&M President Katherine Rowe went sideways on three fronts. First, they said football and basketball sustain other sports, which is true at some NCAA institutions of lower learning but not many and certainly none at William & Mary's mid-major level. Hildebrand said he has a spreadsheet of what it takes to run the athletic department, and the so-called minor sports are not nearly the financial liability that football, for example, is.
Second, the rebels noted William & Mary's explanation for cutting sports was almost word for word what Power Five conference member Stanford said, in reducing its athletic department recently.
Since then, Huge cut that rolling stone off at the pass, acknowledging that there was too much similarity in the wording and, for that, she was sorry. For the most part, apology accepted. Moving on ...
Third, there's the matter of Title IX, which always comes into play when adding or subtracting teams on the college level. Because the law, originally designed to give female athletes equal standing, is so convoluted and becomes so subjective in application, just when schools think they're in compliance, along comes a suit that determines otherwise.
"The college seems to think it's in compliance, but it's not," Hildebrand said. And, this past Wednesday, a national law firm threatened the school with legal action, based on potential violation of Title IX, if it doesn't reinstate women's swimming, gymnastics and volleyball. Somewhere up there Randolph is nodding. I told you so.
In a conversation a couple of days earlier, Hildebrand suggested they hoped the whole thing could be resolved without lawyers getting involved.
Hildebrand estimates after contributions and endowment draw-downs, it costs the school in the neighborhood of $150,000 annually to run the swimming program. "William & Mary can't afford that?" he said. "We're talking peanuts."
Talk to him long enough — we did for 45 minutes — and you're left with the impression what bothers him most of all is what will happen to the endowments most, if not all, minor sports have at W&M.
This is where the ghost of J. Randolph also has some impact. He was 53 — and still serving as athletics director — when he died from lung cancer Aug. 11, 1995. In an obituary that appeared in the Newport News Daily Press, it was noted that "Randolph's most enduring legacy may not be fully appreciated for years. He was a dynamic and relentless fundraiser who spearheaded major drives for endowments, large sums of money in which only the interest is used — and the principal is never touched. Endowments, he believed, were the only hedge against inflation and a shifting economy."
In his RTD editorial, Hildebrand asked: "Where will the endowments of these [seven] teams go once they are cut?" He then answered his own question with: "Into the pockets of the teams that are truly unsustainable and consistently failing." In a letter to the editor, the school said that wasn't necessarily so. The donors would have a say. Of course, if we can persuade them to put the money into football and basketball…
Huge, whose brother Chris played football at William and Mary (1981-83), is in her third year as AD. Now she knows what Randolph went through when he tried unsuccessfully to dump four sports before succeeding three years later in killing wrestling and fencing. Huge has to be feeling like the most unpopular person in town, if a small sampling of outrage received here is any indication. Firing Tony Shaver, the popular men's basketball coach of 16 years, didn't help. At the time, Huge noted W&M was among a handful of schools never to qualify for the NCAA tournament — and ending that streak was among her priorities.
Since officially replacing Terry Driscoll on May 1, 2017, Huge also has made some drastic changes to the athletic department, overseeing several coaching changes, including the resignation of John Daly, much-decorated women's soccer coach. In 31 years on the job, his teams qualified for 22 NCAA tournaments, won 11 conference championships and he was seven-times region and five-times conference coach of the year. That was in addition to soccer and academic all-Americans as well as Phi Beta Kappas. "Yeah, I did OK," the London native said.
Apparently it wasn't OK enough for Huge. Shortly after she arrived, Daly was asked to retire. Told was more like it, and he accepted. "I felt uncomfortable with a lot going on in the department. I didn't think there was much good fighting it," he said. Of course, Daly asked why. "'I failed in my coaching duties' was the phrase she used. I was stunned."
Now, Daly watches William & Mary athletics from a distance, remembers the good times, and shakes his head. "The whole fabric of the athletic department … was one where we were all together, going to each other's games, cheering each other on," he said. "What I'm hearing … there's not too much of that going on now. It's shocking. I'm sad to see what's happening there. It's awful."
As for football, a well-heeled booster, who preferred not to be identified, said it's important to build that program into a perpetual playoff contender "… and put William & Mary on the [athletic] map." He cited the potential of returning to the success that was built around "excellent students" and included such noteworthy alumni as NFL coaches Mike Tomlin (Steelers) and Sean McDermott (Bills), both former players under longtime, now-retired coach Jimmye Laycock.
This is Huge's seventh collegiate stop in 18 years, coming to W&M after three years at Texas A&M and before that Delaware, Georgetown, Wake Forest, Michigan State and Illinois. Hildebrand, among others, thinks she's "trying to do what the bigger schools do, focus attention on the big three sports … and [thereby] use the college as a steppingstone." Said Hildebrand, "I'm told she has sent her application to another school … in the SEC."
Attempts to reach Huge for comment proved futile. We tried via email, the sports information department and a prominent intermediary. That, of course, doesn't make Huge unique. In the old days, coaches and athletics directors returned calls, and you could ask them questions they didn't necessarily want to hear but had enough confidence to respond on the fly. Sometimes they'd settle for a "no comment." At least they gave you the courtesy of a direct reply. Nowadays, we're told, the above is rare to nonexistent. Most quotes are provided by the schools on the subject's behalf — as though they weren't able to comment on their own without supervision. Sad but true.
At least Huge could have reinforced a quote attributed to no one individual when the cost-cutting announcement was made earlier this month, to wit "decisions to reduce sports are final." If the school sticks to that, Hildebrand and friends are whistling in the wind. However, late last week, there was reason to believe the school might relent, at least to the point of sitting down with representatives of the axed seven to discuss the possibilities — however remote — of staying their execution.
Meeting with the W&M Board of Visitors on Friday, Rowe talked about "a broken community" … that the administration's "chief task … is restoring trust [based on] the assumption of positive intent." On their website, the men's and women's track teams noted: "They did not alert coaches, athletes and alumni the program was at risk." Under "Save Tribe Track and Field," supporters of the program are asked to help, including financially.
Rowe was quoted as saying she was sorry "for the awful loss and sadness this is causing." The W&M president also called on Huge to be more transparent about the process. But, said Rowe, "this is not to suggest … the status quo can remain."
Meanwhile, in a letter to students, faculty and staff, Rowe pointed a finger at the school's athletic communications department for bad publicity the school has received since the announcement. She said there will be a review to assure an improvement in "athletics communication practices." In other words, anything you say for public consumption must first get official clearance — or expect the consequences. The official muzzle has been applied.
At this point, assuming she has been inundated with less than friendly calls and emails, you couldn't blame Huge for looking elsewhere. At least she has one heavy hitter in her corner — the heaviest when it comes to giving financially to W&M athletics. Richmonder Jimmy Ukrop has been No. 1 in that department for almost 60 years. What makes Ukrop rare is that he's always done it without strings attached. He isn't the strong-arm type. He's never said do what I want, or else I'm withdrawing my support.
"I would never put myself in a position of telling them what to do," said Ukrop, who admittedly is in favor of beefing up football and men's and women's basketball. "I'm confident [we] will come up with a plan that will be best for [everyone]."