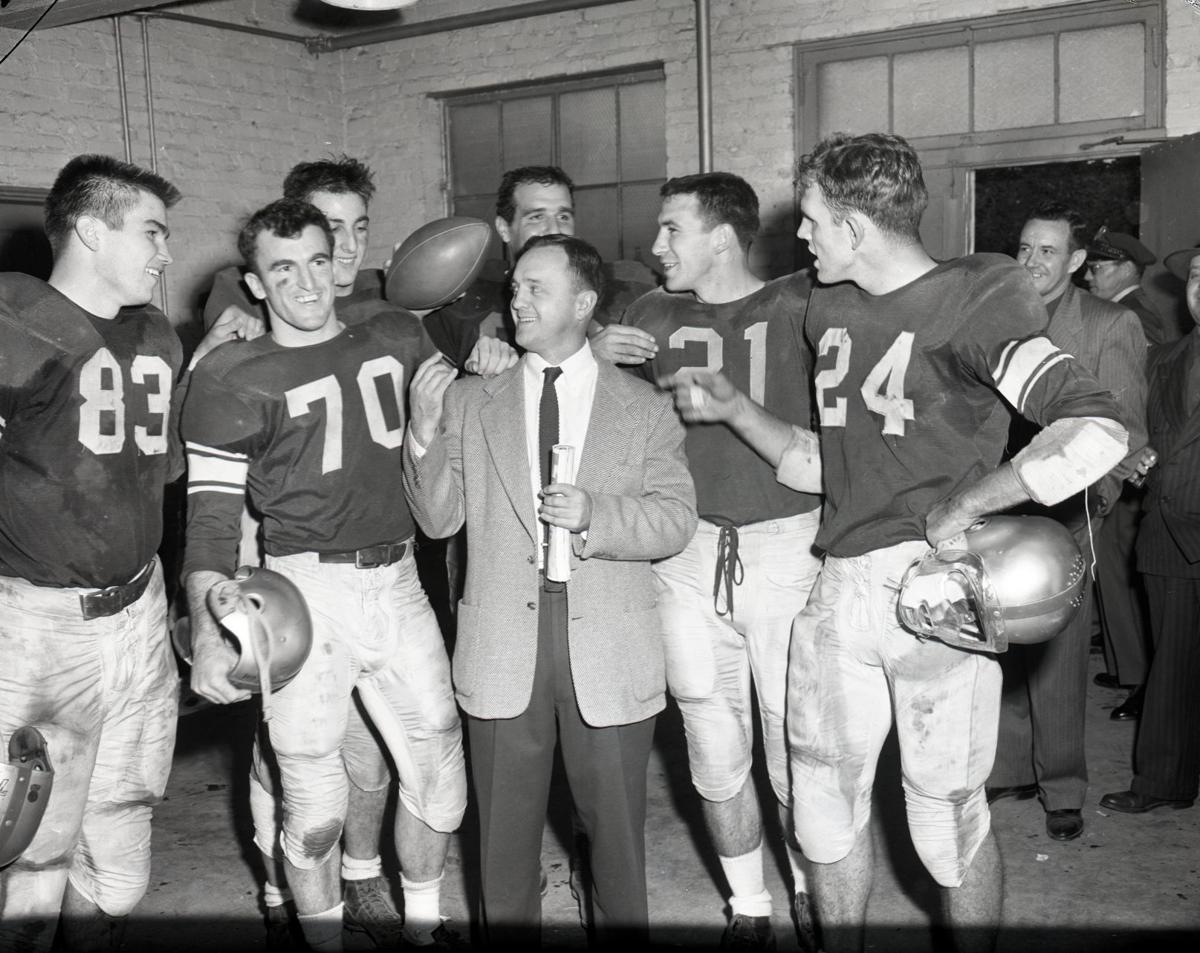 Gather round, kiddies, for our latest look back at the good, bad, even the ugly during almost 50 years of writing sports for your favorite local – OK, only – morning paper. This is Volume 69: So Many Questions … So Few Answers – For Now.
OK, so the memory man is o-l-d, and the o-l-d-e-r he gets, the more he misses the good, o-l-d days like … when City Stadium was THE place to be for a University of Richmond football game … when it wasn't unusual for crowds of 20,000-plus at the somewhat less-than-luxurious facility built in 1929 for $80,000. Alumni, undergraduates and non-Spiders alike turned out to have a good, o-l-d time on a handful of Saturday afternoons in the fall – loyal to a fault.
We've already belabored the 1968 team that – it says here – claimed the biggest victory in the program's history, a 49-42 decision over 15th-ranked Ohio U., in the Tangerine Bowl. The man goes back to the 50s and early-to-mid 60s when the Spiders of Frank Pajaczkowski, John Hilton, Don "Red" Christman, Earl Stoudt, Chuck Boone, Pat Lamberti, David Ames, etc., etc., etc., played big-time, top-NCAA-division schedules, and beating such rivals as West Virginia, VPI (now Virginia Tech) and North Carolina was not unusual – if not always expected.
"Crowds were definitely better then," said Christman, a rough, tough competitor who played on both sides of the ball. "They were more into the game than they are today."
While the Spiders of long ago didn't win 'em all, they invariably were entertaining. Actually, that didn't matter either because the fans had a vested interest in their helmeted heroes. They knew them by face as well as name. It was fun – and could be exciting. In other words, you looked forward to the next game ... in some cases, could hardly wait.
And the beat went on – well, more like off and on – to century's end. Boone, who was athletic director from 1977 to 2000, recalled a crowd of more than 16,000 coming to the off-campus facility the school leased from the city for $1 a year and re-named UR Stadium (1983-2009) for a game with … Tech, VMI, William & Mary, all big draws? No, the University of Maine, of all teams.
"I remember it well," said Boone, 85. "For a school with 2,000 students, I thought we did a good job with [football] attendance. Our staff worked hard in the community. I can remember we drew 19,000 for VMI, the only school that had a smaller student body. We had great support."
So, then tell us ... inquiring minds would like to know: Where have all the Spider "fans" gone, long time passing? "That's been a question for years." Christman said. "People don't come anymore. There's no football atmosphere."
At season's start we were told there was a new enthusiasm for UR football, then why are so many of the faithful staying away? Through four home games so far, on-site interest has been anything but encouraging.
And it's not that anyone expects a return to the five-digit crowds of yesteryear. In 2010, the Spiders moved to $28 million Robins Stadium, a nice on-campus facility now with a listed capacity of 8,217, acknowledging times have changed, and it is no longer reasonable for a small FBS (formerly Division I-AA) program to be a big draw.
"There are so many other entertainment options out there," said Bob Black, voice of the Spiders and UR assistant athletic director, echoing a familiar refrain. "It's a problem all schools our size face today."
Yeah, but this is getting ridiculous. The first two home games attracted what appeared to be well under half-capacity, if all those empty seats were any indication. Official attendance was said to be 7,048 (Howard) and 6,408 (Hampton) – which, we're told, was tickets purchased. (Like many schools at this level of competition, UR never announces how many actually attended. All that really matters to the bean counters are the number of beans sold.)
Home game No. 3, against Elon on Family Weekend, reportedly was a pre-game sellout. There was no post-game announcement. "They couldn't have had more than 3,000, probably 2,500 or less," reported William "Bill" Watson, an Elon alumnus who was there. Black said "it was more like 4,000 or 4,500."
After the first two games in September, Black suggested the 2 p.m., starting time could be a factor. "They think it's too hot, sitting in the early-afternoon sun," Black said. "We should do better later on."
Last Saturday, even before a predicted rainstorm (that hit at halftime), the turnout was baffling. James Madison U., has always been a big draw but this time the Dukes and quarterback-shy UR played before a whole bunch of unused chairs and rows of aluminum. As usual, there were more JMU fans, but not as many as usual.
Christman, 85, a season-ticket holder, stayed home because of the rain forecast. Another alumnus, Jerry Haynie (Class of '59), described himself as "season-ticket holder forever" ... until he stopped two years ago. Haynie still comes occasionally but wasn't there Saturday when the paid figure was 7,809, with a guesstamated 4,000-plus on hand.
New UR president Kevin Hallock was Black's guest at halftime. "We have a great crowd … lots of support," Hallock said.
(He did come here from Cornell, which is Ivy League and hardly a mecca for football. The Big Red has had two winning seasons in 22 years, none since 2005. Cornell is 1-4 this year and 20-55 overall under coach Dave Archer. The Ivies scrapped football because of the pandemic a season ago.
In 2019, the Big Red averaged 4,295 – actual turnstile count – but, a school spokesman pointed out, the number is skewed every year by Homecoming "when we get 12-to-15,000 who have a good time but ..." But socialize and don't pay a whole lot of attention to the game. Cornell has played twice at home this year, attracting 12,000 for HC and 2,294 last time out when it won its first game.)
Retired and no longer actively engaged, Boone thinks it isn't as bad as it seems. At Richmond, that is. "Our fans deserve a lot of credit – for a school our size, with a small student body, and we don't have a big alumni base," he said. "So they buy tickets and don't come. That's disappointing. At least they are contributing."
Those who considered coming – but didn't – Saturday didn't miss much. Fifth-ranked JMU had the No. 1 defense in the country and won 19-3 against the Spiders, who used a couple of overmatched quarterbacks in the absence of starter Joe Mancuso for the third straight game. On Spider TV, Black and analyst Chris Anderson tried to remain positive - which wasn't easy, for sure.
"It is difficult," Black said, "but I've been doing this for almost 40 years, so nothing I haven't seen before. I try to make the product look and sound as exciting as possible within the realm of truth and reality. I say it all the time: Our job is to be positively accurate. You can't fool these people."
Back to the question of where have all the UR fans gone – and why? One o-l-d alumnus said he didn't think the school was promoting football very well or enough. Black disagreed.
"We do all kinds of promotions," he said, adding, "I do think you have to win at this level … put an exciting, winning product on the field. We have a beautiful stadium. It's easily accessible. We don't charge for parking, [with] plenty of tailgating areas. And we've tried all sorts of game times, from early in the afternoon to early in the evening. We work our butts off quite frankly, [but] you've got to keep trying."
Christman, a center and linebacker who played three seasons at UR, winning the prestigious Jacobs Blocking Trophy, has remained loyal to the staff, regardless who has been in charge – from Ed Merrick to Frank Jones, Dal Shealy ... all the way to current coach Russ Huesman, who replaced Danny Rocco. When he suddenly bolted for the University of Delaware, a state-supported school that doesn't have the same rigid admissions standards for athletes that private UR does, Rocco didn't do his successor any favors by telling the world why he was leaving.
Seems admissions rejected a player or two (or more) Rocco wanted – badly, it seemed. You don't think rivals, like Delaware, use that recruiting against the Spiders, do you?
"I know, coaches are hired to be fired, [but] I like Huesman, I really do," said Christman earlier this week, an hour or so before joining a weekly gathering of UR alumni for lunch. This week's featured guest was … Huesman. Everyone agreed he's a good guy but … he is 20-24 in four-plus seasons including 2-4 this year.
"It's better when you are winning, of course," Christman said. "They are pretty good defensively … but they have lost four in a row. At this level, you can lose a lineman but you can't afford to lose a quarterback." Until a few years ago, he was a regular at UR practices.
Interestingly, none of the o-l-d grads above seemed angry, incensed, riled up – choose the emotion of your choice – about what UR football has become. They sounded almost resigned – it is what it is – that things aren't going to change any time soon.
So, one wants to get rid of Huesman, who has another year left on his contract. Another thinks he should make some staff changes. But would that really overhaul what is ailing the sport at Richmond? Would there be a sudden, tidal wave of interest? I'd like to think so, but probably not.
If you really want a reaction, ask why UR doesn't bite the bullet and go Division III, no scholarships, limited travel expenses? (DIII Randolph-Macon College, up the road in Ashland, is playing some winning, very entertaining football these days.)
"YOU DON'T WANT TO DO THAT!!," said John Averett. UR '61 and former basketball assistant. "WHY WOULD YOU WANT TO DO THAT? [Pause] The solution is: You've got to win."
As far as Black knows, DIII is not in UR's future. Period. "I've heard no talk about it. None, None whatsoever," he said, adding, "Money is always important ... but I don't think it's an issue in this case."
Question: Now that he's made it official (although it's been a forgone conclusion for some time), that he's leaving Notre Dame after three years and a total of 10 snaps, former Manchester High most-wanted Brendon Clark is bound for where? A – Clemson; B –Wake Forest; C – Other.
The pro-style QB originally committed to Wake as a Manchester sophomore. His high school coach Tom Hall liked coach Dabo Swinney "so I hoped he would go to Clemson," Hall said in Volume 65: "What Kid Wouldn't Want To Go There?" In the end it came down to Clemson, North Carolina and Touchdown Jesus.
It's a given that Clark will go where he thinks he can play right away. Clemson has been offensively challenged and could use a fresh, talented face under center. A drawback could be Swinney, said to be a candidate for the LSU job and telling anyone who asks it's not true. He's not going anywhere. To which Fox Sports football analyst Joel Klatt said: "I don't believe any coach when he says, 'I'm going to stay' … because it just sets you up for disappointment. Fans out there, do not believe coaches. Ever. It's the nature of the beast. They will go to the best possible situation for them."
Under former UR coach Dave Clawson, unbeaten Wake has turned one of the country's most effective passing games into the ACC's highest-ranked team. "GO DEACS!" Nevertheless, the guess here is "A" if Swinney can convince Clark he'll be at TigerTown for a 14th season and beyond. "C" is a maybe, with Virginia Tech potentially among those going after a premier athlete who had major knee surgery in high school and another semi-serious procedure in the same area this spring.
Question: How did Richmond's Zac Jones, first player born and raised in Virginia to suit up for a game in the National Hockey League, make out in his debut with AHL Hartford over the weekend? Simply put, the 5-10, 185 pounder, stayed busy.
A left-hand-shooting defenseman, Jones played a regular shift on the right side - including power play and penalty killing units – in three games over fewer than 72 hours. He averaged 23-minutes-plus, which is a lot by any standard, and missed most of the final eight minutes Saturday night in Springfield suffering from dehydration.
"He's playing a lot, and I told him: 'You've got to take care of yourself and get used to it. Drink lots of water … eat right … sleep good. You're a pro now. If you want to play, you've got to do it," said Rob Jones, his father and former trainer/equipment manager with the o-l-d ECHL Richmond Renegades.
A key member of 2021 NCAA-champion UMass, Zac Jones signed with the New York Rangers in April and played the last 10 games. Despite a training camp in which he drew rave reviews, Jones was a late cut by the Broadway Blueshirts, ostensibly to give him more ice time with their top farm. He was paired with 31-year-old veteran Anthony Bitetto, also a left-hander, instead of right-handed rookie Braden Schneider, 20, as expected.
The Wolf Pack finished the weekend 2-1-0, losing Saturday night in Springfield, Mass. The final was 2-1 after Jones was MIA late in the final period when Hartford couldn't convert several good scoring opportunities including a two-man advantage for 1:05. "The last eight minutes or so he cramped up," Rob Jones said. "I told him 'Hey, dude, you missed a 5-on-3 [and] another power play!!' He said, 'What do you want me to do, Dad? I couldn't skate.'"
Hartford was outshot in all three outings but got outstanding goaltending from veteran Keith Kincaid (first star in opening night's 2-1 decision over visiting Bridgeport which had a wide 31-18 bulge in shots) and Adam Huska, 24. who stopped 40 of 42 shots at Springfield. The Wolf Pack prevailed 4-3 Sunday afternoon at home against Providence in a 1-0 shootout that went six rounds.
In all, Jones had an assist and a couple of minor penalties (one led to a shorthanded goal). "He did OK, but didn't play as good as he can play," Rob Jones said. "We talked about it. He's got to be more aggressive. That's when he plays best. He knows that."
The Rangers summoned two forwards from their top farm over the weekend. Jones, who turned 21 Monday, hopes/expects to be the first defenseman called up. "When it happens, it happens," dear o-l-d dad said. "It is what it is."