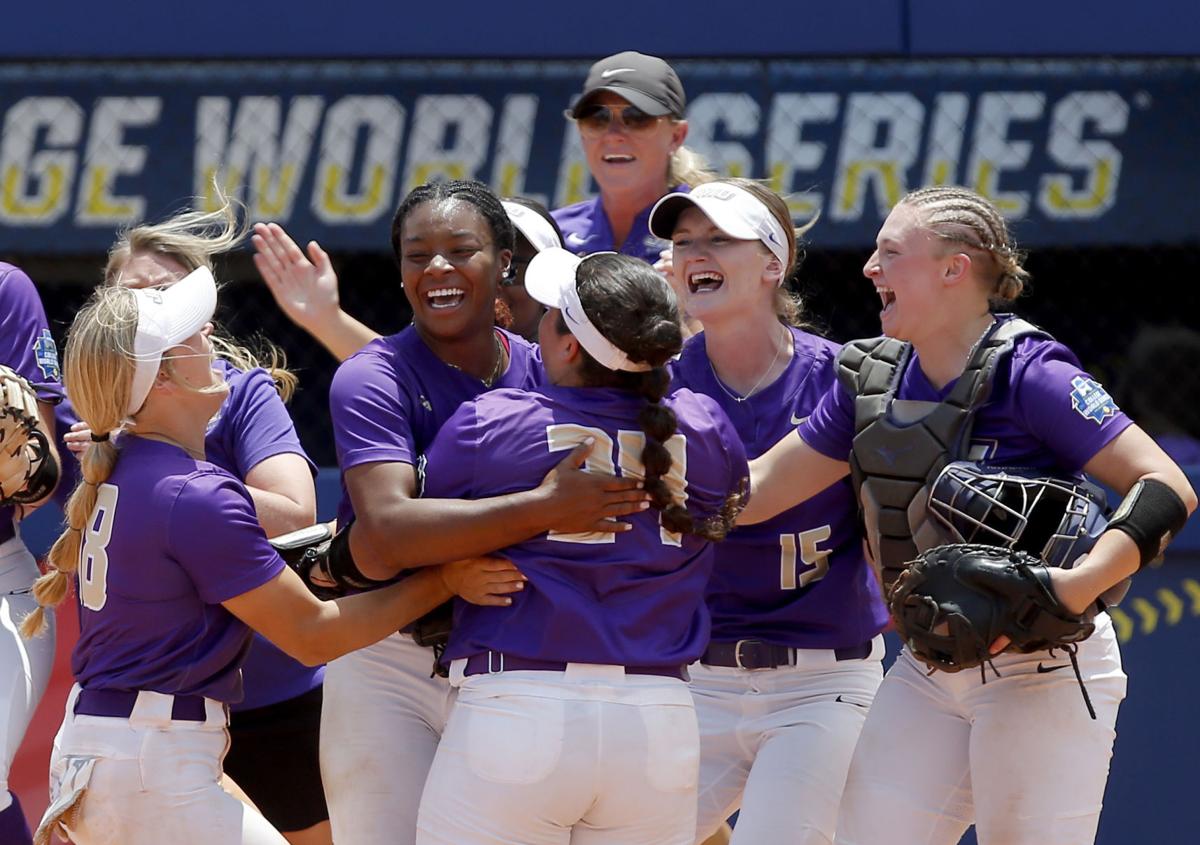 Before Kate Gordon's eighth-inning at-bat Thursday, in a tied Women's College World Series game against top seed Oklahoma, James Madison coach Loren LaPorte had some words of assurance for her.
"'Kate, just play your game, calm down, stop thinking,'" Gordon recalled.
Gordon knows that softball is a mental game, and that once one gets in their mind, it's very hard to get out. The key, then, is to just keep swinging.
The fifth-year senior left fielder is a standout for the Dukes, a three-time first-team all-Colonial Athletic Association selection. But she had struggled a bit heading into the WCWS, hitless in three super regional games against Missouri and 0 for 3 to start the day Thursday against the Sooners.
But she kept swinging. And, with one big swing in the top of the eighth inning, she helped JMU notch an upset of monumental magnitude.
In a 3-2 count, Gordon smacked a go-ahead home run to left center field. Then JMU ace Odicci Alexander finished the job in the bottom half of the inning, securing a 4-3 extra-inning victory.
In what was the program's first-ever WCWS game, JMU (40-2) became the first unseeded team to beat a top seed in its WCWS opener since Louisiana in 2008.
And Alexander, who pitched a complete game, striking out nine Sooners, said she knew the Gordon homer was coming.
"I took a deep breath myself and said, 'I wouldn't want anybody else up in that [batter's] box but Kate,'" Alexander said. "I was praying. And when she hit it out, I knew it was out. I said, 'Thank you, Jesus.' I almost cried a little bit. But I just couldn't be more proud of Kate."
The previously dominant Oklahoma (50-3) had won 10 straight games coming in, rampaging through the Big 12 tournament, regionals and its super regional. This is the Sooners' 10th consecutive WCWS appearance, and they won it in 2017, 2016 and 2013, to add to a previous 2000 title.
But Alexander largely subdued Oklahoma's bats, the only strike a three-run, tying home run in the bottom of the third inning. JMU's Sara Jubas had put the Dukes ahead with a three-run homer of her own in the top half of the inning.
Oklahoma is just the third No. 1 seed to lose its WCWS opener, joining UCLA in 2006 and Florida in 2008. The Sooners' three runs were a season low. They came in scoring 11.3 runs per game, the best in the nation.
Alexander, who carried a 5-1 record in NCAA tournament play this year entering Thursday, finished with a final line of eight innings, giving up the three runs and six hits. Her nine strikeouts included the 700th of her career — she's third in JMU history. And Oklahoma struck out just 12 times total in five previous NCAA tournament games this season.
Afterward, the fifth-year senior said she tried to focus on each and every pitch, aiming to keep the Sooners' batters off balance.
"Just mixing up my pitches, not really throwing the ball at the same spot each time, and just making sure it moves," Alexander said. "Because they are great hitters."
She settled back down after allowing the three-run home run in the third inning, to Oklahoma's Tiare Jennings, logging seven of her strikeouts after that point.
That set the stage for Gordon to put JMU back in front, the home run off of the Sooners' Shannon Saile, who also pitched the complete game. It was the 69th home run of Gordon's career. She's the all-time CAA home run record holder.
"I knew Kate was going to break out," LaPorte said. "I didn't think it was going to be a home run, I'll tell you that. I thought she was going to get a base hit."
But home run it was, one that will go down in JMU lore. LaPorte said they told the players in the locker room afterward that, yes, they just did one of the most historic things in JMU history and in the history of the game itself. But it's also just the start.
So the Dukes were told that they would go back to the hotel room, watch the Oklahoma State-Georgia game and prepare. Oklahoma State won that game 3-2, so JMU will face the Cowboys, the No. 5 seed, at 7 p.m. Friday in a game broadcast on ESPN2.
The Dukes will quickly move on from Thursday's mammoth victory. There's more business to attend to.
"It's on to the next," LaPorte said. "And I know a lot of people out there thought we were going to just get here and be done. But this team wanted to do some damage."
(804) 649-6442
Twitter: @wayneeppsjr