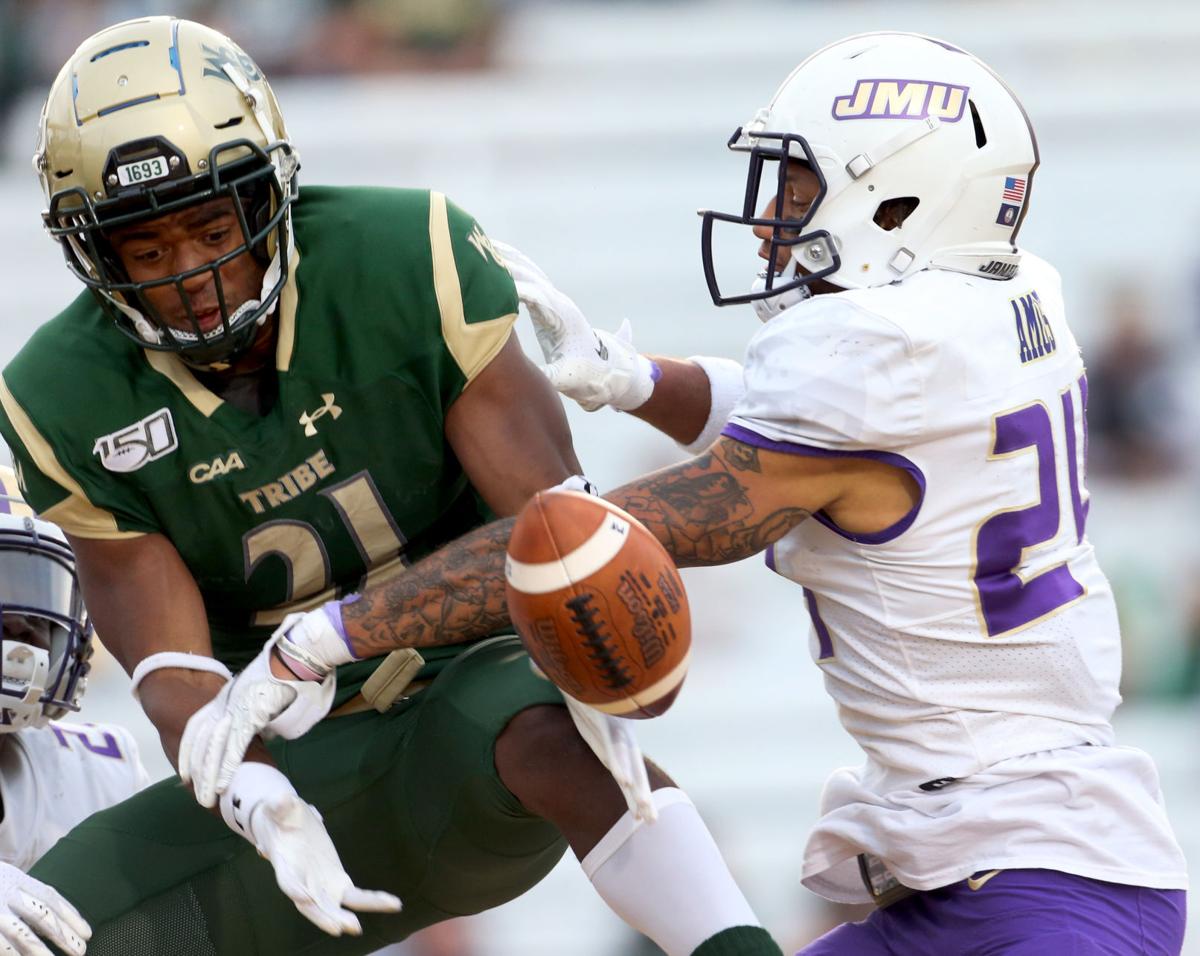 CHARLOTTESVILLE — If not for the COVID-19 outbreak and the decision of the CAA to push its football season back to the spring, D'Angelo Amos and Adeeb Atariwa would never have left James Madison. The safety and defensive tackle found tremendous success on the field with the Dukes and contentment off it at the Harrisonburg school.
But with no football to play, the duo made the big decision to transfer to an FBS program, to be able to compete this fall. Independent of each other, they each opted to transfer to Virginia.
Amos, Atariwa and UVA coach Bronco Mendenhall thought the pair could help the Cavaliers this season. None of them knew just how much they'd end up being needed.
"Essential," is how Mendenhall described the pair this week. "We would really be hurting without them at those two positions with limited depth."
Virginia (2-4, 2-4 ACC) has played the past two games without starting safeties Joey Blount and Brenton Nelson, and expects to be without that dynamic duo again Saturday against Louisville (2-5, 1-5). Amos, a former Meadowbrook High star who started 44 games at JMU, and sophomore Antonio Clary have filled in.
Last week, Mendenhall announced that senior defensive end Richard Burney's season was over due to what the coach called a "health injury." Atariwa has moved into his starting spot. The 6-foot-3, 280-pounder started 23 games, mostly inside at defensive tackle in the Dukes' four-down front.
At UVA, he's adjusted well to playing outside at defensive end. He's made four tackles and had his first sack for the Cavaliers in the past two games.
"I thought there was a role for me to fill," Atariwa said. "I came here knowing what I could do, knowing what I could provide. Thankfully to this point it's become a role where I am starting. I plan on continuing to do that."
Amos, also a star punt returner at JMU, foresaw himself backing up one of the Cavaliers' safeties and contributing on special teams.
"Take some of the load off Joey and Brent, knowing that those are guys who have a lot of experience," Amos said. "They're veterans who have played very well. Just trying to contribute any way I can."
He's fourth on the team with 36 tackles and has an interception and three pass break-ups.
Virginia's entire secondary figured to be a well-seasoned group this year, with Blount and Nelson and cornerbacks Nick Grant and De'Vante Cross all seniors. That entire foursome has only started half of the team's games together to this point.
In fact, Virginia's entire 2020 roster has been reshaped by transfers. Quarterback/receiver Keytaon Thompson (Mississippi State), running back Shane Simpson (Towson), tight end Tony Poljan (Central Michigan) and wide receiver Rashaun Henry (St. Francis) have been key pieces on offense, a unit that may still get contributions from running back Ronnie Walker (Indiana).
"I think we did a nice job of assessing positions of need and depth and possible volatility," Mendenhall said. "And they're helping our program. And now they're seasoned. They're immersed within our culture, even though it hasn't been an entire year."
Amos and Atariwa are also entrenched in the lineup for Saturday's game against the Cardinals, a contest that was originally scheduled for the previous weekend but had to be delayed due to a COVID-19 outbreak within Louisville's program.
Virginia snapped a four-game losing streak with its upset of North Carolina on Oct. 31. The Cardinals, arguably the ACC's most disappointing team this season, fell 42-35 to Virginia Tech that day, falling behind 21-0 and coming up just short in their comeback bid.
The Cardinals have offensive weapons that will stress both the safety and end positions. Malik Cunningham is a true dual-threat quarterback and running back Javian Hawkins leads the ACC in rushing. Their running ability will put pressure on Atariwa and the rest of the defensive front.
It also sets up Louisville's wildly-effective play action passing game, one of the key focuses for Amos and the rest of the UVA secondary.