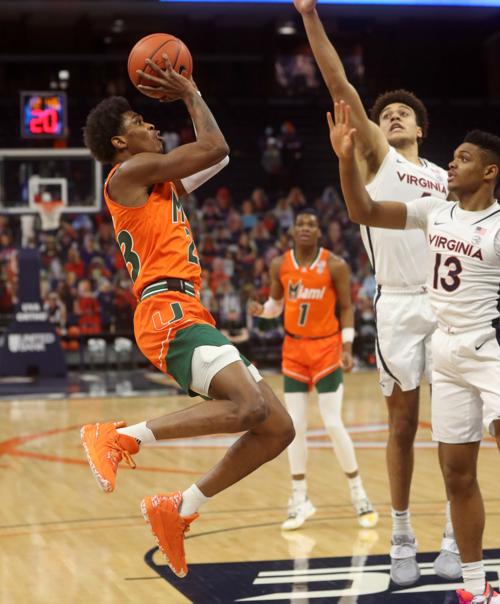 CHARLOTTESVILLE — There won't be any "bad blood" when Justin McKoy takes the floor against his former Virginia team this season, a meeting that will go down when his new school, North Carolina, hosts UVA on Jan. 8. McKoy feels he benefited from his two seasons with the Cavaliers and that his former teammates were supportive when he chose to transfer to UNC.
"There's nothing wrong with Virginia," said McKoy, a Cary, N.C. native who considered North Carolina and North Carolina State out of high school before joining UVA. "I could have stayed and had a great career."
Still, McKoy, guard Casey Morsell and guard Jabri Abdur-Rahim didn't stay. Abdur-Rahim is at Georgia, and McKoy and Morsell, who is now at North Carolina State, even transferred within the ACC.
Both players said they were seeking a system with more offensive freedom and flow.
"I think it's a 100% better fit for me," Morsell said of a Wolfpack program that will host Virginia on Jan. 22. "On the offensive end, there's a lot more freedom, a lot more opportunity to play up and down, a lot more opportunity for me to be me. … I'm in a position where, I'm not having to adjust or not having to change completely who I am as a player and who I am as a person to fit in."
Like Morsell, who never took more than nine shots in a game at UVA, McKoy said North Carolina will give him more chances to showcase his offensive skills.
"You could argue, maybe I wanted to play a little faster, maybe I wanted to get up and down more," McKoy said. "You could argue that, I was looking to play less on the block, and kind of like 15 feet out and expand where I know my skill set can expand. You could argue that that could happen at Virginia the next year. You could argue that it couldn't."
At Carolina, McKoy sees new coach Hubert Davis shifting to an offense that better suits his skills, especially his improved shooting. Davis, McKoy said, plans to spread the floor and allow his big players to perform outside and inside.
McKoy spent the offseason working on his jump shot and hopes to show it off more than he did at Virginia, where, in 33 games he took just 71 shots, including going 3 for 9 from 3-point range last season.
"I think I shot it well, just didn't really display it in games last year," McKoy said. "I'm looking forward to playing in a system where I'll be able to showcase that skill more."
Of course, UVA forwards Sam Hauser and Jay Huff made their livings last season playing largely on the perimeter, but the Cavaliers' offensive pace was decidedly slower than what the Tar Heels or Wolfpack intend.
The Cavaliers ranked last out of 357 Division I basketball programs in adjusted tempo last season, averaging 59.9 possessions, according to the basketball statistics website Kenpom.com.
North Carolina led the ACC in that category.
What Virginia has done more than those two programs, in recent years, is win. Since the start of the 2013-14 season, UVA is 219-28 with seven NCAA tournament appearances and a national title in 2019. During that same stretch, North Carolina is 203-49 with seven tournament bids and the 2017 national championship. N.C. State is 154-109 with three NCAA trips.
McKoy and Morsell credit Tony Bennett and UVA with developing them into a true two-way players, elevating their defense through practices that emphasized it and a philosophy that demanded it.
"You work on defense for almost an entire practice every day," McKoy said of his time at Virginia. "So, naturally you're going to get better at it."
Morsell hopes he can bring that to his new team.
"One of the big things there was just being consistent on the defensive end," Morsell said. "That's one thing that I'm emphasizing and trying to carry over here. Always be consistent for the full 30 seconds."
Morsell said great defense can lead to great offense, but playing for a team that stresses scoring and a fast pace over defending and slowing things down made the most sense for him.
"This is natural. I'm just playing the way I've always played. Really don't have to change my game or adapt it," Morsell said. "I can score the ball. I can make plays. I can do a lot of different things. I love to run. I love to get up and down the court. And I think this is the best place to really get that done."