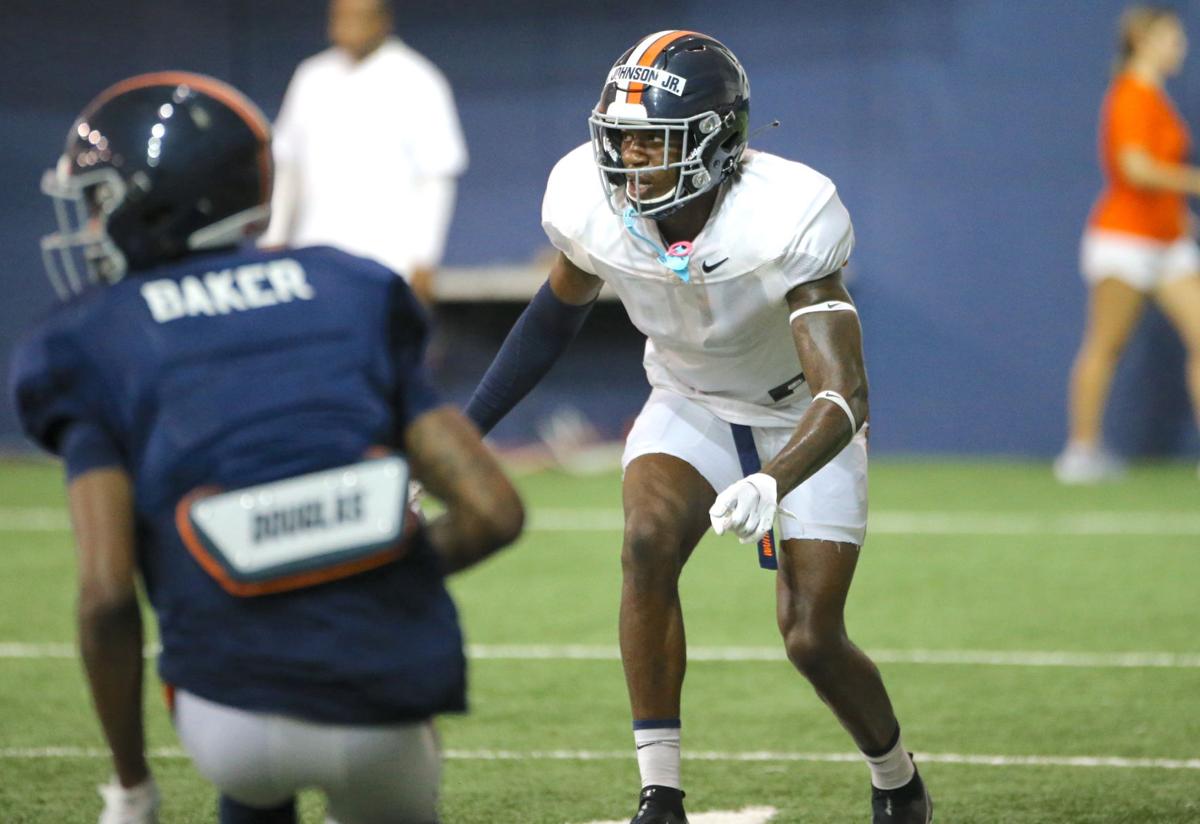 CHARLOTTESVILLE — As De'Vante Cross talked about the jovial and boisterous nature of new teammate Anthony Johnson, loud, cackling laughter could be heard from across Virginia's indoor practice facility.
"There he is over there laughing," said Cross, shaking his head at Johnson's accidental, sitcom-style timing.
Johnson, a transfer defensive back from Louisville, always has been gregarious, a trait he attributes to his family, "a family full of jokesters."
"We love to have a good time," Johnson said.
So when Johnson first got to UVA this spring, it didn't take long for his laughter to become his trademark with his new teammates. Like a stand-up comedian sizing up his audience, Johnson held back a smidge. He said that lasted a little more than a day.
"At first, I was a little like, I don't know how the guys will react," he said. "What kind of a crowd will it be?"
His fellow Cavaliers quickly embraced his personality.
"He's the clown of the team. He's hilarious," Cross said. "One of the best things he brings to the team is energy. He has endless energy. I don't know where he gets it from. We're all dead tired. He's over there still bringing energy."
But humor and energy aren't the only things Johnson brings to the Cavaliers' secondary, a unit that struggled in 2020. The 6-foot-1, 195-pound Coconut Creek, Fla., native played in 32 games at Louisville, mostly at cornerback, making 43 tackles, intercepting two passes and forcing three fumbles.
This spring, he demonstrated his physical side in the UVA spring game, coming up and making tackles against running plays in addition to his pass coverage. Virginia can envision playing him at corner or safety, but he's listed as a backup cornerback behind Nick Grant and Darrius Bratton on the team's initial depth chart going into Saturday's opener against William & Mary.
"He's big, physical, he tackles well," UVA coach Bronco Mendenhall said. "He has great mindset. He is an absolute joy to be around. He's good for our team. He is selfless. But he just keeps making plays and he works really, really hard and he embraced our culture from the beginning."
This offseason, Virginia added Johnson and fellow transfer cornerback Josh Hayes (North Dakota State) in hopes of improving a defensive backfield that struggled giving up big plays last season. Bratton missed the year and Cross played out of position at corner. Safety Joey Blount missed five of the team's 10 games.
This fall, UVA hopes a healthy backfield of Grant and Bratton at corner and Blount and Cross at safety, with the added depth of Johnson and Hayes, will form a more formidable secondary.
Johnson left Louisville hoping to find "a better opportunity to showcase my talent." But what sold him on Virginia was the combination of the school's academic reputation and Mendenhall's blunt recruiting pitch.
"A lot of other coaches would just tell me out of the gate how good I am," Johnson said. "Coach Bronco told me what I needed to work on. That caught my eye."
At UVA, Johnson has embraced all of Mendenhall's mantras — "earned not given," and "will before skill," among them. Johnson said being selected in the first group to pick their jersey numbers for this season — a reward for hard work as recognized by players — nearly brought him to tears.
Saturday, if he's on the sideline, he'll be chatting up teammates, spreading his energy. And if he's on the field, he'll be doing plenty of talking, too, whether it's to his opponents or himself.
"I just love to talk to myself — self-affirmation and just being a vocal guy, having fun out there," Johnson said. "It just encourages me to play harder and better."