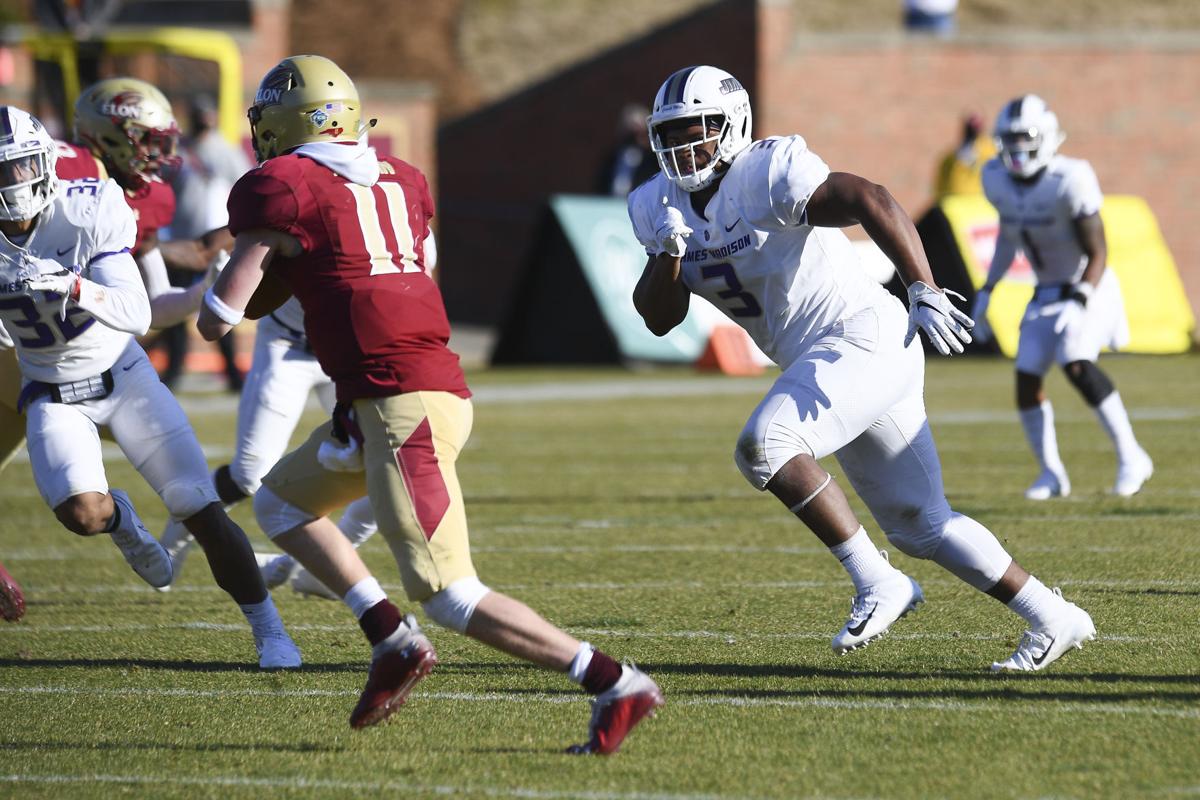 JMU defensive standout Mike Greene talked with Wes McElroy about the Dukes' season, playing through a pandemic, getting every team's best, and the reason he switched to jersey No. 3.
Question: You've had a heck of season and it's resulted in being named defensive lineman of the year by the TD Club of Richmond. You are a Buck Buchanan finalist, and recently you were named co-defensive player of the year by the CAA. Is there one that stands out more than the others?
Answer: I would say (the CAA co-)defensive player of the year award. It's probably most prominent to me because I didn't play defense until I came to college. I played mostly offensive line and got recruited as a center but ended up changing my position when I got to JMU.
I would say that one probably means the most because of how I liked the position switch and everything that happened leading up to the fact.
Question: I bet your family is also pretty proud of those National Honor Society awards and the Commissioner's Honor Roll.
Answer: Yeah, they love the academics, and there's a degree that's coming up that's going to be big for them, too.
Question: Playing playoff football has become expected at JMU, but what's it like playing playoff football in the springtime?
Answer: I want to say it's like 70 degrees out today, so this is usually camp weather. It was definitely a lot of getting used to, but it's still just football at the end of the day. It kind of helps us in a way. We don't have to go out there and stand by the heaters and warm our hands and stuff, but at the end of the day it's just about going out and playing the sport.
Question: At one point of this past year you didn't know if you'd have a season and at a time in the season you didn't know when you'd play again. How challenging have these past few months been?
Answer: It's been tough mentally, and tough physically of course.
It's been tough mentally, not knowing if you're playing this weekend when you get into Wednesday, working for the game, practicing and then having a game canceled or two or three games canceled. It's been tough mentally and physically, but we're staying in there and trying to fight for these last three weeks and get to the national championship.
Question: Going through it together as a team, how has it made you closer?
Answer: It was huge. It's definitely brought us a lot closer in the sense that we're just fighting for each other every single week. The VMI game was a game and the game (vs. North Dakota) should be a good game as well where we're just fighting for each other every single week.
Question: When you play at JMU, is there a greater weight on your shoulders when you step on the field where you know you're getting everybody's best every game?
Answer: Oh, yeah, definitely. We saw that in the Elon game. ... They came out fast.
It's every single week we're going to see everyone's best. VMI gave us their best too. They played a really good game. A target on our back every single week — I would say that.
Question: Why did you switch your jersey to No. 3 this season?
Answer: After the national championship game, Coach (Curt) Cignetti came to me and asked me if I wanted to change my number. Last year I did kind of want to get No. 3, but Brandon Polk ended up getting it. This year, I couldn't turn down changing to a single digit. It's kind of a big man's dream.
Answer: It was a rec league. It was being a little kid, and we bigger guys have been in the numbers between 50 to say 99 (all our life), but I'm just getting down there to that single digit. It kind of looks ... it just looks better.
Question: Is it slimming?
Answer: Oh yeah. It's definitely slimming (says laughing) I could tell the difference between my pictures from this year and last year.