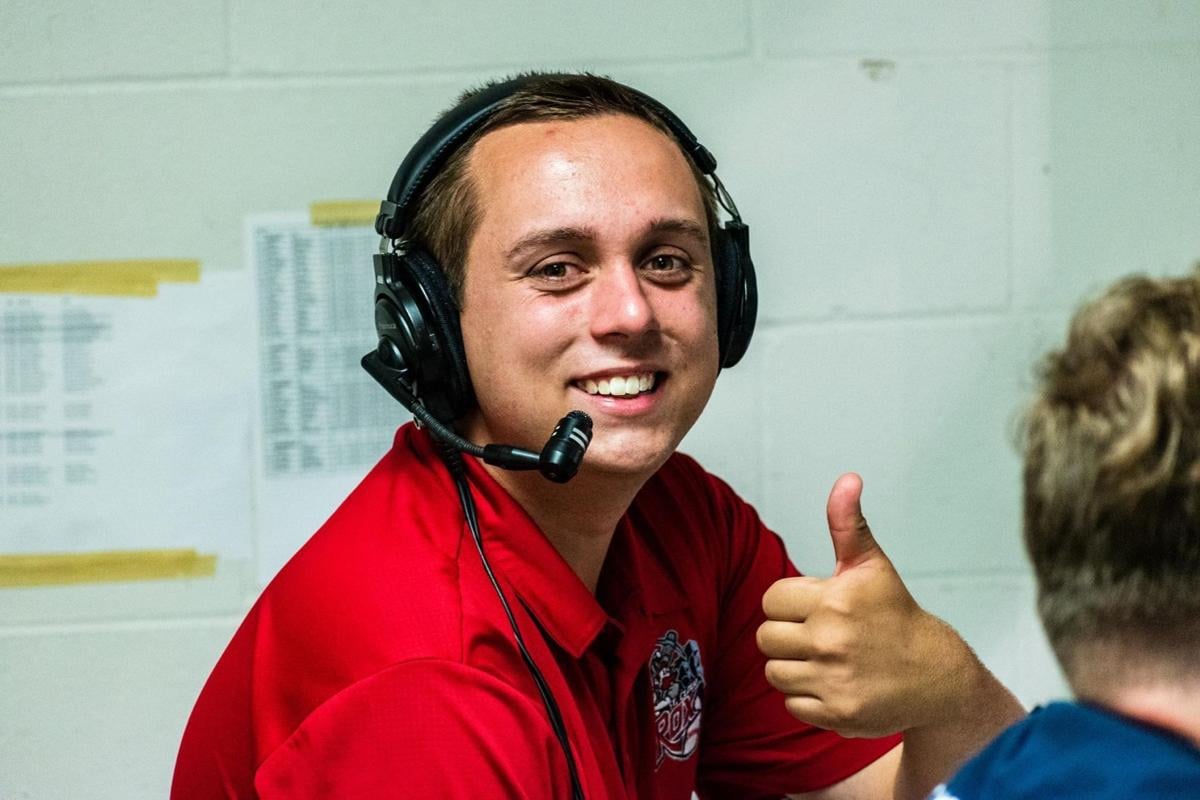 Evan Hughes has wanted to be a sportscaster at least since he was 7 years old. That's when his uncle Danny asked me if his young nephew could tour the studio at WRNL.
Evan's legs didn't reach the floor of the swivel studio chair in which he he sat, but it was apparent he was at home in front of the microphone.
This past week, that young man won the Jim Nantz Award as the top collegiate broadcaster in the country.
"It's one of the greatest honors of my life," the Patrick Henry High alumnus said. "You're sitting there, and I think there were maybe 200 to 300 contestants this year. The talent is just so good across the country."
Hughes graduated last month from Virginia Tech with a degree in multimedia journalism with a concentration in sports media and analytics.
Founded in 2009, the Jim Nantz Award is presented by the Sportscasters Talent Agency of America. Their judging panel consists of "leading members of the sportscasting industry and former Jim Nantz Award winners."
"There were a couple of people that I identified quickly and knew that they were all very deserving of winning the award," said Hughes, who watched the announcement virtually last week with his family in Richmond after being the runner-up last year. "So you see their names come across at No. 4, then at No. 3 and then you're holding your breath there for a moment at two — I just kind of got to sit there for a minute and process and say, 'holy cow', this is really going to happen. Then I got to hug my mom and I picked her up and then I look at the screen and it's Jim Nantz. The coolest thing about it was is that he prerecorded the video [message to me], right before coverage of the PGA Championship at Kiawah Island last week."
According to his mother, Lynne, Evan was first drawn to sports broadcasting in middle school. Known as a student who was comfortable emceeing school events and talent shows, he was asked to do the public address announcing for his older sister Jamie's all-star softball games.
"I didn't really want to sit and watch the games," Evan said "I wanted to be the guy announcing who was coming to the plate."
His parents would often catch Evan not only playing Madden video games but calling the action loudly as he played.
At Patrick Henry, Hughes started his own show, "Patriot Talk Live," hosting a podcast along with his father, Kelly, a former athlete at Virginia Tech, and the two began calling Patriots sports on internet radio.
"If it weren't for the Richmond area and the people at Rockville and the people at Patrick Henry High School who allowed me, this kid who wanted to create his own radio show, I mean, not every kid in high school does that," Evan said.
In 2013, his show would have a special guest. One that would change Evan's life.
"One of the craziest, fairy dust, goosebumps moments happened when he's going into ninth grade," Lynne said. "On his own, he reached out to Bill Roth."
Roth was at the time in his 26th season as the voice of Virginia Tech football getting ready to call the Kickoff Classic between the Hokies and Alabama.
"He asks him if he would be a guest on his podcast and Bill gets back to him. He says he will come on when gets back on Monday on that Labor Day," Lynne said. "So that call ends and Bill says, 'Evan, keep in touch with me. I like to keep in touch with young talent. Keep doing what you're doing, buddy."
Prior to his senior year, during Evan's college search, Roth returned to Blacksburg to start the sports media analytics major at Virginia Tech, and remembered that young man who had interviewed him years earlier.
"When I came back and we started this SMA program at Tech, we can have all the cameras and microphones we want, but we needed people who were really passionate about this industry to come," said Roth, who drove to Richmond to meet with Evan and his parents as the future senior was looking at Syracuse and Michigan State, among other schools. "I remember saying, here's what we're going to do. Trust me. We will get this. Here's what you'll have a chance to do."
Hughes went on to serve as a play-by-play broadcaster and sideline reporter calling and covering baseball, basketball, lacrosse, soccer and volleyball for ACC Network Extra on the ESPN app. During his summers, Hughes was the director of radio broadcasting for the St. Cloud Rox in the Northwoods League in Minnesota, where he was named 2018 broadcaster of the year.
Along the way, Evan's professionalism and talent left a lasting impression on others in the field.
"Evan came to Virginia Tech with a concrete idea of what he wanted to be and how he could get there," said Jon Laaser, current Virginia Tech play-by-play voice and director of broadcast for Learfield/IMG . "That and his natural ability put him above the pack. His willingness to accept coaching, never turning down an opportunity, and ability to create strong relationships allowed him to rise to the top of a very talented heap. We couldn't be prouder of him."
Roth credits Hughes for being a foundational piece of his young program.
"I told him this: Whether he won [the Nantz Award] or not, Evan made an incredible impact," Roth said. "This is an overused word, but indelible — he's made an indelible impact on our program. I tell the kids at the beginning of every semester, totally a ripoff from Frank Beamer, but that this is your program. It's not mine. It's not Virginia Tech's. Nobody owns it.
"It's up to you guys and what you do with it and our job at the university and our job with athletics or whoever is to give you every tool and work as hard as we can to help you achieve your goals. But the value of your diploma, what you get out of this is a hundred percent you.
"Evan and others, and I can name four or five seniors that were part of this first class, totally bought into that."
Days after winning the Nantz Award, Hughes is still in the afterglow of graduation and his honor. As he prepares for his next career step, he can't help but wonder what lies ahead for him as well as his alma mater.
"I'm excited to win," he said. "This means so much for our program. I'm so passionate about what is being built at Virginia Tech and there's nothing that I want more for one day for Virginia Tech to be known around the country as a broadcast school."
Wes McElroy hosts at daily sports talk show at noon on 910 and 105.1.