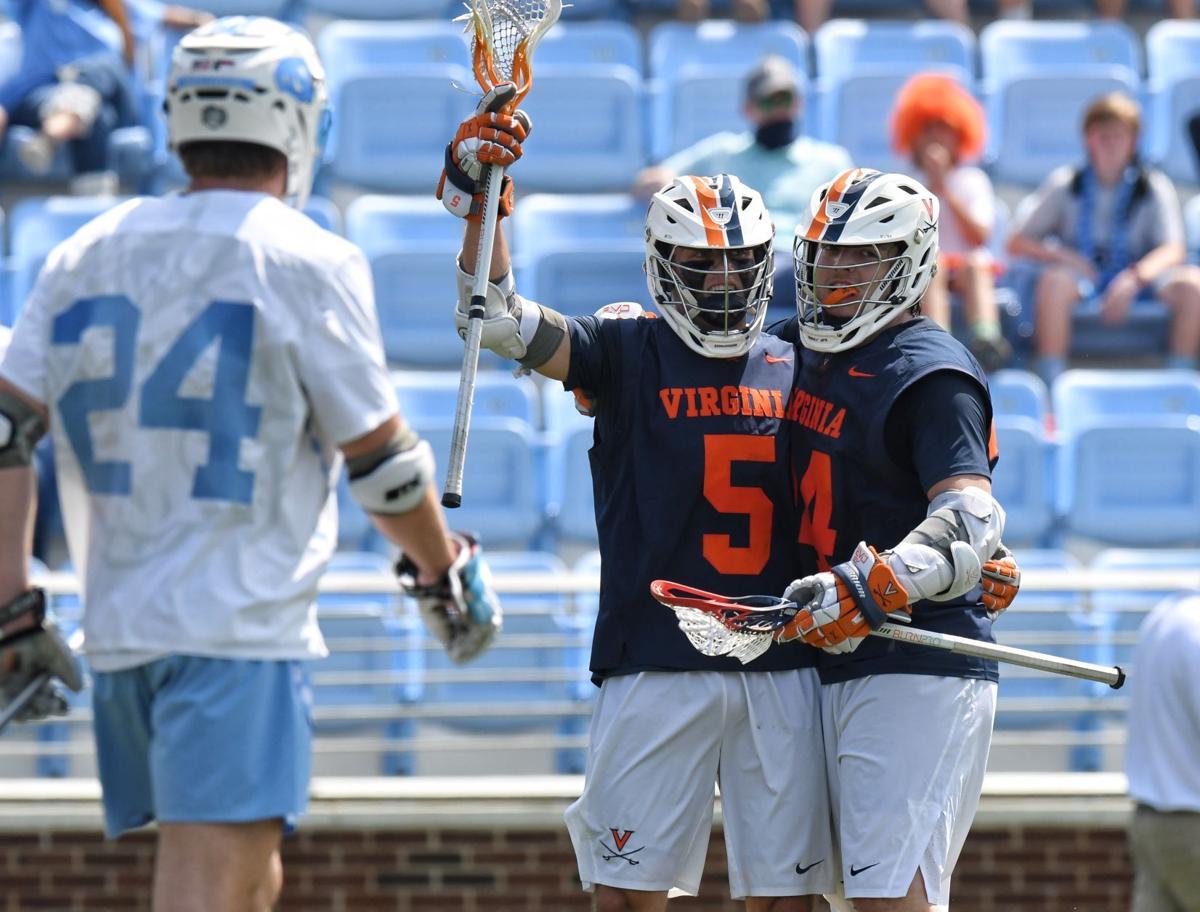 When Virginia lacrosse faced North Carolina last month, UNC defender Will Bowen controlled his matchup with Cavaliers star attackman Matt Moore. Moore took 15 shots in that UVA loss, scoring just twice.
"It may not have been a knockout win for Will Bowen, but he definitely won on the judges' scorecards," said Virginia coach Lars Tiffany going into Saturday's rematch.
This time around, Moore scored the technical knockout and his team picked up its biggest win of the season.
Leading a UVA attack that moved the ball unselfishly all afternoon, Moore finished with six assists, his most ever in an ACC game, as No. 4 Virginia avenged its earlier defeat, downing No. 3 Carolina 18-16 in Chapel Hill, N.C.
"All I did was the easy thing, which was pass it to them," said Moore. "They did the hard part of finishing."
Junior midfielder Jeff Conner and senior attackman Ian Laviano each scored four times for Virginia (9-2, 2-2 ACC), which has won four straight, including notching back-to-back conference victories and moving themselves into the thick of the league's title hunt.
The Cavaliers, who assisted on 12 of their goals, host No. 1 Duke on Thursday night.
Led by sophomore defender Cade Saustad, UVA held Carolina, the nation's top scoring offensive team, and its star, Chris Gray, in check for much of the game.
Gray did finish with three goals, one coming in the final two minutes as the Tar Heels scrambled to get back in the game.
"Cade is one of the top cover defenseman in the nation, period," said Tiffany. "He continues to prove it game in and game out. Cade allows us to, not completely shut down an opponent's best player, but more so not make it as dangerous as it could be."
Scoring came fairly easily for both sides in the opening quarter, as Virginia built a 7-5 lead. But after that fast and furious first period, things slowed down.
The goalies, senior Alex Rode for UVA and freshman Collin Krieg for UNC, and defenders Saustad for Virginia and Bowen for Carolina, took over in the next stanza.
Carolina (8-2, 1-2) scored twice in the second quarter, while blanking the Cavaliers 2-0 to send the teams into halftime tied 7-7.
"They put up some quick points," said Saustad. "It took us a while to figure it out, in the real speed of the game. But I think we did a better job than we did a couple weeks ago."
Rode finished with 15 saves on 31 Carolina shots on goal.
Moore keyed a late surge in the third quarter that gave UVA control of the match, at one point assisting on three straight goals during a 5-0 run for the visiting Cavaliers. He also scored twice himself, the second tally coming on an empty net goal with a minute to play that pushed Virginia's lead to 18-14.
"That's the balance we're looking for," said Tiffany. "When Matt Moore is distributing and facilitating like a quarterback, our offense is going to be difficult to handle."
Junior midfielder Petey Lasalla helped UVA control play for much of the game, winning 26 of his 38 faceoffs to go with his goal and assist. Virginia had the ball and Moore made sure it did something with it.
Moore is now just two assists shy of becoming the 10th all-time Virginia player with 100 in a career. When he picks those up, he'll be just the seventh player in program history with 100 goals and 100 assists in a career.
"Something our whole team has done is just trusting the people around us," said Moore.
"We have some crazy shooters on this team. All they need is room. My mindset kind of changed to where I kind of draw that slide and all they need is a little bit of time and they're going to stick that."
Saturday, they stuck it to North Carolina, and made themselves title contenders along the way.