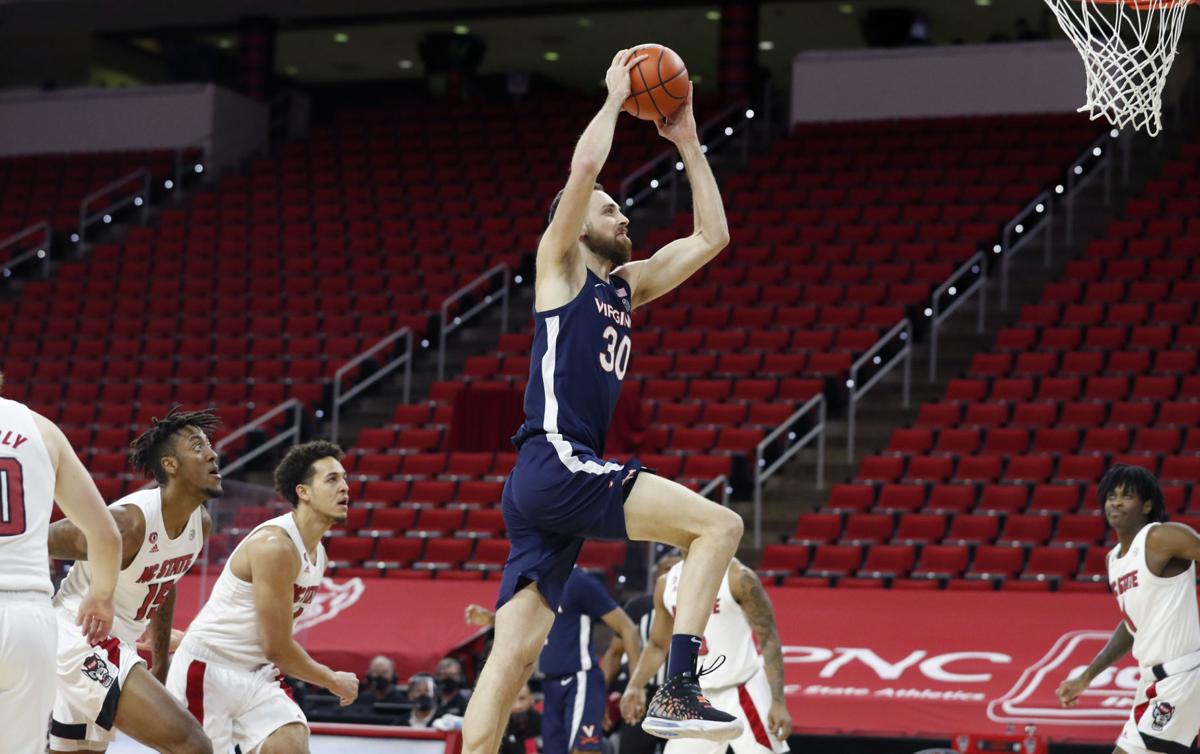 In his always reserved, calm way, Tony Bennett called out his Virginia basketball team after its road loss to rival Virginia Tech on Saturday. And while the Cavaliers' coach did it with more subtlety and restraint than many of his peers might have, his message got across.
Where Bennett labeled his team's play in Blacksburg "finesse-y" and said the Hokies showed more want, his players heard a more direct challenge.
"You never want your coach to call you soft, so you take that pretty personally," said senior forward Sam Hauser. "... We were physical. We were tough-minded."
Another bad start to a second half left No. 14 Virginia on the brink of losing back-to-back games for the first time this basketball season. But unlike Saturday's loss at Tech, there was nothing soft about the Cavaliers' response down the stretch Wednesday.
UVA (12-3, 8-1 ACC) used a 12-2 run late in the half to hold off North Carolina State, 64-57, remaining in first place in the conference.
"I kept saying that in a timeout — 'Don't yield. Don't yield,'" said Bennett. "And I was glad to see that we hung tough and came away with a good road victory."
Hauser led the way, scoring 18 points and hitting a key 3-pointer with 5:38 to play to go up 50-46, part of the late surge that helped it win for the seventh straight time in Raleigh, N.C.
Junior point guard Kihei Clark, who had no assists against Tech, the first time in his career he played at least 20 minutes without an assist, had a bounce back game in his own right. He scored eight points and had six assists, while committing three turnovers.
His driving layup with 5:01 to play put Virginia up 52-48.
Junior guard Trey Murphy III also scored 18 points and senior center Jay Huff had 12 points and 6 rebounds.
"I know for me, I just took it personal," said Murphy III. "I was like, 'I'm going to make sure that I can't give him a reason to call me soft.'"
Unlike Saturday, Virginia's offense ramped up its efficiency and effectiveness late in the game to hold off the Wolfpack, who have now lost six of their past seven.
The Cavaliers weren't just tougher in this one, they were sharper. UVA went 20 for 22 at the free throw line, including 16 for 18 in the second half.
For State (7-7, 3-6), junior forward Jericole Kellems had his second straight big game, following up his 24-point performance against Syracuse on Sunday, led the Wolfpack with 23 on Wednesday night.
The Cavaliers were pushed around in the second half of their road loss to rival Virginia Tech on Saturday, seeing their seven-game win streak snapped in the 65-51 defeat, their first ACC loss of the season, leading to Bennett's criticism.
Early on, it didn't appear that UVA had addressed that, as the Wolfpack were able to penetrate the Pack-Line defense and score in the paint. Virginia also didn't improve its ball security, committing seven turnovers in the first half. Still, despite that, the Cavaliers led for much of the half and never trailed by more than 3 points in the period.
Hauser scored 11 points in the first 9:35 of the game, as UVA hit seven of its first 10 shots to take a 19-13 lead.
The Wolfpack used a 7-0 run to take a 20-19 lead with 6:05 left in the half as Virginia suffered a scoring drought of over six minutes, during which it committed four of its six first-half turnovers.
Huff finally ended the long scoreless spell with a game-tying 3-pointer that knotted the game 22-22 with 3:53 to go before the break.
North Carolina State went cold late in the half, hitting just two of its final eight shots as the Cavaliers built a 28-24 lead going to the locker room.
In the second half, UVA pushed its lead to 43-34 after a pair of free throws by Clark with 12:27 to play.
North Carolina State center D.J. Funderburk, who missed the team's game against Syracuse on Sunday, led a post-halftime surge for the Wolfpack.
After being held scoreless in the first half, the 6-foot-10 senior scored 6 points in the first 9:27 after the break. His spurt helped State trim Virginia's lead to 43-41 midway through the period.
Funderburk finished with 9 points and five rebounds.
The Wolfpack would take a 44-43 lead with 6:53 to play after a steal and dunk by Funderburk, but on this night, UVA found the fight to answer.
Next up for Virginia, a curveball of a game Saturday when the Cavaliers will host Pittsburgh instead of Louisville, a change the ACC made Wednesday afternoon due to a positive COVID-19 test within the Cardinals' program.
And the Wolfpack will get another shot at UVA on Feb. 24 in Charlottesville in another rescheduled affair.
As for another Virginia postponement, Bennett said he has "no idea" what will happen with his team's second meeting with the Hokies.
"You look for opportunities, but it has to make sense," said Bennett. "We're gonna try to make up the games, but if they make sense. I'm not going to be pushed if they don't make sense. No way. No how."